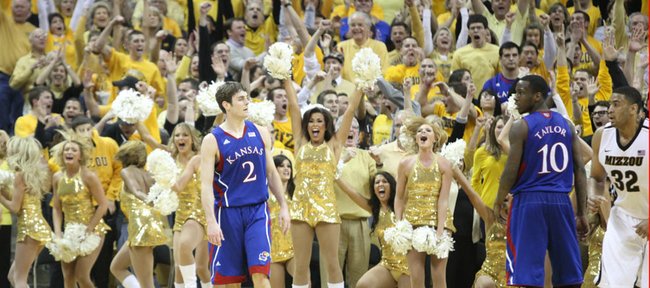 Podcast episode
Kansas coach Bill Self talks to reporters following the Jayhawks' 74-71 loss to Missouri on Feb. 4, 2012.
KU vs. Missouri
Columbia, Mo. — Kansas University basketball coach Bill Self walked dejectedly down a Mizzou Arena hallway late Saturday night, his path crossing that of former NBA 7-footer Will Perdue.
"Will, Will, Will ... we had that game where we wanted it," Self said, as ESPN Radio color analyst Perdue nodded his head solemnly in agreement.
Self's Jayhawks, who led by a whopping eight points following a baseline dunk by guard Tyshawn Taylor with 3:21 left, didn't score the rest of the game in falling to Missouri, 74-71.
Taylor and Thomas Robinson had charging calls in the paint during the scoreless streak, and Taylor also missed a pair of free throws during a stretch in which Marcus Denmon exploded for nine of his game-high 29 points.
What happened?
"Everything. Everything," Self said of the late-game meltdown that dropped KU to 18-5 overall and 8-2 in the Big 12. MU improved to 21-2, 8-2.
"I don't think it was fatigue, but it could have been," Self added. "We obviously made some really bad plays late that put them in position to win the game. They've still got to make shots. They had a guy who was unbelievable tonight. He played his tail off, made shots. We couldn't get to the free-throw line (five of nine charities to MU's 14 of 20) and turned it over (15 to MU's 14). That was the difference."
Senior guard Denmon hit 10 of 16 shots, including six of nine from three. He also had nine rebounds in 39 minutes.
"He made two threes where his body is turned sideways," Self said. "Those are big-time shots. He made a 30-footer to start the game with perfect defense, a hand in his face. He made plays and was defended pretty well."
Denmon hit a basket and foul shot, and after a controversial charging call on Robinson, hit a a three to cut the eight-point deficit (71-63) to 71-69. Following a turnover by Taylor (21 points, six turnovers, three assists), Denmon hit another three to give MU a 72-71 lead at :59.
Taylor missed two free throws at :41.3 and had a charging call on a shot in the lane at 9.8 seconds. Mike Dixon hit two free throws to boost the lead to 74-71 at 9.8. Elijah Johnson missed a wild three-pointer with two seconds left to conclude the action.
"We blew the game," said KU's Robinson, who scored 25 points off 11-of-17 shooting, with 19 points the second half. "Give them credit for making shots, but we blew the game.
"I didn't want to lose to them. I didn't want to lose to them," a somber Robinson repeated.
Of his getting called for a charge in crunch time, Robinson said: "The ref saw what he saw. I don't agree with him. He saw what he saw."
Of the late-game calls that went against KU, coach Self said: "I was told I don't want to see the tape by a couple people that watched it and were unbiased. They weren't Kansas people," Self said. "It comes with the territory. It didn't come down to one call. We had the ball up six with under three (left)."
The Jayhawks left Columbia in likely their last trip to Mizzou Arena feeling like they definitely squandered a big opportunity.
"The last few minutes of the game ... we let it get away," Kansas' Travis Releford said. "It's disappointing coming here, playing one of our better games (KU hit 53.6 percent of its shots to MU's 52.1 mark) and not coming out with a win. They made big shots, we turned it over, and they took the game from us."
"We did it to ourselves," noted center Jeff Withey, who had four rebounds, no points and one shot in 23 minutes. "It's a rough loss. It stinks. We had the win. We just let it go."
KU will next meet Baylor, which also is tied for the league lead with just two losses, at 6 p.m. Wednesday, in Waco, Texas.