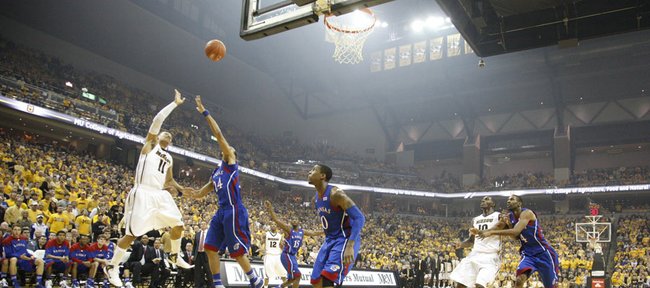 Podcast episode
Kansas coach Bill Self talks to reporters following the Jayhawks' 74-71 loss to Missouri on Feb. 4, 2012.
KU vs. Missouri
Columbia. Mo. — Bill Self said he "loved the atmosphere" at Saturday's Kansas-Missouri basketball game at Mizzou Arena.
"So much has been made about the hatred and all that ... I thought tonight — and this is hard for me to say to Mizzou people — but tonight was as good and classy an atmosphere as there is. I think it'll be same when they come to our place (Feb. 25). I'm sure it will be," Self, KU's ninth-year coach, said after the Jayhawks' 74-71 defeat.
Self was asked if this was KU's final trip to Mizzou Arena with MU off to the SEC.
"I've not made a decision five years down the road what we do, or three years. It will not happen in the immediate future," Self said. "They chose to be someplace else. It's fine. It's their prerogative. If it is better for them (in SEC), so be it, but if you choose to be somewhere else, you leave a situation behind that is not the same as what it was when you were in it."
He noted he won't be the only one to decide whether to schedule Missouri, with the athletic director and chancellor having a say, too.
"It's not because I don't like Missouri," Self said of not playing the Tigers. "It's the way it is right now."
He was asked if he felt bad for the fans.
"I don't feel bad. Missouri wanted this, so why should I feel bad? If there's anybody I should feel bad for, it's the players. They don't get the chance to play here, not the fans. The fans to me don't drive the bus at all. Missouri wanted this. It's their prerogative," he repeated.
Self said his position would definitely not change if KU lost to MU in Allen this year.
Stats, facts: Self is 14-4 versus Missouri as KU head coach. The Jayhawks are 171-95 all-time against MU. ... MU snapped a five-game losing streak against KU. ... KU had a two-game win streak snapped in Columbia. ... KU is 24-10 against MU since the start of the Big 12.
Self honors: Self will be one of the honorees at next year's Dick Vitale Gala to benefit the V Foundation, Vitale said Saturday. UConn basketball coach Jim Calhoun and former Florida State football coach Bobby Bowden will also be honored.
This year's gala is set for May 18 at the Ritz Carlton in Sarasota, Fla. Former Notre Dame football coach Lou Holtz, former Maryland basketball coach Gary Williams and current Villanova hoops coach Jay Wright are the honorees. For information visit dickvitaleonline.com.
More like this story on KUsports.com