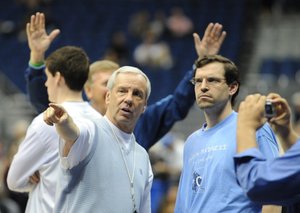 KU versus Mizzou. Where do I begin? I don't know if I will be politically correct with this topic even though I have been away from the rivalry for almost nine years. I have a ton of memories from pretty much every perspective.
My two most vivid memories as a fan were going to a KU-Mizzou game in the fieldhouse as a kid. Sadly I have not been to a game in the fieldhouse as a fan as an adult.

Anyway, Lee Coward and the Tigers came to town, and I loved when he did anything because everyone in unison would yell "COW-ARD COW-ARD."

The other one was the individual performance of Anthony Peeler.
I was sitting on the baseline, and he put on a show. It was the Kansas team vs. Peeler this day. We won, but I was very impressed with him, even though he was a Tiger (Peeler had 43 points in KU's 97-89 victory on March 8, 1992).
As a player, I have a lot more memories, obviously. They are all vivid. Most take place in the Hearnes. It was not a kind place to us, and the Antlers are something we all will never forget.

They were vicious, unkind and downright wrong with some of the things they said and put on posters. We lost three of my four years as a player in that place, and all of them came down to the last possession.

Our only loss in the regular season in 1996-97 was in double-overtime. I can still picture the ball rolling between Jacque's (Vaughn) legs and Paul O'Liney picking it up and hoisting a prayer that was answered to win that game. I remember looking into the stands and this 40-year-old Mankind (Cactus Jack for you WWE fans) look-a-like was giving us the choke symbol with quite a few F-bombs and fingers. Typical of that place.
One of the biggest moments of my playing days was the game against MU that we were celebrating the 100 years of Kansas Basketball.

What pressure we all felt to win that game in front of all the players/legends that came back to town to celebrate the great history and tradition they all helped build. It was a hard-fought game, and we were in control most of the game until they made a little run late in the second half. They cut it to three with about five minutes left. I passed the ball inside to Raef LaFrentz, and he scored to put us up five, then I stole the inbound pass and fed Paul Pierce for an and-1 to put us up eight. They didn't get close again, and we all enjoyed the victory.
As a member of the coaching staff, I was ecstatic to see Ryan Robertson win his senior year at the Hearnes Center. For all the abuse he had taken over the previous trips to Columbia was sweet justice for him. And lastly in 2002 when we put on a clinic in the fieldhouse. Both teams were ranked and we got off to a fast start. It was one of the loudest games I can remember at the fieldhouse in all of my time spent in there. What a great night that was! Kirk Hinrich was all over the place and had some big baskets to ignite the early runs.

Those are just a few memories I have of the rivalry. It is sad to see it come to an end after all of these years. There will be other rivalries for the Jayhawks but nothing as heated as this one. I never liked a single player from any of the Missouri teams that we played against, and it was fun to beat Norm Stewart. He was great for the rivalry because he was easy to dislike, and you knew the feeling was mutual. I really don't care where Mizzou ends up, but I will miss the chance for the Jayhawks to give them a much-deserved "L!"
— C.B. McGrath is a University of North Carolina assistant basketball coach from Topeka, who played guard at KU from 1994-98
More like this story on KUsports.com