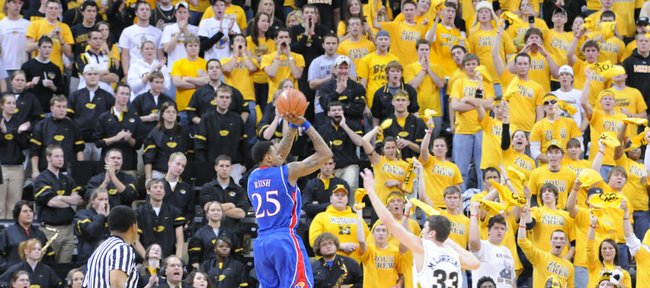 Columbia, Mo. — Since 1976, there has been one constant in the Kansas-Missouri men's basketball games played in Columbia, Mo. That's the presence of MU's loud — some might call it obnoxious — student cheering section known as "The Antlers."
The students — some of the males in the group wear dresses and high heels to the games — have gained notoriety throughout the years, most notably for phoning KU players and coaches at all hours of the night and also holding signs at games that include the phone numbers of the Jayhawk players.
They'll be seated behind one of the goals again today as No. 8 KU (18-4 overall, 8-1 Big 12) meets No. 4 MU (20-2, 7-2) at 8 p.m. in Mizzou Arena.
"One thing Missouri's administration never took any responsibility for ... that group of Antlers was completely out of hand," former KU coach Ted Owens said. "They would call you at your hotel and wake you and say terrible things, and their administration never did anything about it. And they were awful at the game. Riding the other team and the other coach is certainly a part of the game you expect, but they let it completely get out of hand.
"Some of those groups are funny and clever. They were neither funny or clever," added Owens, KU's coach from 1964 to '83 whose teams went 26-20 versus the Tigers.
There have been no horror stories emanating from the KU camp regarding Antler tales thus far this season.
"I haven't heard from them. My number's not out there, so I don't think I'll hear from them," said Travis Releford, KU's junior forward out of Kansas City, Mo.
"You can tricked by anybody," added Releford, who has been cautious with his digits because of The Antlers. "Somebody says, 'Oh, hey, can I have your number?' Then the next thing you know the whole school's got it. You have to know who you are giving it out to.
"We told them (freshmen) earlier, 'Don't get on Twitter or Facebook giving out your number to one of those good-looking girls. Don't fall for that.' That's how it's happened in the past. You've got to be smart."
Releford said The Antlers haven't targeted him over the other KU players, just because he's from Missouri.
"Not really," he said. "If they do, I don't hear it. They give the team more (grief) than they do me individually."
The MU fans will be at a fever pitch tonight, not just because the game is for first place in the Big 12, but the fact it likely will be the final KU-MU game ever played in Columbia, with MU off to the SEC next season.
"It sucks that the rivalry won't be there guaranteed every year, but we're not going in like, 'Oh, this is our last chance playing them here. We've got to really win,' or anything like that," Releford said. "We're just going in like, 'We've got to win the Big 12, and to win the Big 12, we've got to win on the road.' And this is another road game we've got to play."
As far as the on-court match-up, it boils down to a battle between MU's four-guard lineup (Marcus Denmon, Kim English, Phil Pressey, Matt Pressey, with 6-foot-8 Ricardo Ratliffe at the pivot) and KU's more traditional three wings and two big men (6-10 Thomas Robinson, 7-foot Jeff Withey).
"We see it as them having to match up with us instead of us having to match up with them. That's our mind-set going into the game," Withey said.
"We've got to guard their lineup, and they've also got to guard ours," Releford noted. "We're not going to change what we've been doing to play their style of ball. There are going to be times where I have to play the 4 because, every game, guys get in foul trouble. But going into the game, we're not like, 'Oh, Travis, you've got to play 4 this game, because they're small.' No. We've got to guard them, and they've got to guard us. They are fast and quick, and they can all shoot."
Noted coach Bill Self: "I'll tell our guys, it (height) is an advantage. They'll tell their guys, it (speedy guard play) is an advantage for them. We have to wait and see how it all plays out."
Self realizes it's tougher to win on the road than at home but doesn't believe the MU fans will decide this one.
"I think it'll be loud," Self said. "If it's loud, you are not going to hear anything anyway. You are not going to hear individual comments. When you hear individual comments ... that's when nobody's in the stands and you can hear a pin drop.
"It's going to be crazy, but people say it's crazy in here (Allen Fieldhouse), too. Obviously the home court can play a factor, but I don't think the verbiage that comes out of individuals' mouths —the fans — will play a factor."
After today, The Antlers will never have a chance to play a factor again.
KU has said the two teams will not be scheduling each other anytime soon, most certainly never in a home-and-home situation.
"I hated going to Columbia. They had the most classless fans," noted former KU guard Michael Lee. "They spit on us, threw water, soda, cans. We would walk out for warm-ups and see our social security number on a piece of poster board. The best wins were always in Columbia."
KU, by the way, is 171-94 all-time versus MU, 65-53 in Columbia. KU is 4-3 in Mizzou Arena after going 14-18 in Hearnes Center.
MU coach Frank Haith to the Columbia Tribune: "I think it's a great rivalry. I'm excited about being a part of this thing this weekend. You look across the country, a lot of the talk of us not being able to play is based on us being in a different league. But you've Clemson and South Carolina, they're not in the same league. You've got Georgia-Georgia Tech; Florida-Florida State. A lot of those teams are not in the same league, but they still play. Hopefully in time we can rekindle that."
English said the Tigers respect KU's rich hoops tradition, adding to the AP, "But we're living in the here and now. Respect their players, really look up to them, respect their coach. That's about it."
"We cannot win any games except for Kansas, and we had a great season," Missouri forward Ricardo Ratliffe said of the importance of the KU-MU games in the eyes of some fans.
More like this story on KUsports.com