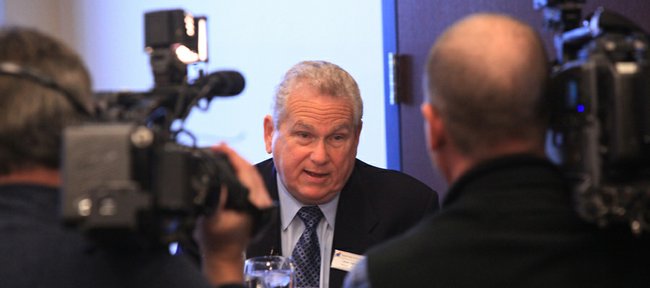 Any way you slice it, Kansas University defensive coordinator Dave Campo owed his wife one.
In the late 1980s, when Campo was working at the University of Miami, he and his wife, Kay, attended a Miami Dolphins game one Sunday afternoon. They sat in the nosebleed section and got the true fan experience.
"There were a few guys who had had a few too many to drink and beers all over and people yelling and cursing," Campo recalled. "My wife said at that time, 'Boy, I'm glad we're not in the NFL.' One year later we were with the Dallas Cowboys."
Not long after that, Campo and his wife were at a party thrown by Dallas Cowboys quarterback Troy Aikman, when they ran into former Dallas coach Barry Switzer.
"He had a few to drink," Campo said. "And he wasn't doing too well this particular night, and he's sitting there as we're walking out, and he says, 'Hey Campo, come over here.' I shook his hand and said, 'This is my wife, Kay.' Well, he stands up, grabs ahold of her, pulls her in and says, 'I'll tell ya, it's great to meet you,' and all that stuff, right. We finish the conversation, and we're walking away and she goes, 'Who was that?' I said, 'Well, that's Barry Switzer.' And she goes, 'Man, am I glad you don't work for him.' One year later I call her up, and I say, 'Hey, Kay, guess who my boss is now? Barry Switzer.' She doesn't wish for anything any more."
It's past stories such as those that made Campo's move to Kansas such a hit for his family. Instead of wishing for things and watching the opposite come true — Campo said Kay later grew to love Switzer — Campo's wife simply sat back and took what came her way. Campo, 64, did the same and now the two are residents of Lawrence. After initially thinking she would commute back and forth from Dallas, Kay visited Lawrence not long ago and decided that she's moving to town, as well.
"She's more excited about this than I am," Campo said. "It's different. There's nothing better than Saturday on game day, and you don't get that same feeling in the NFL. It was an easy sell for my wife."
It may have been an even easier sell for Campo, who spent 18 years of a 23-year pro career working for the Cowboys but got his start in the business on the college coaching staffs of guys like Johnny Majors (Pitt) and Jimmy Johnson (Miami).
Campo, who was made available to the media for the first time on Thursday, when KU coach Charlie Weis' entire staff participated in a media day of sorts, did not hear from Weis until he was fired by the Cowboys after finishing a four-year stint as the team's secondary coach. Campo, who previously had been the head coach and defensive coordinator in Dallas, had been offered a job in the Cowboys' front office, but knew he was not done coaching. That, among other reasons, is why he took Weis' phone call.
"He brought me over one day, called me that night and I said I'm gonna take the job," Campo said. "It didn't take very long. This community and this place and this facility and Charlie sell themselves. That's what sold me."
Getting the chance to return to his college roots was another selling point.
"That's the exciting part," Campo said. "I think I've always leaned toward the younger players when I've been in the National Football League because they're still hungry, they're looking to go somewhere. I actually like those types of players more than the guys who are pretty happy with what they're doing."
Since accepting the job in mid-January, Campo has been on a whirlwind reunion with the college game that included two weeks of recruiting, introductions to new co-workers and the evaluation of a team that went 5-19 during the past two seasons and rarely played the kind of defense Campo is used to coaching.
With signing day now behind him and the task of fitting his philosophies to the pieces in place ahead, Campo just has started to scratch the surface of all the things that will matter on Saturdays this fall. He does not know yet whether the Jayhawks will play a 3-4 or a 4-3 defense. He has vast experience with both and is comfortable with either. He does not know yet whether the incoming players will crack the lineup, the current players will improve or some combination of both will occur. And he does not know exactly how he will go about trying to slow down the spread offenses that have become the signature style of the Big 12 Conference. But he has time to figure it all out, and that will start after the short break that's on the horizon, the one that will allow Campo to return to Dallas to be with Kay and his two dogs.
"This is my 41st year of coaching, and I look at this almost as if I am changing careers," Campo said. "I am going to a situation where I have to look at the things that are going on in college football from a football standpoint as well as getting back into the rules, which are completely different (from the NFL). There really is a lot of excitement, and I am looking forward to the gameday experience along with all the other things you find on the college level that you miss in the National Football League."
Excitement and enthusiasm are staples of the Campo way. Ego is not.
"That's what made coach Campo successful," said new KU special teams coach, Clint Bowen, who also will coach KU's safeties. "You may have some preconceived notions because he was the head coach of the Dallas Cowboys, but when you meet him, you find out that this is just a good human being, a good, sincere, genuine person."