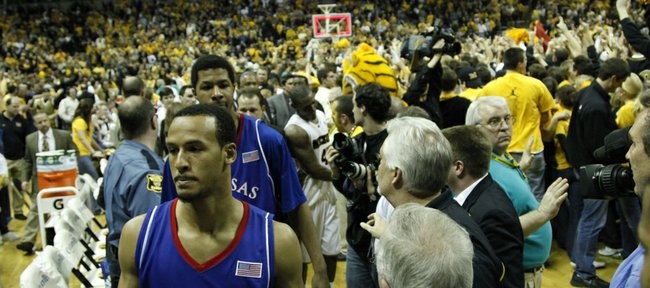 Bill Self, who on Saturday night might coach his final game in Columbia, Mo., was asked Thursday to identify his favorite of the eight Border War battles contested in Mizzou Arena and/or Hearnes Center.
"Let's see ... we're 5-3 against Missouri? I have five favorite games and three that are very, very unpopular in my historical memory," Self, KU's ninth-year coach said with a smile. "There's nothing more fun in my opinion than beating Missouri, and I'm sure they would say there's nothing more fun than beating Kansas," he added.
As far as a few specific recollections?
"I remember David Padgett made an off-balance shot. He throws one in at the buzzer," Self said of an 8-footer by the 6-foot-11 freshman that busted an 82-82 tie with two seconds to play in the final game ever played in Hearnes Center (March 7, 2004).
"Two of the games we lost there ... one of them we had a seven-point lead with 39 seconds left and missed two free throws. Another one we had a 10-point lead with four-minutes left. Their guard made a shot at the buzzer to win by one or two. We've had some great games over there," Self added.
Christian Moody missed a pair of charities with four-tenths of a second left, necessitating overtime in an 89-86 setback to MU on Jan. 16, 2006. KU did indeed lead by nine with under two minutes left. Thomas Gardner scored 40 points for the Tigers.
The other game Self referred to was a 62-60 Tiger victory on Feb. 9, 2009. Zaire Taylor hit a shot in the lane with 1.3 seconds left as the Tigers successfully battled back from a 14-point halftime deficit.
Self on Thursday commented again on the fact the series will be discontinued after this season. KU will not schedule the Tigers now that Mizzou has become a member of the Southeastern Conference.
"To me it's disappointing and sad you have a great rivalry like this that could basically be ended," Self said. "It's no one's fault. We are not blaming Missouri. They chose to be somewhere else. They felt it was best for their school to be in another league. Nebraska did the same thing last year. Colorado did the same thing. Texas A&M; did the same thing.
"What is a little unfortunate, those schools (MU, A&M;) made moves this year when our league is on the most solid footing it's ever been on. They chose to think the grass is greener somewhere else and it may be. That's their prerogative. When you make certain decisions like that, there are certain things that happen behind those decisions that's affected. This (fact it likely is last game in Columbia) certainly adds adrenaline to an already very competitive situation because kids on both teams are prideful. Fans are prideful. There's more talk about it that translates and falls down to the players' level as well."
Self, by the way, is 17-3 all-time against Missouri — 14-3 as KU coach. Frank Haith has yet to coach a game versus the Jayhawks.
"I think it's definitely more important than other games. Kansas-Missouri ... that alone makes it more important," said KU senior Tyshawn Taylor. "It's probably the last time we're going to play against them (at MU). They are going in a different conference."
Taylor cut a joke when asked what the Jayhawks think when the team bus crosses the border and sees the "Welcome to Missouri" sign.
"We do the thumbs-down sign," he said.. "No ... it's not that serious. This rivalry goes back before we even know. We take on that role of not really liking those guys. In a competitive sport we play in it's going to be like that. We're going to take this ride to Missouri and enjoy every minute of it. We are going to embrace their crowd, embrace the fans. We are going to go there and just play."
Taylor said the Jayhawks actually expected a rowdy crowd.
"I am thinking it's going to be pretty rough down there. It should be. They are a real good team, a top five team in the country," he said. "It's a rival. I'd be disappointed if it wasn't a good crowd in there. I think it will be a good atmosphere. With an atmosphere like that, it feels a lot better to win when the crowd is into it and going crazy. I'm excited about that. It's why we came to Kansas, to play in big games like this."
Noted junior Jeff Withey: "We know it will be loud and crazy. The whole Big 12 is pretty crazy. When it's a rivalry game like this it goes extra crazy. They (fans) try to get into your head. We will go in there ready to play. A win on the road is something we need. To get one there would be awesome."
Tipoff for Saturday's game is 8 p.m., with a live telecast on ESPN. The network's College GameDay crew will be in town.
More like this story on KUsports.com