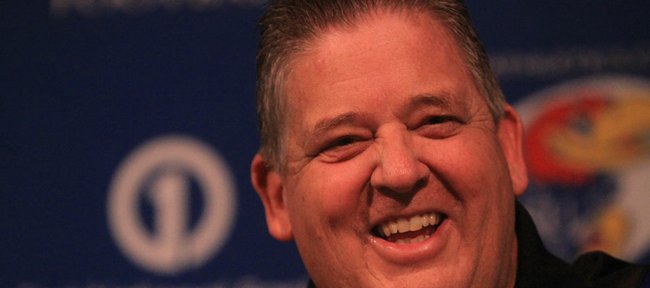 Photo Gallery
Charlie Weis signing day press conference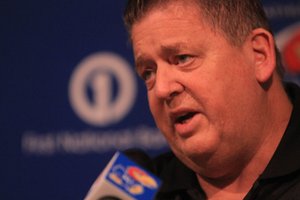 Kansas football coach Charlie Weis talks about his first recruiting class on Wednesday, Feb. 1, 2012, at the Anderson Family Football Complex.
Podcast episode
Kansas football coach Charlie Weis talks to reporters about his first recruiting class during a National Signing Day press conference on Wednesday, Feb. 1, 2012.
Kansas University football coach Charlie Weis has a simple philosophy when it comes to recruiting.
"I believe you have to have a foundation where people live a drivable distance from your campus," Weis said Wednesday during his national signing day news conference. "I don't know how long that ride is, but that's where it starts. Kids want their families to come watch them play."
Weis' philosophy, shaped during his time at Notre Dame, is something he believes works year to year under normal circumstances. Of course, the situation he inherited at Kansas is anything but normal, and Weis already has adjusted his thinking to ensure that KU has as good a shot as possible to win this fall.
For Weis' first recruiting class at KU, that meant pulling in players from as far away as California, Florida, Maryland and Washington. And that led him to land Tampa, Fla., prospect Schyler Miles, a three-star inside linebacker who just might be the headliner in this year's class of 20 players.
Miles, a senior at Berkeley Prep, first met the KU coach when Weis was the offensive coordinator at Florida, and their relationship continued after Weis left for Kansas. Weis' interest in Miles wasn't the first time the 6-foot-2, 220-pound linebacker had heard from Kansas. In fact, KU was the first school to send Miles a recruiting letter during his sophomore year of high school.
"I was real surprised," Miles recalled of receiving the letter. "I was just real hyped up, and since I had never got a letter before, I was just real excited."
With that in the back of his mind and his newfound friendship with Weis at the forefront, Miles passed up an offer from in-state perennial powerhouse Florida and chose Kansas.
"There were people down there in Florida who were dead-certain he was signing with Florida," said Jon Kirby, who has covered KU recruiting for 13 years. "I don't think I've ever seen KU go against a program with that much tradition and success and beat them out for a kid in their own state like that. I think it speaks volumes about what coach Weis can do as a recruiter."
Weis, who had the rare luxury of making two in-home visits with Miles — one as an assistant at Florida and another as the head coach at Kansas — said his ability to develop a solid bond with Miles helped seal the deal.
"I talked to him all year long, so Schyler's here," Weis said. "It really comes down to who you feel most comfortable with."
Of course, when it comes to putting together the best football team you can, the elements on the field factor in quite a bit, as well. That's not a problem either. Ranked by Rivals as the 27th-best linebacker in the nation and the 69th-best prospect in Florida, Miles finished his senior season with 123 tackles and earned multiple all-state and all-county honors.
"You put on a tape, he makes 20 tackles," Weis said. "It doesn't make any difference what game it is, it doesn't make a difference who it's against, he's gonna go make 20 tackles. I really like the kid. I like his family, I like his coach, I like his school, and I'm glad to be able to get him out of Florida to have him come and join us."
Never one to pass up an opportunity to send a message or set the tone, Weis referred back to the personal connections when he was asked if beating out Florida and West Virginia for Miles made a statement to future KU recruits.
"It tells you that if you have relationships with kids in any part of the country, regardless of who you're going against, you can get him," Weis said. "That's what it tells you. I'm just happy to get him because I think the kid can play."
Miles is hardly the only potential impact player Weis landed in the 20-man class. In fact, because of what Weis referred to as "glaring holes" throughout the KU roster, several of the newcomers could be in position to play immediately. That's part of the reason this year's class was so diverse. It included nine high school prospects, eight junior-college transfers and three four-year transfers. Eleven of the 20 newcomers are offensive players; the other nine are defensive.
In addition to Miles, the players Weis seemed most excited about were: juco defensive tackle Jordan Tavai, 6-3, 290 ("people were still trying to steal him at 20 after 11, last night," Weis said); juco defensive tackle Ty McKinney, 6-3, 310, ("the big body that sometimes you're missing"); and juco wide receiver Josh Ford, 6-4, 190, ("he just looks like what you're looking for. The quarterbacks were real excited when they saw him on his visit, and they weren't alone.")
By the numbers
Even though KU's class — which Dayne Crist, Jake Heaps and Justin McCay did not count toward in the rankings — did not crack the Rivals.com Top 50, the Jayhawks were represented in some of the position rankings. KU's tight-end haul of junior-college transfer Charles Brooks and Waco, Texas, freshman Jordan Smith, ranked 22nd in the nation; KU's two linebackers (Miles and Courtney Arnick) ranked the Jayhawks 31st; and KU's defensive-tackle pick-ups (Tavai, McKinney, Keon Stowers and Tyler Holmes) ranked 32nd. In addition, the Jayhawks ranked eighth of the nine Big 12 schools eligible, with an average of 2.82 stars per player. Iowa State was ninth and Kansas State was seventh.
More help coming
Without getting into specifics, Weis continued to point to the fact that there are more fifth-year transfers on the way. The most likely scenario is that they're coming from Notre Dame or Florida, but they won't become official members of the team until they graduate in May.
"There's multiple guys that fall into that category," Weis said. "Several of those holes are already filled, it's just with names that I can't give you at this time."
Back in time
Because last year's class was not full and because they arrived at semester, two of the three newcomers already on campus (Crist, Heaps and McCay) will count toward the Class of 2011.
"Of the three guys we brought in at mid-year, it didn't make any difference which two, we can count two of them backwards so the maximum number we would be able to sign in this year's class would be a total of 27 (instead of the norm of 25)," Weis said. "We're well on our way to being very tight with our numbers."
'A good start'
Although Weis emphasized that coaches never get everything they want on signing day, he seemed genuinely pleased by the class he put together in a little more than a month and pointed to a couple of key positions for the reason why.
"When you bring in multiple defensive linemen, obviously you think there is a hole at the position," Weis said. "When you bring in three quarterbacks in one year, you obviously believe there is a major problem at that position. ... I don't have enough fingers to put in the dike. There's plenty of holes yet to fill, but I think we made a good start. I really feel confident that we filled several (areas of need)."