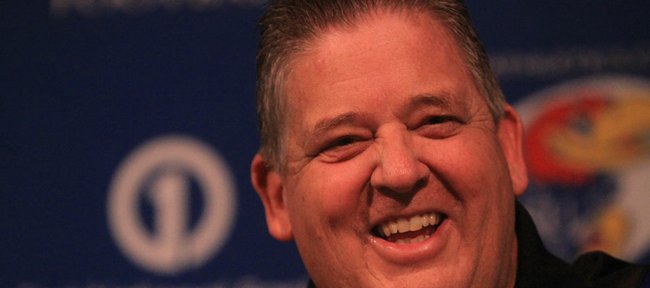 Photo Gallery
Charlie Weis signing day press conference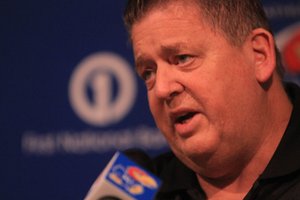 Kansas football coach Charlie Weis talks about his first recruiting class on Wednesday, Feb. 1, 2012, at the Anderson Family Football Complex.
Podcast episode
Kansas football coach Charlie Weis talks to reporters about his first recruiting class during a National Signing Day press conference on Wednesday, Feb. 1, 2012.
Kansas football coach Charlie Weis said his first recruiting class was aimed at filling some glaring weaknesses, which included defensive line and quarterback. Weis spoke during a National Signing Day press conference on Wednesday afternoon at the Anderson Family Football Complex.
"There's plenty of holes yet to fill," Weis said, "but I think we made a good start."
KU announced the signing of 20 players on Wednesday, though Weis said there were "multiple" additions that would take place in May after a few players completed their college degrees at other schools.
Weis also said there were a couple prospects KU was actively recruiting that would not sign on Wednesday. Those players were down to KU and another school and would make a decision at a later date.
Weis mentioned that he hoped that his foundation in recruiting would be players that live a drivable distance from campus.
Here's a summary of Weis' comments Wednesday on each of KU's 17 signees that are not already on campus.
Greg Allen, 5-11, 190, DB
Weis said Allen was a physical corner with a lot of athleticism and a track-and-field background.
Courtney Arnick, 6-2, 205, LB
Weis said he wants guys that can run, and Arnick is one of those guys. He was aggressive on tape and made tackles all over the field. Weis could see huge upside with him.
Turner Baty, 6-2, 220, QB
Weis said everyone could see there still was a glaring hole for KU at quarterback, even after bringing in Dayne Crist and Jake Heaps. KU found one of the more unique opportunities with Turner, as he has four years to complete three years of eligibility after playing one year at a juco.
"That's going to provide a lot more competition at the quarterback position," Weis said.
Brian Beckmann, 6-6, 315, OL
Weis said sign him up any time a kid is 6-foot-6, 315 pounds and local (from Overland Park/Blue Valley West).
"He probably would have been most of the recruited players in the country, but he got hurt and couldn't play this year," Weis said.
Charles Brooks, 6-6, 240, TE
Weis likes to throw to his tight end, and he thinks Brooks' best football is ahead of him. Though it's not a fair comparison to Brooks, he's a bit like the New Orleans Saints' Jimmy Graham in that he didn't start playing football until late. Brooks, a juco transfer, only started playing football his senior year of high school.
"He should walk in the door and compete at that position," Weis said.
Sean Connolly, 6-7, 290, OL
He was late addition to Weis' class, and the coach says Connolly is 6-foot-7, 290 pounds "and he's just a puppy." Weis said he likes big bodies to work with and develop, and he believes Connolly's best football is ahead of him.
Of Beckman and Connolly, Weis said: "I think bringing in these two big tackles bodes well for our future, especially at that position."
Taylor Cox 5-11, 206, RB
Weis said when he landed in Weed, Calif. — to visit Cox at College of the Siskiyous — KU offensive line coach Tim Grunhard was with him, and Grunhard's phone said the closest place to get a bite to eat was 27 miles away. The place is remote.
Weis said Cox, though, was a stud running back.
Josh Ford, 6-3, 190, WR
Weis said Ford is a tall guy that runs fast, makes catches and is a productive player. Ford also was a member of Arizona Western's 4X200 relay team.
"The quarterbacks were excited when they saw him on the visit," Weis said, "and they weren't alone."
Tyler Holmes, 6-3, 280, DL
Weis said Holmes is every bit of 6-foot-3, 280 pounds, calling him a "rocked-up dude."
Weis said Holmes was polished and carried himself well. When Weis visited Holmes' high school, everyone there loved Holmes.
Ty McKinney, 6-3, 310, DL
Weis said McKinney has gotten himself into good shape, but jokingly, Weis was disappointed on his visit when McKinney refused to eat barbecue with him, saying he didn't like it.
Weis said McKinney had the big-body type that sometimes a team is missing. The coach won't worry about him getting knocked off the ball.
Schyler Miles, 6-2, 220, LB
Weis said he told Florida coach Will Muschamp the only guy that UF offered that KU was recruiting was Schyler Miles.
Florida wanted Miles as a running back, while Weis wanted him as a linebacker.
Weis believes there are ethics involved in recruiting, especially for people that treated him right at Florida, so that was the only player he went after that the Gators were pursuing.
Weis actually made two home visits with Miles, one as assistant with Florida and one as head at KU.
Weis said Miles is a guy that, on tape, seems to make 20 tackles nearly every game. Weis said he knew that Miles was coming to KU on Friday, though that the fact that wasn't made public until Wednesday morning was a credit to both Miles and KU's administration.
Nasir Moore, 6-1, 185, DB
Weis met Moore when he was on Florida's staff recruiting an offensive lineman on his same juco team. Moore originally was a receiver, but because of a team need, he flipped to defensive back last year without any training and performed at a high level. He has good size at 6-foot, 185 pounds.
Tre Parmalee, 5-10, 170, WR
Weis coached Tre's father, Bernie, when he was with the New York Jets, then served on the same coaching staff as him during his tenures with Notre Dame and the Kansas City Chiefs.
Weis has known Tre for a long, long time. Weis went to one of Grunhard's 7-on-7 summer workouts, and every time he looked up, Tre was making a catch.
When Weis sat down with Tre once, he told the coach, "I think I want to play defensive back." Weis said, "You were named the best receiver in the area. Why would you want to play defensive back?"
Tre is 5-foot-10, 165 pounds. His father — who played 11 years in the pros as a running back — was also 5-10, 165 pounds when he graduated from high school.
"If he ends up looking or playing anything like his dad, sign me up right now," Weis said.
Jordan Smith, 6-5, 240, TE
When he first heard about Smith, Weis saw he was listed at 6-foot-5, 210 pounds, and he wondered what he was going to do. The coach went down to see Smith, and he was really 6-5, 240 pounds.
"Every time I see him, it looks like he's five pounds bigger," Weis said.
Weis said Smith is an athletic tight end that makes a lot of plays.
Keon Stowers, 6-3, 280, DL
Stowers is a player that Weis saw during his first week on the job at KU. Weis said one interesting thing was that Stowers' face looks exactly like former NFL running back Herschel Walker. He even asked him when he met him if Walker was his father.
Jordan Tavai, 6-3, 290, DL
Weis said there were still schools trying to steal Tavai at 11:20 p.m. Tuesday night.
When he came on his visit, he wasn't planning on coming to Kansas. After taking his visit, he sat in Weis' office and told him, "This is nothing like I thought it was going to be."
Weis said the biggest battle KU faces in recruiting is getting players to visit KU in the first place.
"Our job is to make sure Kansas is not a secret," Weis said. "Get them to our facility, which sells itself, and see if we can get them on board."
Weis said he was glad Tavai stayed true to his KU commitment.
Ty'ree Williams, 6-0, 189, DB
Weis said he likes physical corners, and Ty'ree was the typical physical corner. He also has good size at 6-foot, 190 pounds.
Weis completed the press conference by complimenting his current players, saying, "Early returns out of the weight room have almost been too positive as of right now." He even mentioned that KU strength and conditioning coordinator Scott Holsopple was upset Wednesday morning because no one had screwed up enough to get put on the Saturday morning run list as punishment.
Weis also said he would be leaving this week to join his wife for a vacation in Puerto Rico. He will watch the Super Bowl there.
More like this story on KUsports.com