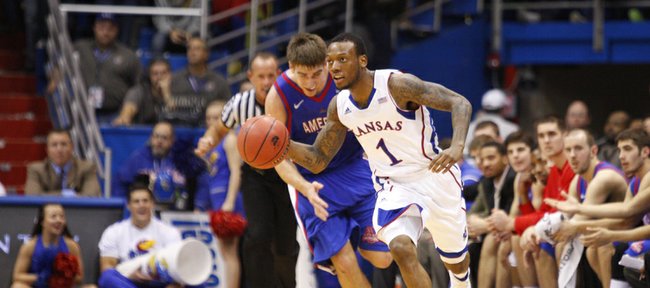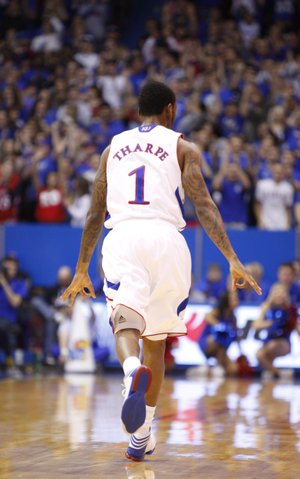 Naadir Tharpe, who has been on quite a roll with 22 assists against no turnovers the last four games, grinned Saturday night when asked if he'd compare himself to another height-challenged point guard, Allen Iverson.
"I don't compare myself to anybody ... Iverson shot the ball 20 times a game," said Tharpe, Kansas University's 5-foot-11, 170-pound sophomore backup point guard, who dished 12 assists against no turnovers and hit three three-pointers in Saturday's 89-57 rout of American.
"If anybody, I'd say more like Chris Paul, maybe ... Steve Nash," he added.
Tharpe, who has made nine of his last 11 shots and seven of his last nine threes, shattered his previous career-high assist mark of five set against Chattanooga this season and Howard his freshman campaign. The 12 assists were sixth-most in a game in KU history, just six off Tom Kivisto's record of 18 dimes in 1973.
All in all, it was spectacular play in just 20 minutes.
"I definitely played better than this in high school, but I'm not going to compare a high school game to a college game. I had a game where I had 16 assists, close to 20 (at Brewster Academy). I just have a different mind-set right now when it comes to basketball," added Tharpe, a Worcester, Mass., native.
The modest Tharpe didn't list himself when asked who was "responsible" for his emergence as a solid sub to Elijah Johnson.
"I would say mostly my older brother, Tishaun," Tharpe said. "We've been sitting down and talking to each other a lot, as well as coach (Bill Self) and my teammates encouraging me."
Tharpe, who lost his dad, Ronald Edward Tharpe, to cancer in 2006, has a mentor and role model in 34-year-old brother Tishaun Jenkins, who was a first-team NCAA Div. III All-America point guard at Salem State University in Massachusetts.
Jenkins led Salem State to its first and only Final Four appearance in 2000 and was recently named to the school's Athletics Hall of Fame.
"I talk to him after every game I play," Tharpe said. "He always tells me what I need to do better. He tells me I need to take a different mind-set out here. You have to be everywhere on the court. That's what I'm trying to do."
Jenkins explained his "be everywhere" philosophy in a phone interview with the Journal-World from his home in Worcester, where the former school teacher now works for Verizon.
"That is my thing," Jenkins said. "I said, 'Naadir, you have to have the will to make every play ... to say I want to make the shot, grab the rebound, outlet it. I want to get it going and finish it right. I want to play defense, do everything, whatever it takes, do everything, be everywhere.'
"Right now, I think he's just figured some things out. He's more comfortable," Jenkins added of the main reason for his brother's success.
The success has come out of nowhere. Naadir was at the nadir after playing poorly in a victory over Saint Louis on Nov. 20. He had three points and two assists, missing four of five shots in 22 minutes.
"He was down, almost to the point, 'I don't know if I can do this, Ti,'" Jenkins related. "I was like, 'You don't quit. When the going gets tough, you get tougher. When it gets tougher you get tougher and tougher. That's how it goes. You take that motivation to get better and show what you are about. Meet the challenge.'"
Sensing a need to catch his brother's attention further, Jenkins after the Saint Louis game told Tharpe of a conversation he had with Self last January.
"Last year, coach said, 'Tishaun, let's be honest. Naadir is not going to go and dominate a basketball game,'" Jenkins said. "I am one of those guys … my coach told me as a junior in college that I reached my pinnacle. I put signs everywhere in my dorm room to stay motivated because this guy thought I was as good as I was going to be. I told my brother, 'Coach Self said you can't dominate a game.' I don't know if that put a little fire under his butt. It seems it has.
"I think coach Self is one of the best coaches in the country. I said to him (Tharpe), 'If he thinks you can't dominate, either that's a lack of effort in practice or you are not showing him what you can do. On the court, you are definitely not showing him what you can do.'"
That was about the time Jenkins asked Self if KU could provide a counselor to help Tharpe work on some issues regarding his dad's death.
"He spoke to someone the course of the whole year," Jenkins said, expressing thanks to KU and Self for the forum for Tharpe to speak about his dad. "When you lose your father, you lose your sense of security. You could talk to him. He didn't make decisions for you but gave you options, methods, ways to go. When you lose that, it's on you."
Speaking about reasons for his improvement, Tharpe said ... "I just feel like I'm going out and playing basketball. It's something I've been doing my whole life. I know what I need to do on the court — that's find people and get them when they are open."
As far as his scoring 25 points the last three games ... "A lot of coaches that coached me always said I was a good shooter. Growing up, my brother always told me, 'You've got a nice stroke,'" Tharpe said. "Coach Self says the same thing. He gets mad if I don't shoot open shots so I know I've got to shoot the ball when I'm open."
Self is pleased with Tharpe's progress. He always has been a fan of Tharpe the person, who showed up for his recruiting visit wearing a tie.
"What a great kid," Self said, adding of his game, "There's no dropoff when we go to the bench, not the last three to four weeks with Naadir. He's getting more comfortable. He's more aggressive defensively. He's getting where he can facilitate really well. I'd say ever since our team started playing well, he's a big reason why. He's given us a boost every time he comes in the game."
Tharpe, youngest of five boys in his family, is looking forward to showing his new and improved game to big brother in January, when he'll make his fourth trip to Lawrence to watch Tharpe play.
At the next game will be another loved one — Tharpe's baby daughter, Amara Grace Tharpe, who was slated to arrive for a visit Sunday.
"I just love her. It's hard not to love her," Tharpe said of Amara, whose first birthday is Jan. 21. "You look at her eyes. They are so bright. It's hard to explain."
He enjoyed spending time with his daughter over a short Christmas break spent in Worcester.
"I bought her some stuff online as well as a couple toys, stuff like that," Naadir said.
Jenkins said Naadir, "is a great father, a great young man. He has manners, morals, values. Honestly, I'll say this ... you ain't seen anything yet," he added, laughing. "I'm excited, proud, right now, but this is the tip of the iceberg when it comes to this little guy right here."