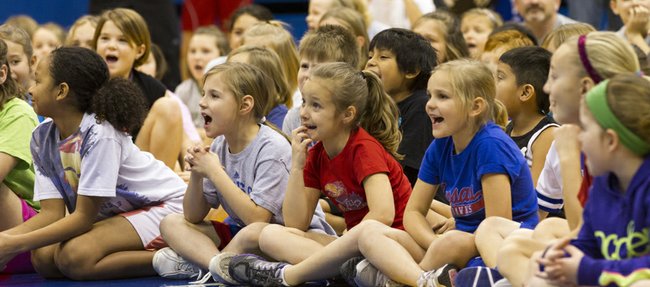 Photo Gallery
KU women's basketball clinic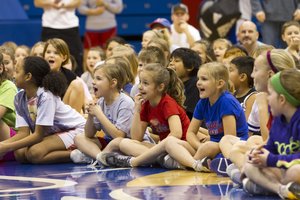 Photos from the Sunday, Dec. 30, 2012, Kansas women's basketball holiday clinic
A 12-day gap in the schedule between their nonconference finale at Cal and their Big 12 opener at home against Kansas State afforded members of Kansas University's women's basketball team the chance to get away for the holidays.
They've been back in town a few days and broke up the monotony of semester-break practices leading up to Wednesday's rivalry clash with the Wildcats by entertaining close to 300 girls and boys, as well as some of their family members, at KU's annual Holiday Hoops Clinic Sunday afternoon at Allen Fieldhouse.
Of course, Kansas coach Bonnie Henrickson made sure her players practiced beforehand, in the morning. She didn't want the youngsters wearing out the No. 22 Jayhawks (9-2) before the coaching staff had a crack at doing the same.
"The most important thing here is just the energy our players have to teach and to interact," Henrickson said of the clinic. "We're teaching some, but it's more about being able to show your personality."
KU senior forward Carolyn Davis called it a fun afternoon with the youngsters, kindergartners through eighth-graders.
"They just want to play, shoot the ball, run around and have fun with us," Davis said.
The only problem, Davis added, was sometimes children are far more interested in shooting than learning about other basketball fundamentals. So it was up to those KU players at the dribbling, passing and other not-as-captivating stations to conquer that challenge.
"We've got to find a way to make it fun, to make it interactive for them," said Davis, in charge of passing drills. "You try to give them games, competitions, anything to spice it up a little bit."
Henrickson called the clinic a great way for the Jayhawks to give back to the community and help the kids run off some of the holiday treats on which they've been feasting.
"I think we got most of the cookies out of our system," Henrickson said of KU's players.
The ninth-year KU coach found basketball less important at the clinic — for the KU players and coaches, at least — than the chance to interact with the youths. Henrickson related that children leave the clinic talking about how "Bunny (Williams) talked to me, Chelsea (Gardner) shook my hand, Angel (Goodrich) high-fived me, and I got to talk to Carolyn and Angel and Monica (Engelman)."
The gap in KU's schedule came up when no opponent could be found for the available dates between Christmas and the Jayhawks' Jan. 2 conference opener. Henrickson said Kansas did some things well in its last game, an 88-79 loss at Cal on Dec. 21, and she hopes the players can carry those over to the game against K-State on Wednesday (7 p.m. tipoff at Allen Fieldhouse).
Last season, Kansas had to play on Dec. 28 after going home for the holidays. Davis said easing back into the schedule should help the Jayhawks.
"Just to be able to come back and focus on ourselves for these long amount of days before K-State," Davis said, "gives us a lot of confidence."