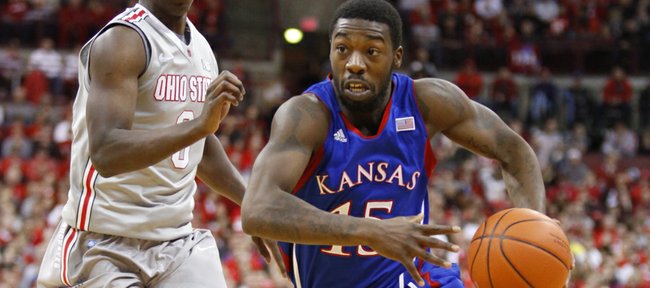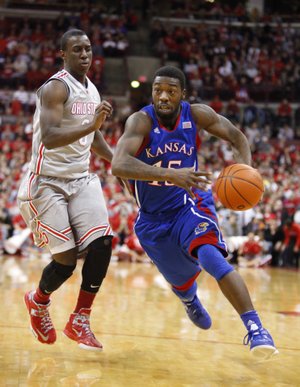 A short-but-sweet 3 1/2-day Christmas vacation in his hometown of Las Vegas has rejuvenated Kansas University senior point guard Elijah Johnson.
"You get to see some familiar faces and think about what you are doing every day and think about how much you mean to people and how much people mean to you," Johnson said. "(It was) definitely a time to reflect, come back and take care of business, have a whole new mind-set.
"It's like getting re-energized," added Johnson. "We've got some important games coming up. We've got some teams that's hot — that's on the market — that we've got to play. Right now, we're getting through these first couple practices, getting our conditioning and focus back."
Johnson, who scored 13 points in Saturday's 74-66 victory over Ohio State, and his teammates returned to practice Wednesday night after being awarded time off for the holiday. They've been practicing twice daily in preparation for today's game against American University (7 p.m., Allen Fieldhouse).
Johnson, who started at off guard and also backed Tyshawn Taylor at the point last season, hopes he's ready to take the next step at the lead-guard position starting tonight. For the year, he has averaged 9.9 points (off 43.3 percent shooting), with 55 assists against 30 turnovers for the No. 6-ranked Jayhawks (10-1).
"I think it (confidence) has grown a little bit, getting comfortable trying to do it again," the 6-foot-4 Johnson said of running the offense. "It's something I've always done, but coming to Kansas, I kind of played the 2-role. Having to switch up and learn a whole 'nother position, it's comfortable for me now. I'm just trying to have fun with it.
"I think Ty was a different kind of guard. He could really score, and I think Tyshawn put a lot of pressure on people how fast he was. I think it's two different packages."
KU of late also has received solid play from backup point Naadir Tharpe, who dished 10 assists against no turnovers while scoring 18 points the past three games — victories over Ohio State, Richmond and Belmont.
"I'm not too impressed because I know 'Naa' has got that in him," Johnson said. "It's about him doing it. If he continues to do that, I think we'll be a way better team."
Prior to this three-game stretch, the 5-11 Tharpe combined for three assists against eight turnovers and scored seven points against Colorado, Oregon State and San Jose State. That ineffective play followed a strong three-game swing against Saint Louis, Washington State and Chattanooga in which he had 11 assists, no turnovers and 11 points.
Freshman guard Ben McLemore enters tonight's game against American (4-8) after scoring 22 points and grabbing six rebounds against the Buckeyes.
"Ben has brought energy," Johnson said of McLemore, who averages 16.5 points and 5.7 boards. "People have seen the highlights with the dunks and everything. I feel like that's what he deserves because of how hard he plays and practices every day. I don't know anybody who tries to do the fundamentals as much as him — close out with high hands. He's so coachable. He definitely brings positive energy to our team."
Senior Jeff Withey, who spent an extra day in California to attend the memorial service of his grandmother, returned to practice Friday. The senior center has averaged 14.1 points and 8.3 rebounds, to go with 55 total blocks.
"He does so much on defense," Johnson said. "Without him, we'd be a totally different team, no matter what anyone says about that."
Coach Bill Self said Withey, "is better than what I thought (he'd be). He's fallen in love with the game. He's gotten better and will keep on getting better."
Self said he's looking forward to seeing his Jayhawks continue to improve.
"This year's team has done a really good job so far of everybody putting both feet in a circle and saying, 'Let's do this together.' That's kind of refreshing," Self said. "When you are coaching superstars, and we've had some here, they are unselfish, too, but they've got to score, do this or that, because that's what was best for our team. I go into games now having no idea who our leading scorer will be, even though Ben has kind of emerged as that. It's fun because it seems like there's a different guy always stepping up."
Yet, " This is a team you can't be soft on, I guarantee you," Self said. "Once they start thinking they are really getting something done, we'll get a knot put on our head. We need to be hungry and aggressive."
About American: Located in Washington, D.C., with an enrollment of 6,783, American is 4-8 after losing to Georgetown, 65-48, on Dec. 22. The Eagles, members of the Patriot League, are coached by Jeff Jones, who is 202-163 in his 13th season. Senior forward Stephen Lumpkins averages 15.0 points and 8.3 boards. Senior guard Daniel Munoz averages 10.4 ppg.
"They will play 3-2, 2-3 (zones) and man and mix it up a little bit," Self said. "KU fans should remember Jeff Jones. Was it the 1995 NCAA Tournament (in which Jones' Virginia team beat KU, 67-58, in a Sweet 16 game in Kemper Arena)? They probably are a little rusty. I know we are, so it'll be interesting to see how it plays out."
Wesley target date, awaits reviews: KU junior forward Justin Wesley, who broke the little finger on his left hand on Dec. 13, said the target date for his return is Jan. 6 versus Temple.
"It's healing pretty well now. As long as nothing comes out of place, I should be back then," Wesley said, noting he's currently, "shooting, noncontact (work). I can't receive any hard passes, but I can shoot."
Wesley, who plays Wilt Chamberlain in the upcoming movie "Jayhawkers," said he's been told the movie will be premiered in Lawrence this spring.
"If Spielberg (Steven) calls, I'll have to take a little break from basketball," Wesley joked of a possible future in acting. "I hope they (reviews) are great. I'm hoping they don't say, 'Bad movie; bad actor.'"
New Rivals rankings: KU signee Joel Embiid, a 7-foot senior from Rock School in Gainesville, Fla., has gone from unranked to No. 37 nationally by Rivals.com. Other KU signees and their rankings: Brannen Greene, 6-7, Tift County High, Tifton, Ga., No. 25; Wayne Selden, 6-5, Tilton (N.H.) School, No. 26; Conner Frankamp, 6-foot, Wichita North, No. 31; Frank Mason, 5-11, Massanutten Military Academy, Woodstock, Va., No. 134.
Miles in town: Former KU point guard Aaron Miles, who plays pro basketball in Russia, attended Friday's practice.
More like this story on KUsports.com