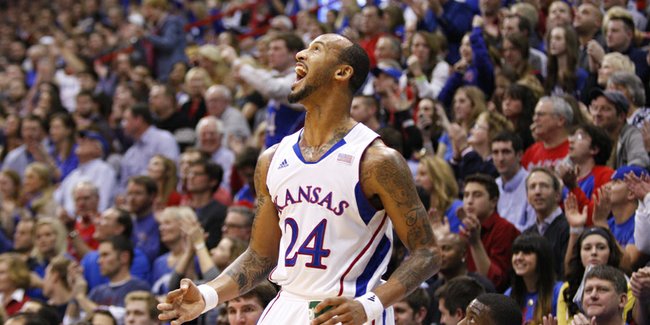 Photo Gallery
Kansas basketball v. American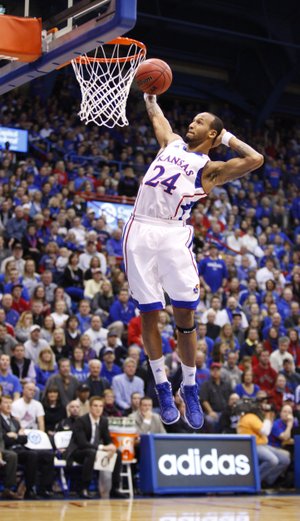 Images from Saturday night's game against American University at Allen Fieldhouse.
Podcast episode
Kansas coach Bill Self talks to reporters following the Jayhawks' 89-57 victory over American on Dec. 29, 2012.
Podcast episode
Kansas players Naadir Tharpe, Travis Releford and Jeff Withey talk to reporters following the Jayhawks' 89-57 victory over American.
Box score
Kansas University defensive stopper Travis Releford has been known to pass up a wide-open shot or two on the offensive end during the course of a basketball game.
"I don't think about it. Afterward they (teammates) all come up to me and say, 'Trav, I need that assist. You are a good shooter, just shoot it,'" the 6-foot-6 senior guard said after hitting a career-best five three pointers in six attempts in the Jayhawks' 89-57 rout of American University on Saturday night in Allen Fieldhouse.
"This week in practice, coach (Bill Self) came up to me and said I need to look for my shot more," added Releford, who went 7-for-8 overall and finished with a game-high 19 points. "My teammates told me to look for it more. They looked for me out there. They got me open. I stepped up and made shots."
Releford wasn't the only Jayhawk on fire from three-point land. Elijah Johnson (12 points) hit four of five and Naadir Tharpe (nine points, 12 assists) three of four on a night KU cashed 15 of 24 threes. The 15 makes were one off the school record of 16 set against Baylor on Jan. 25, 2005 in Waco, Texas. It marked the most threes by the Jayhawks since hitting 15 versus Texas in the Big 12 championship game on March 16, 2008.
"I think we fed off each other's energy. One guy made a shot, the crowd got into it, another guy made a shot," Releford said. "I felt like whoever shot it next, it seemed like it was going to go in. I think it was based off energy the crowd brought for us," added Releford, who a week ago was credited for his stellar defensive work against preseason All-American Deshaun Thomas in KU's victory over Ohio State in Columbus.
"Not at all," senior center Jeff Withey said, asked if Releford's offensive production surprised him Saturday. "We know he can shoot. He does it in practice. He has the hot hand. He showed it today," added Withey, who scored 11 points with four blocks and four rebounds.
The 6-foot-6 Releford is now averaging 13.3 points a game (third on the team) off team-leading 61.7-percent shooting.
He has made nine of his last 11 threes over four games and for the season has cashed 16 of 36 threes for 44.4 percent. He's also made 28 of 32 free throws for 87.5 percent.
"Travis was on fire," Self said. "What was he, five of six from three? That's hard to do. He has shot it well. He was looking for it (shot) tonight.
"We shot the ball unbelievably," Self added after a game in which KU (11-1) hit 63 percent of its shots to American's 35 percent. "The one that needed to make some shots was Elijah. He's been kind of cold from behind the arc. He came out and made shots. They played kind of contain defense. We made them pay (for) doing that and made a lot of shots."
KU's final three was an air-ball by walk-on Tyler Self, the son of coach Self. "We are going to call an attorney and see about a name change," Bill Self joked. "His mother said she still loved him, so I guess that will probably pass."
Freshman Perry Ellis had 11 points and 10 rebounds to become KU's first freshman to record a double-double since Thomas Robinson (15 points, 10 rebounds) against Alcorn State in 2009. Frosh Ben McLemore, who was in early foul trouble, had nine points and three boards in 20 minutes.
KU used a 16-2 run (Johnson hit two threes, Releford one) to bust a 7-7 tie and give the Jayhawks a 23-9 lead early. The Jayhawks hit eight threes the first half and held a 53-26 halftime advantage, the outcome never in jeopardy against (4-9) American.
"We played pretty well. Our defensive pressure was actually pretty good even though we didn't turn them over a lot," Self said. "We shared the ball and it was good to see a lot of guys get a lot of minutes. Certainly some of our bench guys made the most of it."
KU will next meet Temple a week from Sunday in Allen Fieldhouse. Game time will be either 12:30 or 3:30 p.m., with CBS to announce the time in coming days depending on its NFL playoff schedule.