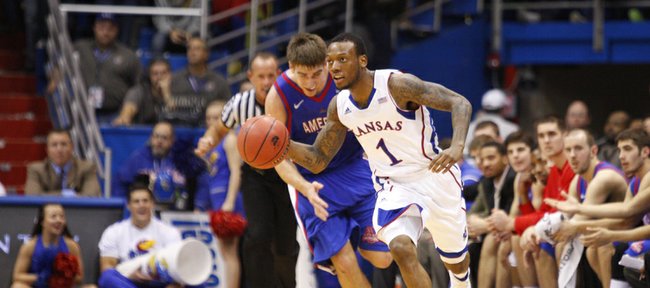 Photo Gallery
Kansas basketball v. American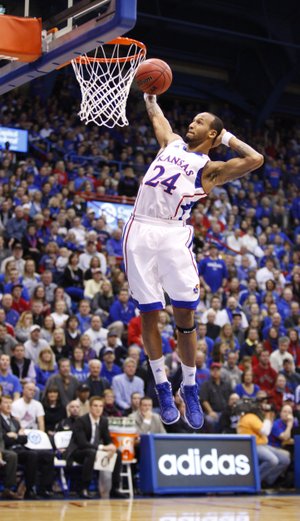 Images from Saturday night's game against American University at Allen Fieldhouse.
Podcast episode
Kansas coach Bill Self talks to reporters following the Jayhawks' 89-57 victory over American on Dec. 29, 2012.
Podcast episode
Kansas players Naadir Tharpe, Travis Releford and Jeff Withey talk to reporters following the Jayhawks' 89-57 victory over American.
Box score
For the longest time, Naadir Tharpe played like an athlete who didn't seem sure he was good enough to hang with the guys surrounding him. They attacked. He retreated. They made plays. He tried to avoid making bad plays.
Remember that guy? You can forget him now. Tharpe certainly has shoved him into the past.
Tharpe is sure he belongs now, so sure he played with as much confidence as anyone Saturday in Allen Fieldhouse, where he sparked Kansas to an 89-57 blowout of American, or for that matter anyone on your television all day long.
Tharpe always had one quality that gave him potential to fit in eventually. He's fast, really, really fast and plays on a team at its best when flying up and down the court. But when a player looks as if he's not quite sure he's good enough, it's difficult for anyone else to hop on board.
Suddenly, Tharpe's bandwagon's getting mighty crowded by the game and he's at the wheel. For the fourth game in a row, Tharpe played inspired basketball and had a big hand in Kansas playing at such a rapid pace.
The most impressive individual game statistic of this getting-better-all-the-time season now belongs to Tharpe. He had 12 assists without a single turnover. He consistently attacked, penetrating into the paint and zipping passes to open shooters behind the arc and underneath. He mixed in nine points on three of four three-point shooting and picked up four defensive rebounds in 20 minutes off the bench.
By halftime, Tharpe had eight assists, driving, shooting and passing Kansas to a 53-26 advantage. This was more a case of a sophomore fueled by soaring confidence than a superior athlete exploiting inferior competition.
Kansas won't again play a team as talent-challenged as American, but Tharpe's rapid improvement predated Saturday.
In the past four games, one against then-No. 7 Ohio State, Tharpe has 22 assists and has not turned it over once. Streaks like that are rare at any level of basketball. This assists-without-a-turnover streak grows much bigger and #TharpeFanClub will be trending on Twitter.
Tharpe also has made seven of eight three-pointers in the past three games, heading into that stretch with a 6-for-21 accuracy rate. But it's what he's doing as a distributor and what he's not doing — turning it over — that has raised the ceiling on a basketball team that already had a high one.
He's making such great decisions on the run, threading passes into tiny openings for sure-handed teammates who know how to finish. Tharpe's greatest wow moments came when was in the air seemingly with no play and found Withey for a dunk and when he turned his back to the basket in the lane and dished to Andrew White III for a slam.
Not long ago, it looked as if the one soft spot for Kansas was that Elijah Johnson was the only reliable point guard and Tharpe better fit the description of undersized shooting guard.
Since Tharpe's emergence, Johnson's play has picked up as well.
It took Tharpe longer than some to adjust to a demanding coach who isn't interested in athletes comfortable with becoming known as good basketball players. He wants them all to strive to achieve great things.
"It's been a process from the start," said Tharpe, a friendly sort not burdened by conceit. "No one just comes to Kansas and automatically is a superstar. So I've been trying to work hard in practice so I can be out on the floor to help my team win."
Few things put a charge into a team as richly as watching a young athlete shed his cloak of insecurity to reveal his true talent.
"It's awesome because 'Naa' gets into the paint a lot and he knows how to find people," senior center Jeff Withey said. "He did it today. He showed it. He does it all the time in practice. We're just getting more comfortable with him and he's doing a great job coming off the bench and doing really well. For bigs, we love playing with guards like that, anybody who can drive and kick it."
Tharpe's play has improved in all areas.
"He's getting more comfortable and he's more aggressive defensively," KU coach Bill Self said. "We've always said he could shoot the basketball and he can, he can really shoot, but he's getting where he can really facilitate very, very well."
Self, who hasn't been shy about criticizing Tharpe in the past, marveled at the box score.
"His line tonight, you go 3-for-4 from three and you have 12 dimes and no turnovers, you don't see that very often," Self said.
American coach Jeff Jones, in the aftermath of the blowout, became the latest to express the opinion that Kansas is as good as any team in the country. Nobody was saying that when Tharpe was in retreat mode.
"Ever since our team started playing well you could probably look back and say he's a big reason why," Self said of Tharpe. "When we were laboring, basically up until the Colorado game, I don't think Naadir had played very well, but when he plays well it seems like to me he's giving a boost every time he comes into the game."
Tharpe's recent play has made a deep team deeper and the two-man depth chart at point guard no longer is too shallow.