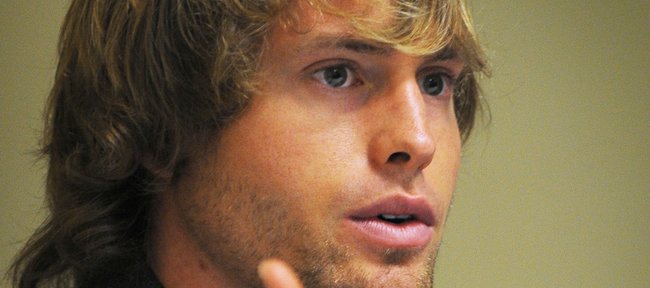 Former Kansas University running back Jake Sharp may be done slapping on shoulder pads and strapping on a helmet, but that does not mean he's finished with football.
Sharp, a Salina native who played for the Jayhawks from 2006-09, recently became part owner of an indoor football team in the CPIFL that he helped bring to his hometown.
"I've always wanted to have an arena team here in Salina," Sharp said. "Even when I was a kid, I wondered why there wasn't one here."
The Salina Bombers will kick off their first season on March 16.
"We have a big military base out here, and we pretty much named it after the base and kind of the history of the town," said Sharp, who joined with two guys from Junction City to create the ownership group.
Sharp said he has enjoyed the experience.
From seeking sponsors and naming the team to marketing and signing players, Sharp said his early encounters with ownership only have added to his belief that he could get into this line of work.
A couple of years back, after a few short-lived tryouts with NFL teams, Sharp played six games with an indoor team based in Wichita and was picked up by the UFL's Omaha (Neb.) Nighthawks. Although he never played a game in Omaha, Sharp learned enough from both stops to know he liked indoor football as much as he liked the outdoor version.
"I kind of saw how the league was run and the teams were run and thought this might be something I might want to get into when I was done playing," he said. "It just all fell together nicely."
Sharp said he was comfortable with the fact that his playing days are behind him. Besides, the league actually has a rule against putting owners on the active roster, stemming from former NFL receiver Terrell Owens' sneaky stint as a player/owner with the IFL's Allen (Texas) Wranglers in which Owens suited up to add talent and get around the salary cap.
"Guys play for different reasons, and I always played for the excitement and the thrill of it." Sharp said. "If I could've done that playing paintball with 80,000 people there watching, I would've done that. So I don't necessarily miss the game as much as I miss the excitement."
That's the thought that was behind the idea of bringing arena football to Salina in the first place, Sharp said. With the 5,000-seat Bicentennial Center already standing and the tone of the town matching many other arena homes — most notably Grand Island, Neb., which packs 7,500 fans into every home game — Sharp and his partners believed the endeavor would be as close to a sure thing as possible.
"Salina's got the same demographic. We're a football town. There's really nothing else to do from March to May. Why wouldn't this fly here?" Sharp said.
One thing helping the Bombers' cause is the roster, which is made up largely of former KU and K-State players as well as other standouts from smaller schools nearby.
Dane Simoneau, a four-year starter at Washburn University in Topeka, recently was signed as the team's starting quarterback, and former Jayhawks Raymond Brown (2005-08) and Eric Washington (2005-06) also are on the roster. Sharp said he expected to add a few more current Jayhawks to the roster in the coming weeks.
Bob Frey, a 25-year coaching veteran who worked for three seasons at Kansas Wesleyan and was a college roommate of former KU offensive coordinator Ed Warinner's, will be the program's first head coach.
Sharp said support around town has been amazing. Sponsors are opening their wallets, and fans are looking forward to the season. While those seem to be good signs the team might make it, Sharp said the best sign was the strong league in which the Bombers landed, which includes cities throughout Kansas, Oklahoma and Nebraska.
"What kills leagues of this level are the travel costs," Sharp said. "If you have to take the whole team to Washington, that's $60,000. So if we're just traveling to Wichita, Kansas City, Lincoln (Neb.), Tulsa (Okla.), you keep the costs low, and that makes it a strong league for everybody."
When he's not working on his new project, Sharp continues to grow his own business, a sports-training academy known as Sharp Sports Performance, which caters to athletes of all kinds. Sharp, who ranks 11th on KU's all-time rushing list with 2,239 career yards, loves working for himself, is excited about being back in football and can't help but wonder if this is the beginning of his behind-the-scenes future.
"I'd love to own the Kansas City Chiefs," he said. "But I don't have a $500 million trust fund. But I've always thought it would be cool to get into something like this, be successful and maybe go back to a university and teach sports-management classes or something like that. Like any other business venture, all you can do is throw yourself into it and see what happens, and we're certainly not afraid to do that."