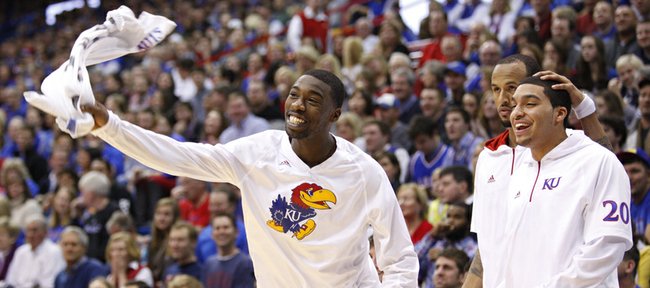 Photo Gallery
Kansas basketball v. American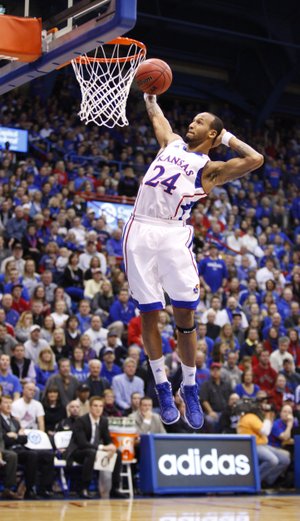 Images from Saturday night's game against American University at Allen Fieldhouse.
Podcast episode
Kansas coach Bill Self talks to reporters following the Jayhawks' 89-57 victory over American on Dec. 29, 2012.
Podcast episode
Kansas players Naadir Tharpe, Travis Releford and Jeff Withey talk to reporters following the Jayhawks' 89-57 victory over American.
Box score
The hot shooting of Kansas University senior Travis Releford made life difficult for visiting American University during an 89-57 KU victory Saturday night at Allen Fieldhouse.
But the way American coach Jeff Jones saw it, it was the play of KU point guards Elijah Johnson and Naadir Tharpe that made things oh-so-easy for Releford, who hit five of six three-pointers and led all scorers with 19 points.
"You gotta give Tharpe, in particular, credit," said Jones of the KU sophomore, who finished with 12 assists and no turnovers in 20 minutes. "The 12 assists, that's a great number. And 25 assists on 34 baskets for (KU) is another really high number. And I think a lot of that is really due to their guards being able to drive the ball (to) force us to react."
Jones said he and his players knew they had a difficult task heading into Saturday's contest and their gameplan centered on two things: First, taking away the inside, where 7-foot center Jeff Withey created a match-up nightmare for the Eagles, who had just two players taller than 6-foot-6 play more than three minutes in the loss; second, limit the opportunities that KU got off of drives to the basket.
The Eagles (4-9) were unsuccessful in both areas. Withey finished with 11 points on 5-of-7 shooting, and KU's post players combined for 31 points and 22 rebounds on 14-of-20 shooting. But Jones was far more concerned about his team's inability to stay in front of the facilitators of KU's offense.
"In an ideal world, we would've done a better job of containing their dribblers," Jones said. "They don't have a lot of 'em. It's Johnson or Tharpe. The other guys are what we refer to as straight-line drivers. But those two guys (Johnson and Tharpe) were able to get into the paint and, it might be on the other side of the floor, but they do a great job finding those spot-up shooters."
The Jayhawks shot 15-of-24 from three-point range, one make shy of tying the school record for three-pointers in a single game. The Eagles felt every one of them.
"It wasn't one or two guys," Jones said. "It seemed like it was the entire team."
Added American senior Stephen Lumpkins, who led the Eagles with 16 points: "It was tough to defend them. We really tried to focus on protecting the rim and not letting them get a bunch of easy dunks. It's tough when a team gets going like Kansas did."
When asked what he did — or at least tried — to counter KU's hot hand from behind the arc, Jones' answer provided a glimpse into just how helpless his defense was in this one.
"It'd be one thing to say, 'Get up on 'em and contest,'" he said. "But with Tharpe, he was getting into the lane and, if you're playing good help defense then you're reacting to that penetration. ... The way they were shooting the basketball, we just didn't have much of a chance."
Because of his team's hectic December schedule, Jones' first glimpse at the Jayhawks this season came just a few days prior to Saturday's tipoff. Evidently, a few game films and one very long, very painful in-person look was all the former Virginia head coach needed to make a read on where this KU team ranks.
"They're a really good team regardless, but if they can shoot the ball like that, that takes them to a whole (different) level," he said. " ... They're as good as anybody in the country."