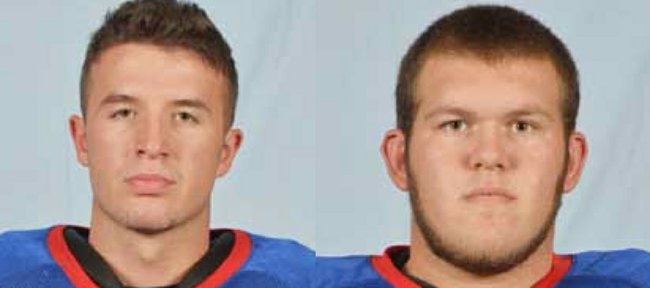 They don't have the buzz of the rest of the incoming recruiting class, but at least one could make an impact that is just as important.
Place kicker Michael Mesh and offensive lineman Colby Hamel, a pair of Hutchinson Community College football players, announced recently they would be walking-on to the Kansas University football team for the 2013 season.
Mesh's addition seems to be the more intriguing of the two, though Hamel's 6-foot-3, 305-pound frame at least makes him an interesting prospect.
During his two-year career at HCC, Mesh was a second-team NJCAA All-American and was a two-time first-team All-Jayhawk Conference selection. He is expected to compete with Nick Prolago and Ron Doherty for KU's kicking duties right away and appears to be an upgrade on what Kansas had at the position throughout 2012.
Mesh, a Hutch native, made 12 of 15 field-goal attempts this season and tied a school record with a 47-yarder during a playoff loss at Butler. His 16 career makes are the most in HCC history, and his 186 career points are the most scored by a kicker in Blue Dragons history.
Mesh made a visit to KU on Dec. 7 and said he liked what he heard in his meeting with KU coach Charlie Weis.
"Coach Weis said I had a good chance to get the field-goal job, but I have to earn it," Mesh told Brad Hallier of The Hutchinson News. "I'm going to get up there and just show them what I have and what I can do. Kansas is where I've wanted to play. I want to help them get back to being dominant in the Big 12."
Hamel, a second-team All-Jayhawk Conference selection in 2012, can play center and guard and started every game but one this season.
Because they are walk-ons, neither player will count against KU's cap in the Class of 2013, which currently sits at 24 players, 10 of whom signed letters of intent on Dec. 19.
Rivals 100 released
Rivals.com updated its list of the 100 best junior-college football prospects in the country Thursday, and KU, with seven, landed the most commitments of any program in the country.
Pierce Community College defensive tackle Marquel Combs, ranked No. 1 by ESPN, was Rivals' top-ranked Jayhawk at No. 10, followed closely by City College of San Francisco defensive end Chris Martin, who was 13th. Others on the list: Iowa Western offensive lineman Mike Smithburg (41), Pierce C.C. linebacker Marcus Jenkins-Moore (57), Arizona Western cornerback Cassius Sendish (59), Fort Scott C.C. cornerback Kevin Short (69) and Hinds C.C. defensive end Andrew Bolton (91). All but Bolton made their commitments official by signing letters of intent Dec. 19. They, along with four other midyear transfers, will enroll in time for the spring semester. Bolton and several others from both the juco and prep ranks are expected to sign with Kansas on Feb. 6, the first day of the regular signing period.
McDougald an all-star
Former KU safety Bradley McDougald, a senior from Dublin, Ohio, on Wednesday announced via Twitter that he had accepted an invitation to the annual East-West Shrine Game, a college football all-star showcase that features some of the top talent from around the country and works to benefit Shriners hospitals.
This year's game, the 88th edition, will kick off at 3 p.m., Jan. 19 at Tropicana Field in St. Petersburg, Fla., and will be televised by NFL Network.
Former Jayhawk Steven Johnson, now with the Denver Broncos, played in the 2012 Shrine Game.
More like this story on KUsports.com