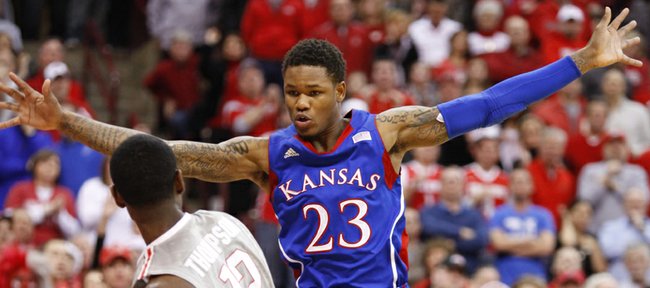 His spectacular plays and high-rising ways leave basketball fans enjoying watching Kansas University freshman Ben McLemore compete as much as he enjoys playing the game.
His hunger to improve is evident by how smoothly McLemore has taken to playing with the well-disciplined, experienced talent that surrounds him.
His dedication to turning his extraordinary athletic ability into productive basketball moves both predates his association to Kansas and has roots in KU basketball tradition.
"Junior year in high school, I went to LeBron James' camp and to Paul Pierce's camp," McLemore said in a recent interview. "First time meeting Paul Pierce, watching his footwork and style of play, I said, 'That's how I play. That's my game.' I started moving in slow motion just like him, told myself, 'I need to imitate his game and see how far I can go with this.'"
Funny, Pierce's name has been coming up a lot lately in the same sentence as McLemore's, as in, "KU's best player since Paul Pierce."
McLemore also has studied LeBron's game.
"He's such a great player, offensively and defensively, giving 110 percent every night," McLemore said. "He's just aggressive every night. He's 6-8, what, 250? And he's so quick on his feet. Awesome player. I really like his game. He's always in attack mode. He's strong, and he's fast, and he's ready to play every time."
McLemore said the highlight of the James camp came when he played on a team that played against LeBron's team.
"We were winning the whole game, and then he just took over," McLemore said. "I had a smile on my face the whole camp."
After what amounted to a most productive basketball summer school for McLemore, he set about trying to apply what he had learned.
"My senior year in high school, I tried to put those two (Pierce and James) together and play my game of basketball," McLemore said. "I have the same mind-set of both players, and I try to put them together as me."
Since coming to Kansas, McLemore said he has studied the game of Travis Releford, whom he calls "a great player. He knows what he's got to bring to the team."
McLemore is fortunate to have a rare blend of team-minded basketball students, all seniors, surrounding him in the starting lineup. Wisely, they celebrate his special talent and don't resent it. As elite college basketball players go, Kansas has a very humble bunch this season.
Humble, yet confident. McLemore said his motto — "It's OK to be great" — was given him by an AAU coach, Darius Cobb.
It's better than OK to watch impending greatness in an athlete playing so far above the rim while lifting his team up toward rarefied air.