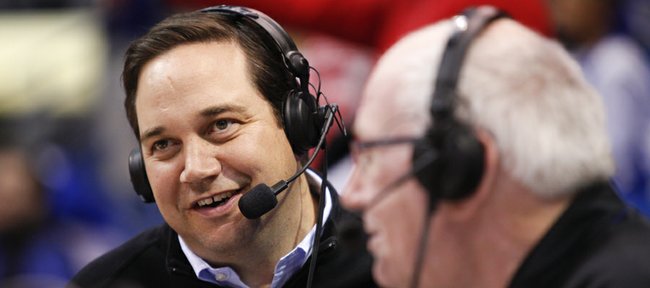 Greg Gurley looks comfortable in his east-side, press-row seat in Allen Fieldhouse, nestled in a chair he hopes to occupy for the next 25 or so years.
"That's my plan. I love what I do. It's a dream job," former Kansas University basketball guard Gurley said of working as color announcer for KU men's games on the Jayhawk Radio Network.
"Both are dream jobs," added Gurley, who doubles as second-year director of development for the Williams Fund. "During basketball season, I get paid to sit on center court, have the access I have and talk about my favorite team. Offseason, I get to meet KU people, work with KU people. It's perfect."
Gurley, 40, who played for Roy Williams' Jayhawks from 1992-95 — "this is the 20-year anniversary of our '93 Final Four team" he states incredulously — is KU's third color announcer to work with play-by-play man Bob Davis in the last 29 years. Davis worked with KU legend Max Falkenstien, who turned it over to Chris Piper, who worked six seasons on the hoops broadcasts.
"I understand how big of an honor and privilege this is," Gurley said. "Not to sound too corny ... Max was doing it for 60 years and Chris (for six) ... it's a pretty big deal, a very big deal to be in that neighborhood. What gets lost in this is Bob. Bob Davis is a legend. I'm just trying to learn on the fly. It's been a lot of fun. It's been a weird year the way the schedule has been made up. I'm looking forward to really getting going (with the usual flood of games) after Christmas."
Davis said Gurley has picked up right where Piper left off.
"Greg is very enthusiastic, knows the kids (Jayhawks) well," Davis said. "He can relate to what they are going through. He has great perspective. Chris kind of had the perspective of the big guy; I was getting on Greg for having the perspective of the shooter. I think they've been fine and are only going to get better," Davis added of the broadcasts.
Gurley, who meets hundreds of KU grads yearly as a fundraiser, said he's learned Jayhawk fans take their radio broadcasts seriously.
"I realize now how many people do listen to the radio broadcast, which is cool," Gurley said. "In the past, I was either at the games or watching on TV, so the radio ... I didn't really listen a lot unless I was in the car. You get a real sense of how many people do listen. I get phone calls, letters; most are positive, some are negative. I just take them and try to keep improving."
He doesn't mind the feedback at all.
"You get advice," Gurley said with a smile. "Fans say, 'Hey, you need to ask Bill (Self, KU coach) tougher questions (in postgame) or you need to do this or that.' You sit there and listen and agree. I don't really disagree. I've watched Bill work rooms where people ask dumb questions. He's a master making everyone feel comfortable whether it's a dumb question or not. I try to take that and run with it."
Gurley, whose college coach had a remarkable .805 win percentage in 15 seasons at KU, is amazed that Self has an even better winning mark of .837 in 10 seasons.
"I'm not shocked, but I think what Bill has done is crazy," Gurley said. "The eight straight Big 12 championships is what baffles me. There's nothing out there like it. It'd be different if this was a weak conference. This is a really good basketball conference. To graduate the kids he graduates in bunches ... four, five guys leave at once and they come back and win it the next year. Florida won two national titles, then missed the NCAA Tournament let alone won their league. It's a machine, reloading. He deserves a ton of credit."
As far as this year's team ... Gurley believes a ninth consecutive league title is quite possible.
"It's not going to be overnight when you bring seven freshmen into the fold and immediately start playing well. The nature of Kansas fans is they expect that to happen," Gurley said. "Look at Kentucky. They lost six guys to the NBA and have a bunch of new guys. It's not happening (for Kentucky) as quickly.
"The great thing is we have four seniors. It doesn't happen very often. It's just the nature of college basketball. You are seeing a mix of seniors and freshmen playing really well together. And they're going to get better.
"Fran Fraschilla (ESPN) said we're probably not going to lose a game in Allen in the league. You win five or six on the road ... I don't know if other teams are built for that. We'll see."
Gurley's KU teams won three of four possible league titles. His fondest memory as a player?
"In 1995, the last game at Allen ... it was the only game I ever started. We were tied for the league lead. Whoever won that game won the Big Eight. We beat Oklahoma State," Gurley said of a 78-62 win. "I had 50 family members here. I scored (13 points off 4-5 shooting; 3-4 from three) and had a good game. I actually got knocked out in the middle of it. I caught an errant elbow in the temple. If you were playing nowadays you'd be out a month. They gave you a little smelling salt, tell you to get back in there," Gurley added with a laugh.
The Leawood native and Shawnee Mission South graduate currently dabbles in coaching as well as fundraising and announcing.
"My schedule doesn't provide me to be around a lot on weekends, so my family has had to make sacrifices as far as me not being around as much," said Gurley, who along with wife, Amy, have daughters Kate (12) and Jane (9). "Both my girls play volleyball and basketball. Since I don't know anything about volleyball, I help in basketball when I can."
The family man definitely is a popular figure around KU.
"He's a KU guy and knows everybody," Davis said. "Everybody likes him, and he's a great person to be around."
More like this story on KUsports.com