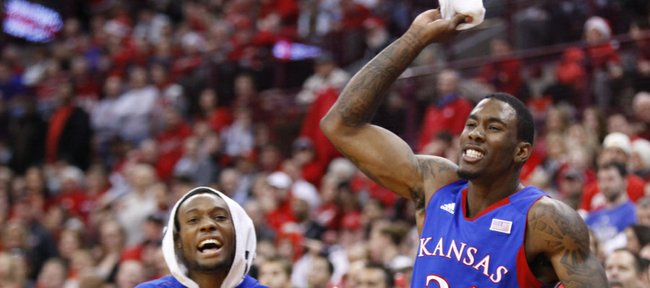 Kansas University basketball coach Bill Self is in favor of taking his team to tournaments in Maui, Las Vegas and the Bahamas during Thanksgiving week.
The week of Christmas, however, is another story.
"I am against it. For the most part, promoters have gotten away from that," Self, KU's 10th-year coach, said of hosting Christmas-week extravaganzas.
"If you play the 28th or 29th (of December in a tournament), it's hard to come back (from holiday break) and start practice the night of the 26th, like we do.
"What do you do? Let them go home the 21st to the 24th or 21st to 23rd? Bring the kids back Christmas Eve or Christmas Day? That's bad. We've done it before. It makes for bad, bad harmony ... bad," Self added. "Nobody wants to be away from their family at Christmas. I like not having a tournament around Christmas."
Self's Jayhawks, who defeated Ohio State, 74-66, on Saturday in Columbus, Ohio, take a 10-1 record into a short Christmas break. KU's out-of-state players flew out of Columbus to their respective hometowns Sunday and won't return to KU until practice time on the night of the 26th, which is Wednesday.
The Jayhawks will hold their annual holiday clinic Thursday while continuing preparations for their next game — a 7 p.m. clash against American University on Saturday.
"I've played in tournaments the 27th and 28," said Self, a former Oklahoma State guard. "To do it, you have to be with your team over Christmas. Because at the end of the day, in March (when selection committee makes NCAA Tournament picks), nobody cares if you played the 26th or played the 29th. Your team has to win the games, so you have to practice."
As far as this year's Christmas holiday, Self outlined his plans.
"I'll hang out with my family," he said. "It is good to get away from the guys. I'll be honest with you, I'll miss them just from being gone three days. I doubt they'll miss me. It'll be good for them to get away and get their batteries recharged a little bit and come back (refreshed). Then we've got about two weeks we can really focus on trying to get better. We only play two games in that span of time.
"Hopefully that'll set us up for being prepared at least going into conference play."
His Christmas wish list?
"Health, without question," he said. "A little toughness maybe. Some perimeter shooting won't hurt, either."
KU will play Temple on Jan. 6.