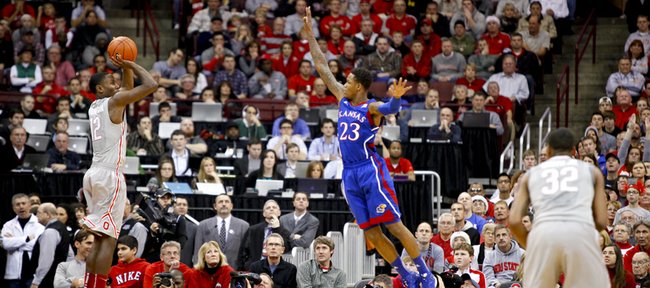 Photo Gallery
KU basketball v. Ohio State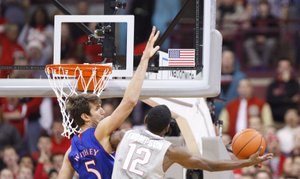 Images from Saturday's game against Ohio State in Columbus.
Podcast episode
Kansas coach Bill Self talks after his team's 74-66 victory over Ohio State on Dec. 22, 2012.
Podcast episode
Kansas players Jeff Withey and Ben McLemore talk after the Jayhawks' 74-66 victory over Ohio State on Dec. 22, 2012.
Box score
Columbus, Ohio — Dec. 25 can't come soon enough for Ohio State men's basketball coach Thad Matta.
"I asked Santa for Christmas to improve our jump-shooting," Matta said with a wry smile following OSU's 74-66 loss to Kansas University on Saturday afternoon.
The Buckeyes kept their turnovers down (13) and performed well on the offensive glass (17 offensive boards) but simply couldn't overcome a poor shooting night.
OSU made just 20 of 65 field goals for a frigid 31 percent.
"You gotta put the ball in the basket in a game like this," Matta said. "We couldn't do it, and it became contagious throughout."
The Buckeyes' field-goal percentage was their second-worst in the last five seasons. Only a 26-percent effort in a 58-48 home loss to Michigan State last year was lower.
"All in all, basketball's a simple game: Get stops, and put the ball in the bucket," OSU guard Aaron Craft said. "We weren't doing either tonight, and Kansas was able to do that."
The Buckeyes especially struggled in the second half, going 10 minutes, 9 seconds during one stretch without a field goal. During that time, OSU missed 12 straight shots from the floor.
A reporter asked the OSU players if they could remember a time — in a game or practice — when they had remembered being that cold shooting.
"A long time," OSU forward Deshaun Thomas said.
"Not really," Craft added.
Matta was quick to credit KU afterward, saying it was one of the two best teams that had played Ohio State at Value City Arena during his tenure. The other team was 2004-05 Illinois, which ended as the national runner-up.
The dismal offensive showing was so frustrating that Matta even turned to his coaches during the second half and said, "Hey, let's call a play where we can score."
After making 46 percent of its threes in the first half, Ohio State made just two of 18 after halftime.
"We needed that one to go. We needed the tide to turn for us," Matta said. "I thought we had some great drive and kicks and just ... one after another (missed)."
OSU attempted 31 three-pointers, the most for the team in the last three seasons.
It didn't work. The Buckeyes made just eight of those tries (26 percent).
"We knew against these guys 'drive and kick' was going to be huge," Matta said. "We knew we were going to have to shoot a better percentage from three than we actually did."
The Buckeyes made just nine of 36 field-goal tries in the second half (25 percent).
"Pressure has really taken us out of our offense," Craft said. "That was one of our big emphases going into the game, really trying to execute offensively and stay in our offense regardless of what they're doing.
"First half, I think we did a really good job. Second half, we had more broken plays. We didn't execute as well."
More like this story on KUsports.com