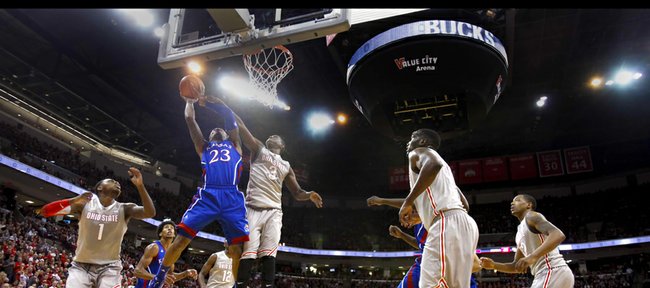 Photo Gallery
KU basketball v. Ohio State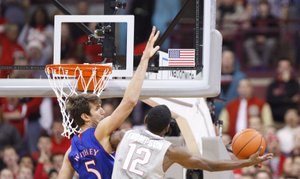 Images from Saturday's game against Ohio State in Columbus.
Podcast episode
Kansas coach Bill Self talks after his team's 74-66 victory over Ohio State on Dec. 22, 2012.
Podcast episode
Kansas players Jeff Withey and Ben McLemore talk after the Jayhawks' 74-66 victory over Ohio State on Dec. 22, 2012.
Box score
Columbus, Ohio — For a second-half stretch that ate 10 minutes and nine seconds Saturday, the No. 7 college basketball team in the nation didn't make a single field goal playing on its home floor in front of 19,049 spectators.
Then again, in defeating Ohio State, 74-66, No. 9 Kansas had a defensive advantage that no other team can claim. It didn't have to figure out a way to prevent red-shirt freshman Ben McLemore from scoring.
Playing the first true road game of his college career, McLemore scored a game-high 22 points in 36 minutes of action.
Both coaches raved about him afterward, Ohio State's Thad Matta calling him "as good as any player in the country."
"I've never had anybody like this guy," Kansas coach Bill Self marveled after an impressive victory that if justice is served will result in Kansas moving into the top five in the rankings. "Brandon (Rush) is the closest. Brandon shot it better early in his career. Brandon slid a little better defensively, but Ben can impact the game more because he's a better scorer than Brandon. Brandon was a shooter. Ben's more of a shooter and a scorer."
Not to mention a soarer and a scorer. On an out-of-bounds lob play, McLemore was looking way down at the rim when he caught the ball before flushing it. On another lob, he fumbled the ball and still was able to get his own rebound for a tip-in and a free throw.
"He makes plays you can't coach," Self said. "You throw the ball to the rim twice and he comes away with five points. You run average offense and pitch it to him, he jumps up and over somebody and makes a shot. That's not great offense, that's just a good player. ... He made plays that really you have to make in close games because you're not going to score off of your stuff. People scout you."
McLemore made all three of his free throws and shot 3-for-6 from three-point land. He scored on two dunks, two mid-range jumpers off the dribble and a tip-in. He has so many different means of scoring and is so good at creating his own shot that the sort of field-goal drought Ohio State suffered isn't likely to hit Kansas in a game.
McLemore's longest second-half field-goal drought (7:02) was more than three minutes shorter than the one experienced by the entire Buckeyes' team.
"He's fun to coach because you can tinker around and draw up some plays you can't draw up for anybody else and just throw it up there," Self said.
Players tend to show great improvement over their careers under Self. Since McLemore is more talented and is likely to have a shorter college career than most of Self's players, it's not surprising his growth curve is faster.
Self knows how to maintain the delicate balance of getting after players to do things his way while still creating an atmosphere that fosters confidence, at least for those who do what he wants. McLemore is so coachable his coach called him a "sponge."
"The coaches give him a lot of confidence," senior Travis Releford said. "And we give him confidence. ... We encourage him to make plays and tell him, 'If you mess up, don't even worry about it. Think next play.'"
McLemore's defensive improvement has kept pace with his scoring. Lenzelle Smith Jr., McLemore's primary assignment Saturday, scored six points, five-and-a-half below his average.
"He tries so hard," said Releford, the team's top perimeter defender. "When we watch tape, coach shows every little detail for the team. And all the little stuff, it counts. It helps us out a lot."
Predictably, the first hostile crowd didn't derail McLemore. At all levels of basketball, the better the player, the less his game falls off away from home.
"This experience was great," McLemore said. "It was my first time playing an away game in front of this type of crowd. At first, I was a little nervous. That's what happens your first game away. (After) going up and down the court just a little bit, I just played my game and stayed with the intensity."
McLemore never looks anything but graceful on a basketball court, even at a high speeds and when executing power moves. He never looks as if he's forcing it, never looks off balance. He plays basketball the way Rory McIlroy swings a golf club. And often, when he makes a mistake, it's because he doesn't realize he's good enough to make the obvious play. One such mistake occurred in the final minute when he received the ball against the full-court press. Instead of just blowing by his man on the dribble, he threw an errant bounce pass sideways to a slipping Elijah Johnson for one of the freshman's four turnovers.
"Ben is an unbelievable talent, but he's still trying to figure out how to play," Self said. "You can tell in late-game situations. He's played less basketball (in big games) as anybody who's as old as him who's that good, so it's all new to him. When he figures out how to put himself in situations and figures out time, score and momentum and it becomes natural to him, he's going to become terrific, and right now he's really good. He's a natural scorer. He makes it look pretty effortless the way he scores."
The means of scoring and preventing others from doing the same constantly expand for the potential No. 1 overall NBA draft pick. As his confidence and game continue to soar, so too will Kansas up the rankings.