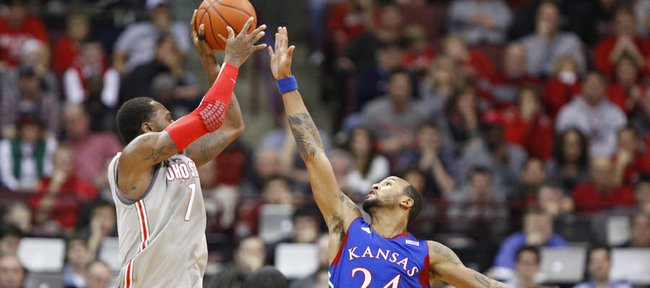 Photo Gallery
KU basketball v. Ohio State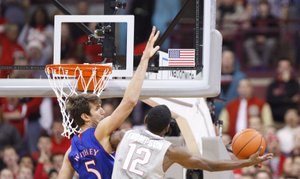 Images from Saturday's game against Ohio State in Columbus.
Podcast episode
Kansas coach Bill Self talks after his team's 74-66 victory over Ohio State on Dec. 22, 2012.
Podcast episode
Kansas players Jeff Withey and Ben McLemore talk after the Jayhawks' 74-66 victory over Ohio State on Dec. 22, 2012.
Box score
Columbus, Ohio — Kansas University senior Travis Releford stuck to preseason All-American Deshaun Thomas like wrapping paper on a Christmas present Saturday afternoon in Value City Arena.
He held the 6-foot-7, 215-pound junior sensation to 16 points off miserable 4-of-11 shooting in the No. 9-ranked Jayhawks' 74-66 victory over the No. 7-rated Buckeyes.
The 6-foot-6, 210-pound Releford's inspired defense seemed to break the spirit of the Buckeyes of the Big Ten, who hit just 25 percent of their shots the final half, going just two-of-18 from three.

"Of course," Releford said, asked if he could tell Thomas was frustrated by his sticky defense, applied in a 38-minute stint. Thomas also played 38 minutes.
"Not just him, but the team, the coaches, everybody on the bench. You could see once they were not getting what they wanted on offense. Everything broke apart for them," added Releford, who chipped in 11 points on a day Ben McLemore exploded for 22 points and Jeff Withey 14 points with 10 rebounds.
Releford's points, off 4-of-5 shooting, came in handy on a day his defense proved downright inspirational to the Jayhawks, who improved to 10-1. Ohio State fell to 9-2.
"I think his defense was a big part of what we did tonight. He stepped up to the plate and did what he needed to do to get us going," said KU point guard Elijah Johnson, who scored 13 points. "He didn't give them any confidence. He was there on every pass. He was there on every shot. It turned us up offensively and defensively."
Releford's strategy was simple: to stick to Thomas like a beard on a fake department store Santa.
"Just be there on the catch. You've got to play physical. You can't let him get what he wants," Releford said. "It was a team effort. We had it where if he caught it in the post, we'd trap him. He couldn't post up. He knew we had a trap coming. The rest of the game he was trying to shoot threes. We were going to live with that."
Thomas hit three of seven threes and committed three turnovers. Fans groaned — a lot of them booed — following his air-ball on a three from the corner down the stretch.
"I wasn't worried about him taking me inside," Releford said, "because I'm kind of strong myself and I had Jeff behind me to help out and eliminate him posting me up. I was more focused on making him take tough shots and get him outside of his game."
Thomas, who scored 19 in a loss to KU in Allen Fieldhouse and nine in another loss to KU in the Final Four a year ago, said: "Last year they probably didn't really know anything about me and I came in and had a big first half against them at their place. The 7-foot guy (Withey) and they (were) double-teaming me catching in the post. It's hard to see over 'em."
KU coach Bill Self, who said, "today is probably the best we've played against Ohio State in the three games (last year and Saturday)," explained the defensive game plan on Thomas.
"He's a hard matchup and he was a hard matchup for us last year when we had Thomas Robinson on him. We play two traditional bigs and he's not traditional, so it probably was a good matchup for us being able to put a guard on him and the doubling him on the post," Self said.
Thomas did score five points in a 14-0 run that gave Ohio State a 31-23 lead with 6:30 left in the first half. KU answered with a 9-0 burst, however, to regain the advantage, 32-31, at 2:21.
The Jayhawks led, 37-35, at halftime. Up 56-52, KU went on an 8-0 roll (Johnson and McLemore had four points apiece) to stretch the lead to 64-52 at 4:36.
"In the first half, I don't know if they ran off of misses. I think they ran off of turnovers," Self said. KU had 11 turnovers the first half; eight the second. "We did a miserable job taking care of the basketball. That's one of the things we have to get a lot better at, handling the ball under pressure."
However, overall .... "I thought we were really good except for a three-minute stretch the first half when they went on the 10-0 run or something like that," Self said.
KU had some trouble finishing off the Buckeyes, the lead dipping to 69-63 with :20 left. However, Withey cashed four free throws down the stretch, preventing the game from getting mighty interesting.
"Coach Self is all about defense and we showed that today. We shut down their best scorer," Withey said. "When they went on their run, we have a good group of vets that have been in this situation before that could talk to the young guys and tell them to calm down and focus on defense. It all starts on defense."
Defense played by a veteran named Releford.
"Beating them to go to the championship last year was one of the great games. We were down 12. But to come here and beat them at their place, this is going to go down, too, as one of the great games," Releford said.
KU will next meet American University at 7 p.m., Dec. 29, in Allen Fieldhouse.