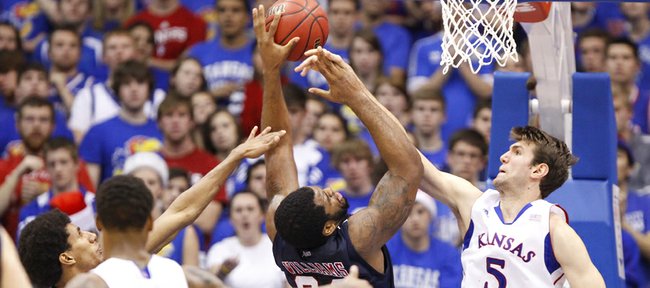 Photo Gallery
KU basketball v. Richmond
Images from Tuesday night's game against Richmond at Allen Fieldhouse.
Podcast episode
Kansas coach Bill Self talks after the Jayhawks' 87-59 victory over Richmond on Dec. 18, 2012.
Podcast episode
Elijah Johnson, Naadir Tharpe and Jeff Withey talk to reporters following the Jayhawks' 87-59 victory over Richmond on Dec. 18, 2012.
Box score
Following Saturday's 19-point home victory over Stetson, Richmond men's basketball coach Chris Mooney began scouting for Tuesday's road game at Kansas University and was caught off guard by what he saw.
"I couldn't believe they started four seniors," Mooney said. "I don't know of any other of the highest major teams that have so many senior players."
Tuesday night, during an 87-59 drubbing at Allen Fieldhouse, Mooney and his team took a figurative punch from each of those KU seniors.
The biggest blows were thrown by center Jeff Withey, who dominated on both ends and finished with 17 points, 13 rebounds and four blocks in 26 minutes.
With just over five minutes remaining in the first half and the Jayhawks (9-1) in complete control, Withey caught the ball in the paint, rose for a shot, had the ball knocked away, tried to bat it in out of midair, corralled the miss, dropped it in and was fouled. The Spiders were helpless to stop any of it, and the dejected looks on the faces of all five Richmond players on the floor said it all.
"We knew that he would score tonight," Mooney said of KU's 7-foot center. "But he was able to score a little bit too easily on us."
Withey's old-fashioned three-point play pushed KU's lead to 31-11 with 5:08 to play in the first half and was just one of more than a dozen moments in which he impacted the game. Most of Withey's damage came in the first half, when he made five of seven shots and led both teams in points (11) and rebounds (eight). He finished 7-of-9 shooting and made three of the four free throws he attempted while adding two assists and two steals.
"He's a great player," Mooney said. "How much he's improved over the course of his career, which has been well documented, is really impressive, and it's a credit to him and the coaches and the program."
The play of KU's other seniors was more than enough to support Withey's night, as point guard Elijah Johnson finished with eight points and seven assists, power forward Kevin Young added eight points and nine rebounds, and wing Travis Releford made all but one shot he took and finished with 11 points, two steals and two assists. All four played at or below their season average for minutes.
"I thought they were every bit as good as advertised," Mooney said. "And we weren't able to compete as well as we would've liked. ... I'm most impressed with how they share the ball. This level of player and recruit and things like that, and to share the ball so well and so easily is really impressive."
Although they acknowledged how talented and tough a team KU fielded, the Spiders (9-3) said they most regretted how they let the game get out of hand so quickly, a fate suffered by the Jayhawks' last three opponents.
"Just to come out with more energy," said Richmond guard Darien Brothers, asked what he would change if he could do it all again. "We let them get on a couple of runs in the beginning, and we let that get to us."
Added Mooney: "We shot so poorly to start the game. I think it gave us a very difficult time, both defending them in transition and finding other ways to score. I wish we had done a little bit better."