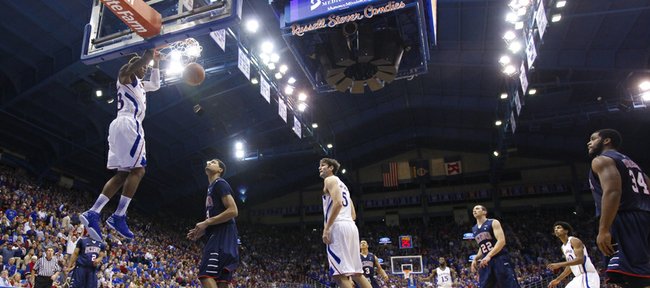 Photo Gallery
KU basketball v. Richmond
Images from Tuesday night's game against Richmond at Allen Fieldhouse.
Podcast episode
Kansas coach Bill Self talks after the Jayhawks' 87-59 victory over Richmond on Dec. 18, 2012.
Podcast episode
Elijah Johnson, Naadir Tharpe and Jeff Withey talk to reporters following the Jayhawks' 87-59 victory over Richmond on Dec. 18, 2012.
Box score
One last tomato can laid to waste in front of an adoring crowd, the Kansas University basketball team looked ready for the challenge of stepping into the ring with another highly ranked national-championship contender.
In playing outrageously good defense in the first half and sharing the ball so unselfishly all the way, Kansas had no trouble burying Richmond, 87-59, Tuesday night in Allen Fieldhouse.
Afterward, nobody on the winning side had any illusions as to the enormity of the next challenge.
"We've done a good job holding serve at home and playing with energy," Kansas coach Bill Self said. "Now we'll find out how good we are, though. Let's be serious: The season starts Saturday."
In Columbus, a main event that features No. 9 Kansas against a No. 7 Buckeyes squad seeking to avenge losses from a season ago in Allen Fieldhouse and in the Final Four in New Orleans, where giant rats ran around the press room like they owned the place.
Senior point guard Elijah Johnson, who left 16,300 tongues hanging with a wicked cross-over dribble that resulted in him setting up freshman Perry Ellis for an easy bucket, knows Kansas can't prove itself without getting the job done away from the nation's most significant homecourt advantage.
"I feel like that's the only thing we haven't done," Johnson said. "We've played on a neutral floor. We've played at home. We've played great shooting teams. We've played good driving teams. I feel like the only thing we haven't done is go to somebody else's house and try to bring the pain."
Richmond knows all about the pain Johnson referenced. Peter Parker would have had trouble scoring for the Spiders the way mobile 7-footer Jeff Withey, his eyes never losing the ball, his arms spanning the globe, made the lane a don't-even-think-about-it zone.
Stat of the day, even better than Kansas going on an 18-0 run that spanned eight minutes and 16 seconds: Richmond made three shots inside the three-point line in the first half. That's three two-point field goals in 20 minutes, which translates to one dusted spot on the Withey family trophy case for national defensive player of the year honors.
How Withey's defense and the team's terrific ball movement at the other end withstand the hostility brought by the 19,200 spectators who will pack the Schottenstein Center will be revealed Saturday.
Regardless of the outcome, there is a great deal to like about the latest Kansas top 10 basketball team. For one, it seems drama-free. No bad body language. Nobody seeming to play favorites. No glory hogs. No ballhogs. Nobody comes off as if he is forcing the right words out of his mouth when saying nice things about a teammate.
When the team's best player has an ego unaltered by the constant worship thrown the way of college basketball stars, that doesn't hurt in developing strong team chemistry. When the best player so rapidly and constantly improves during his senior season, that challenges teammates to keep pace. Withey's confidence is soaring and that of opponents withers at the sight of him.
Self sounds confident about his team, but not all of his curiosity about it has been satisfied.
"Now we can go up there and hopefully take a real enthusiastic team up there, hunker down, see how tough we are and find out a lot about ourselves," Self said. "... We need to have a good three days of preparation and go up there feeling good about ourselves, but understanding that this is going to be a true test of where we are right now. Right now, even though we played better, I still don't know. This will clear some things up for us."
Withey will bring the same quick feet and long reach to Columbus. The same starting five — one remarkably talented freshmen and four seniors — will be called onto the floor before the opening tip.
How will the Jayhawks handle the hostility?
"Our guys have so much confidence playing at home, but to me it's obviously much tougher on the road," Self said. "You don't play at home during the NCAA Tournament, so we need to figure out how to do it."
Tipoff is scheduled for 3 p.m. Three days before Christmas, for a two-hour window, don't expect long lines at the stores in Lawrence.