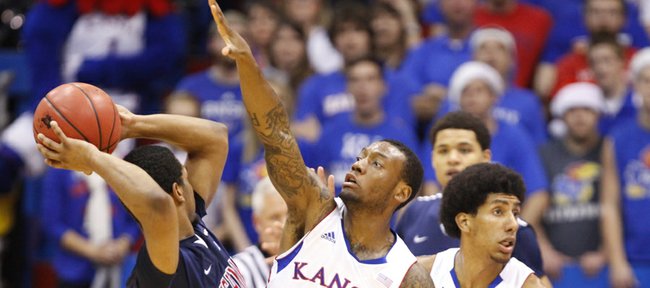 Photo Gallery
KU basketball v. Richmond
Images from Tuesday night's game against Richmond at Allen Fieldhouse.
Podcast episode
Kansas coach Bill Self talks after the Jayhawks' 87-59 victory over Richmond on Dec. 18, 2012.
Podcast episode
Elijah Johnson, Naadir Tharpe and Jeff Withey talk to reporters following the Jayhawks' 87-59 victory over Richmond on Dec. 18, 2012.
Box score
Kansas University sophomore Naadir Tharpe has some epic 1-on-1 battles with senior point guard Elijah Johnson at Jayhawk basketball practices.
"We get after each other way more than we get after other people," Johnson said after watching Tharpe score a career-high 11 points while dishing three assists against no turnovers in KU's 87-59 rout of Richmond on Tuesday in Allen Fieldhouse. "I don't understand why we are doing that. We talked about it. It's something we are fixing right now."
Backup point guard Tharpe, who hit four of five shots including three of four from three, said he likes challenging himself while playing on the Red Team (second team) and going against the Blue Team starters.
"I'm trying to not put myself on the Blue Team as much. I need to go against these guys (like Johnson) and get ready for the game," Tharpe said. "My teammates encouraged me in practice to keep shooting. Travis (Releford), Elijah and the rest of the dudes tell me to keep shooting, as well as coach. I'm going to miss shots. If my teammates are encouraging me as well as my coach and want me to keep shooting, I know there's a time it's going to fall," added Tharpe, who entered the game six of 21 from three.
Coach Bill Self said Tharpe had the "yellow light" not the green light as far as shooting the trey.
"He gets confused," Self said. "He wants to dribble in there among the giants and shoot over them as opposed to shooting an open three. That's the best percentage shot for him — open jump shots — because he can shoot the ball."
Tharpe played 17 minutes; Johnson 28.
"Sometimes when I am in the game and look up to see he's looking to get the ball and push it upcourt and I can just go," Johnson said. "That is comfortable a lot of times instead of having to chase the ball down. I hope he keeps playing like this. I hope he gets better so he can actually pull some weight for us."
Self was asked if the team has bought in defensively: "I think our starters have. I'm not sure everybody has. I'm not sure Naadir and Perry (Ellis) and Jamari (Traylor) have because Naadir has potential to do that. I think it's still new to Perry and Jamari. I think they have made great strides. I'm not sure collectively we have eight guys you feel no matter who is guarding who we can get a stop and get teams out of their comfort zone. For the most part it's not bad. It's getting better. Kevin (Young) can improve in that area."
Stats, facts: KU is 9-1 or better for the third time in the last four seasons and the fifth time in the 10-year Bill Self era. ... KU has won eight consecutive games. ... KU has won 61 straight nonconference home games. ... KU is 688-107 all-time in Allen. ... KU never trailed in the 40 minutes against Richmond, marking the seventh straight contest the Jayhawks have not allowed the opponent to get a lead. KU has not trailed for 293:36 dating to the Nov. 15 win over Chattanooga. ... KU is outscoring opponents 107-50 in the opening five minutes of games. ... KU outscored the Spiders 54-16 in the paint, KU's largest point-in-the-paint differential of the year. KU has averaged a 19.4- point advantage in the lane. ... KU outrebounded the Spiders 46-26, for its largest rebounding margin of the season. ... Ben McLemore hit two of three threes. He has now connected on multiple threes in four straight contests, going 11-of-18 (61 percent). ... Freshman Evan Manning scored his first points as Jayhawk with a layup with 1:05 to play.
More like this story on KUsports.com