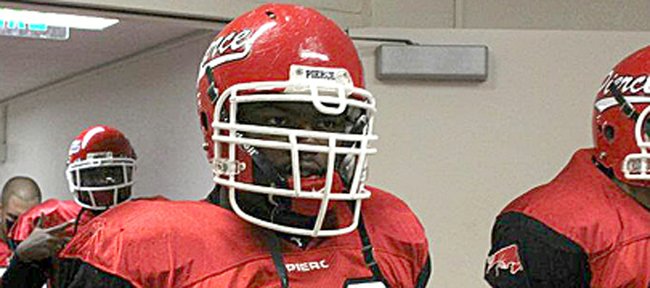 What already was perceived by many as a solid Kansas University recruiting class received a little extra validation Tuesday, when ESPN released its list of the top 100 junior-college football prospects in the country.
Six of those players have committed to KU, including top-ranked Marquel Combs.
Combs, a four-star defensive tackle from Pierce Community College in Woodland Hills, Calif., is one of 8-to-12 members of Kansas University's 2013 recruiting class expected to slap their signatures on letters of intent today on the first day of the midyear transfer signing period.
Combs, who has served as an unofficial recruiting liaison for the Jayhawks since announcing his decision last week, is one of two four-star prospects in KU's current class, which continues to climb the rankings list nationally.
As of Tuesday night, KU's class, which features 23 total commitments and 16 from juco prospects, was ranked 31st by Rivals.com. That puts the Jayhawks fifth in the 10-team Big 12 Conference, ahead of West Virginia, Iowa State, TCU, Kansas State and Texas Tech.
There remains a ways to go in the recruiting process, with the second signing period still six weeks away. So it's possible that the rankings could change drastically.
At the rate coach Charlie Weis and his staff are going, it's possible the Jayhawks could climb even higher, especially considering that the No. 6 player on ESPN's juco 100, Trinity Valley C.C. offensive tackle Josiah St. John, 6-foot-6, 305 pounds, has KU listed among his finalists.
Another four-star prospect who could impact KU's overall ranking is high school standout Reeve Koehler, a 6-3, 280-pound guard from Honolulu who is rated by Rivals as the eighth-best prep guard in the nation.
KU also is in the running for three-star College of DuPage standout Matt Finnin, a 6-8, 330-pound offensive tackle who started his career and has since played at three other schools while helping his father through a health issue. Finnin is believed to have a final list of KU, Marshall, Maryland, Oklahoma, Nebraska and West Virginia.
McKinney coming
Today marks the end of a long journey for Trinity Valley C.C. defensive tackle Ty McKinney, who committed to KU in February, was expected to arrive in time for the 2012 season but ran into academic snags and was forced to stay away.
McKinney, 6-4, 310, is expected to sign his letter of intent today and arrive on campus in time for the spring semester.
More postseason honors
James Sims might have been left off the All-Big 12 first team by the league's coaches, but the junior running back who led the league in rushing was a first-team pick of college football analyst Phil Steele and ESPN.com.
Sims joined five other Jayhawks in earning postseason honors from the two outlets. Senior offensive lineman Tanner Hawkinson and sophomore linebacker Ben Heeney were named second-team All-Big 12 by Steele, who also tapped senior safety Bradley McDougald as a third-team selection. And red-shirt freshman linebacker Jake Love and freshman kick returner Tre' Parmalee were named to ESPN.com's all-freshman Big 12 team.
Harris on fire
KU cornerback Chris Harris added another chapter to his breakthrough season Sunday, picking up his third interception of the season and returning it 98 yards for a touchdown during the Denver Broncos' 34-17 victory at Baltimore. The pick-six was the second of the season for Harris, who is starting to make a serious push in the Pro Bowl voting.
Through 14 games, Harris, an undrafted free agent in 2011, ranks second in the league among defensive backs with 2.5 sacks, 20th in the league in interceptions and has recorded 51 tackles and 14 pass break-ups.
Voting for the Pro Bowl is now closed, and the results will be announced Dec. 26. Former KU standout Darrell Stuckey (San Diego special teams) also was on the ballot.
More like this story on KUsports.com