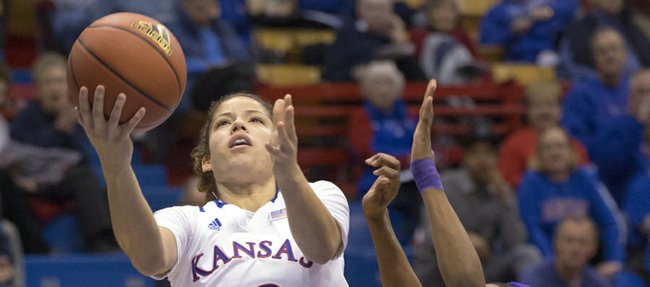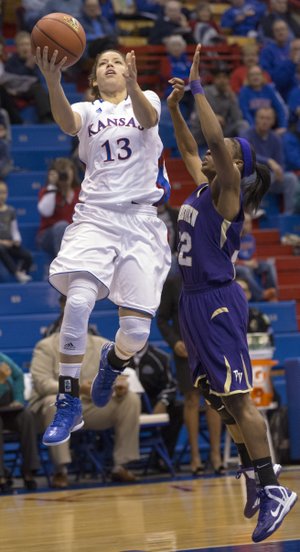 Monica Engelman usually isn't one to celebrate on the basketball floor, particularly regarding her own accomplishments.
But Engelman, a senior guard on Kansas University's women's team, showed Sunday a crack in her normally stone-faced on-court persona after hitting a three-pointer in the first half of the Jayhawks' victory over Prairie View A&M; at Allen Fieldhouse. It was nothing flashy nor self-promoting; Engelman just pointed to KU's bench, where players and coaches stood up to celebrate what one would assume to be a rather meaningless three early in a nonconference game.
The shot held significance for every member of the Jayhawks, though, because it was Engelman's first three-pointer of the season.
Engelman, a 5-foot-11 shooting guard from San Antonio, made 30 from three-point range as a freshman and 41 as a sophomore before slumping in her junior season with 13 makes from behind the arc. Engelman entered the 10th game of her senior year 0-for-9 from downtown.
KU senior point guard Angel Goodrich has seen Engelman work meticulously on her shot at practices and was proud of her teammate after she finally got a long-range bomb to fall. It was Engelman's first three-point make since she hit two against Oklahoma on Jan. 31 (she only attempted three more the rest of her junior season).
"For her to get her three back up," Goodrich said, "that's gonna be really good for our team."
Even though Kansas coach Bonnie Henrickson didn't play Engelman late against A&M; (because she wanted CeCe Harper defending the Panthers' Latia Williams), she called Engelman's 11 points, eight rebounds and four assists one of the starting guard's best efforts of the season.
Engelman agreed: "More than anything, I was more aggressive. That's what made it a better game compared to the rest."
After averaging 12.1 points as a sophomore and 7.8 as a junior, Engelman has scored six or fewer points in five of KU's first 10 games. Henrickson said the No. 19 Jayhawks need Engelman to provide a scoring punch to compliment senior forward Carolyn Davis (15.9 points) and Goodrich (12.6).
According to Goodrich, Engelman, who scored a career-best 24 points her sophomore year against Fordham, looked a little more like her old self Sunday.
"We've seen it before. Her sophomore year and freshman year, she was a player that had a lot of potential, brought a lot to the team," Goodrich said. "We know she can do it. She's a senior now. It's her last year. She should be excited to go out with a bang."
Positivity has not been a problem for Engelman, who has gone 32-for-83 from the floor (39 percent) and averaged 7.3 points, 5.4 rebounds and 3.0 assists this year.
"When I'm struggling with making shots, when I'm struggling with something else, I can always contribute," she said. "So if that's getting a stop, getting a steal, getting a rebound, then I'm still contributing to the team though I may not be as involved scoring."
Her 25 offensive rebounds lead KU, and Henrickson is encouraged every time she sees Engelman attack the offensive glass or get to the rim, because those plays lead to drawing fouls. Engelman hit 87 percent of her free throws as a junior and has made all eight attempts this season.
"I don't want her to just settle for jump shots," Henrickson said. "I want her to be more aggressive, because that (free throws) is great offense for her."
As far as scoring totals go, Engelman, who has 900 career points, doesn't think negatively after a low output. Nor does she keep a specific number she wants to hit each time she plays.
"I'd rather just let it happen," she said. "I'd like to think I'm scoring a little bit more now."
When Engelman looked at the box score after Kansas beat Prairie View A&M;, she was more upset about failing to get 10 rebounds than she has been after any of her low-scoring games.
"It's gonna come," Engelman said of improving her shooting. "If you work hard, if you do what you're supposed to do, the points are gonna come."
Not that she's stressing over it.
"I'd much rather get a 'W' instead of having 50,000 points," Engelman said.
More like this story on KUsports.com