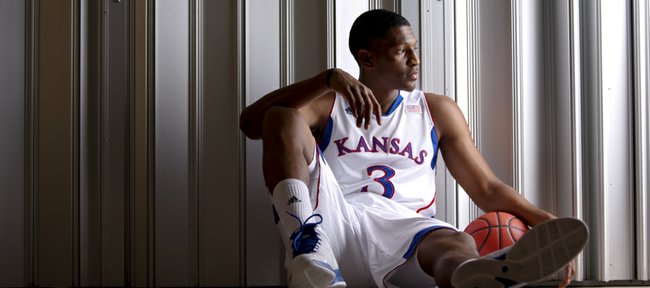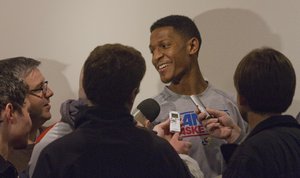 A blue-chip basketball prospect living just 15 minutes from the University of Richmond's campus, Andrew White III spent a lot of time with the Spiders' players and coaches the past few years.
"I played pickup there probably twice a week. I played with their whole roster just about," White, Kansas University's freshman guard from Miller School in Charlottesville, Va., said Monday in previewing today's match-up between the Jayhawks (8-1) and Spiders (9-2), set for a 6 p.m. tipoff in Allen Fieldhouse.
"A couple of their guys hosted me on visits," added White, who played against Richmond freshman Trey Davis five times in high school. Davis' team won three of the contests.
"Their staff recruited me harder than anybody ever has. I had a great relationship with the staff. The unfortunate part of recruiting is calling the school you are close with and telling them you are not going there. I'm sure they understand I had a good situation in both places," added White, who chose KU over Richmond, North Carolina State, Virginia Tech, West Virginia, Texas and Georgetown.
Here's White's scouting report regarding the Atlantic 10 Conference team, which is led by eighth-year coach Chris Mooney:
"They run that Princeton offense. On defense, they switch about everything," White said of Richmond, which has defeated Wake Forest, Hampton, Liberty, North Carolina Wilmington, Wofford, William&Mary;, Old Dominion, James Madison and Stetson and lost to Ohio and Minnesota. "We're going to have to have our feet moving and be ready for backcuts if we are going to defend the team well. What they do in practice is perfecting that offense, moving as quickly as they can to get the ball moving, so we've got to be on our toes for this game."
Junior guard Darien Brothers and sophomore forward Derrick Williams each average 14.8 points a game, while reigning A-10 rookie of the year Kendall Anthony averages 13.9 ppg and junior guard Cedrick Lindsay 10.7 ppg.
Formerly coached by Jerry Wainwright, Richmond defeated KU, 69-68, in Allen Fieldhouse during Bill Self's first season at KU. The Jayhawks stopped the Spiders, 77-57, on March 25, 2011, in an NCAA Tournament Sweet 16 game in San Antonio.
"I watched that game live (on TV)," White said of the NCAA contest. "KU had guys like the (Morris) twins, Brady (Morningstar) ... as a matter of fact, four weeks ago, before I even looked to this game, I watched that tape along with the VCU tape (KU's 71-61 loss in Elite Eight) to see what was going on a couple years ago. I have a fresh memory of that Sweet 16 game in my head."
White is coming off his finest outing of the season. The 6-foot-6 guard/forward scored a career-high 15 points off 6-of-8 shooting while playing 10 minutes of Saturday's 89-60 rout of Belmont.
"I have a lot of confidence going into this game," White said. "I always try to be confident. Just because I had a good shooting game doesn't change a whole lot for me. If I get in, I'm going to go with the same approach, play as hard as I can and contribute on both ends of the court."
Of White, KU coach Self said: "I think he can add some things to our team. He's another weapon. He's learning, growing. He's a fabulous kid. He just wants to try to fit in and help. He's a guy you can put in there, and if he makes a couple (threes), great. If not, he's good enough in other areas he's not going to hurt us. I need to play him more, to be candid."
Senior Travis Releford says he is confident when White (5.1 ppg off 50 percent shooting; 7-of-15 from three) enters.
"Andrew is one of the best shooters on our team. To see him with the confidence he has and coach has for him was a good feeling and good sign for our team," Releford said of Saturday's outing. "He's always looked for his shot. Coach tells him to look for it, because he's such a good shooter. He's not going to keep him from shooting the ball."