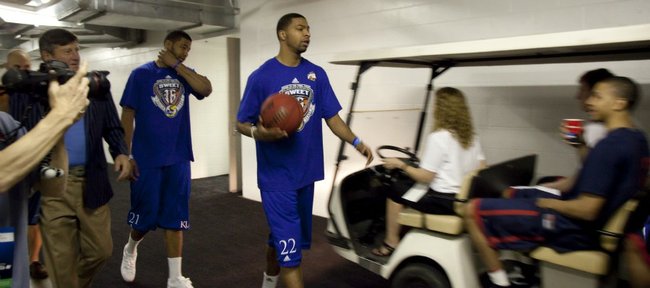 Four current University of Richmond basketball players and three from Kansas University played in KU's 77-57 NCAA Tournament Sweet 16 victory over the Spiders on March 25, 2011, in San Antonio.
"We got out on Richmond, 29-9, and played about as well as we could play the first half," said KU coach Bill Self, whose Jayhawks led, 41-22 at halftime. "We traded baskets the second half. They've got a good program.
"We had a chance to take dominance over the city of Richmond that field," Self added on Monday's "Hawk Talk" radio show, noting, "we came up short versus VCU, who beat us the next game (71-61 in Elite Eight)."
Richmond's Darien Brothers started and had five points and Cedrick Lindsay two points, while Derrick Williams and Greg Robbins did not score. For KU, Elijah Johnson had four points and Jeff Withey one rebound. Travis Releford played but did not score.
That was a game in which both teams stared each other down in a hallway prior to pre-game warm-ups.
"We played them in the tournament. Their (Princeton-style) offense is a little different from what we played against," Releford said. "We've been working on it the last few days. It'll be another interesting game to play."
McLemore concentrates on KU: Red-shirt freshman guard Ben McLemore, who averages 16.1 points and 5.6 rebounds a game, said Monday he won't spend a minute thinking about possibly entering the 2013 NBA Draft during this current season.
"I'm just here focusing on college," said McLemore, who is projected to be picked 17th in the first round by draftexpress.com and third by nbadraft.net. "It's all I've been doing, focusing on school. The semester is over. Now I'm just focusing on basketball. I know a lot of people are talking about NBA. As far as me, I just strictly talk about basketball and school."
McLemore's brother, Kevin, is a senior guard at Normandy High in St. Louis.
Is Kevin being recruited by any major colleges?
"Not that I know of," Ben said. "He's getting looked at by small schools. He's just started the season. Things can change."
Wesley update: KU junior forward Justin Wesley, who broke his left pinkie finger at practice on Dec. 13, could return to action by Dec. 27, Self said.
"They'll start taping his fingers together here in about two weeks," Self said. Wesley has appeared in six of KU's eight games and averages 5.8 minutes, 0.8 points and 1.7 rebounds.
Withey-mania: Fans can follow Jeff Withey's progress this season at witheyblockparty.com. Withey has 50 blocks, an average of 5.6 blocks per game. He has 215 career blocks, 43 shy of tying Greg Ostertag's KU record.
This, that: KU has won 27 straight games in Allen Fieldhouse and 60 consecutive games against nonconference foes. ... University of Richmond is located in Richmond, Va., with an enrollment of 2,750. ... Richmond's 69-68 victory in Allen Fieldhouse nine years ago snapped KU's 52-game nonconference homecourt win streak. Tony Dobbins hit a turnaround jumper with under a second remaining. The Spiders were 9-8 at the time; KU was ranked No. 10 nationally. KU has lost just three home nonconference games in Self's tenure: to Richmond, Nevada and Oral Roberts. ... Richmond is 7-3 in the last 10 games against ranked teams, with one of the losses coming to No. 2-ranked KU in 2011. Richmond has won eight of its last 13 games against ranked teams. ... Richmond's 9-2 start is best since the 1988 Sweet 16 team also started 9-2. ... Brothers, a sophomore starter on the 2011 Sweet 16 team, has connected on 51.9 percent of his three-point attempts, which ranks second in the Atlantic 10. The Richmond native has made 28 threes and has 149 for his career, which ranks 10th on Richmond's all-time list. ... The Spiders have shot over 50 percent from the field in four of the last five games and rank third in the A-10 in field goal percentage at 46.7.
More like this story on KUsports.com