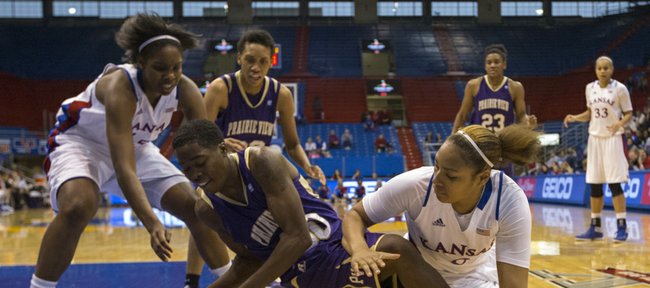 Senior Kansas University women's basketball point guard Angel Goodrich looked up at the Allen Fieldhouse video board Sunday afternoon with just over five minutes remaining in the second half against Prairie View A&M.;
"What just happened?" she thought to herself.
The Jayhawks' 18-point, second-half lead had completely disappeared after Panthers senior guard Latia Williams buried a pull-up jumper from the left side to tie the game with 5:08 left. Coming out of the timeout, KU junior forward Tania Jackson told Goodrich the Jayhawks had to get a bucket.
"She left me in the conversation," Jackson related, "and just drove down the middle and got an and-one."
Goodrich's three-point play with 4:53 left ignited a 15-3 KU run to close the game, and the No. 22 Jayhawks survived a scare with a 72-60 victory in their final nonconference home game of the season.
The play KU coach Bonnie Henrickson drew up in the timeout had senior forward Carolyn Davis as the primary option. But Goodrich, who led the team with 19 points and eight assists, turned the corner on her defender at the top of the key and saw her chance to drive.
"I knew something needed to be done," said Goodrich, who scored seven points in the final five minutes, "and that just kind of opened up."
Panthers coach Toyelle Wilson said her team, which committed three turnovers in the next 2 1/2 minutes (one via Goodrich drawing a charge), didn't make plays in the final five minutes like KU did.
"Every team needs an Angel on their team," Wilson said. "She makes them go."
Henrickson knows KU is fortunate to have Goodrich and said the senior guard's experience and ability to calculate on the go puts her in control when the Jayhawks (9-1) find themselves in a tight spot.
"It's on her," Henrickson said. "That's what she should be able to do and want to do."
Though the Panthers (2-5) at times gave KU fits — Williams, who scored 21 points, in particular — the Jayhawks' Natalie Knight, Davis and Goodrich helped put Prairie View A&M; away down the stretch by combining to make nine of their 10 free throws, and KU went 23-for-30 from the foul line.
Henrickson said KU played well in stretches but the outcome should have been decided much earlier.
"I thought we were soft. I didn't think we were tough," Henrickson said. "They came at us, and they came at Carolyn (eight points on 3-for-10 shooting), and she didn't have an answer. She's got to better than that, because we're about to head west (to play at No. 9 Cal on Friday), where it's a whole lot more physical, and they're bigger and longer and more athletic."
Jackson, a Lawrence High product who finished with 13 points and 10 rebounds, said the Jayhawks were overly confident with their huge lead (41-23) in the second half's first minute.
"We weren't as aggressive as we were in the first half," Jackson said of the next 14 minutes, "and I think they took that to their advantage."
Goodrich agreed and said Kansas must find a way to fix the problem.
"We want to be a team that just continues to build a lead, because in the past (opponents) have come back, just like this game they came back," Goodrich said. "We need to learn from that. We need to be able to keep that margin and continue to push and fight and not let up."
Senior guard Monica Engelman hit her first three-pointer of the season and contributed 11 points and eight rebounds in the Jayhawks' 51st straight regular-season home victory over a nonconference foe.
Kansas will play its nonconference finale Friday night at Cal (7-1).
More like this story on KUsports.com