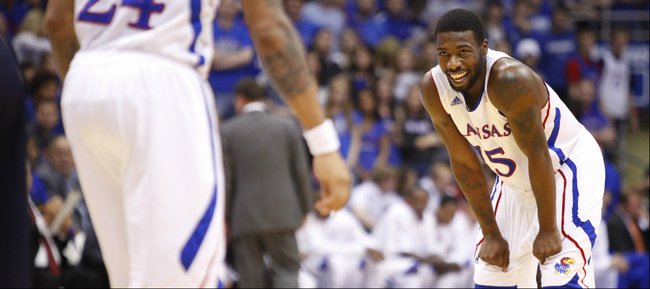 Photo Gallery
Kansas basketball v. Belmont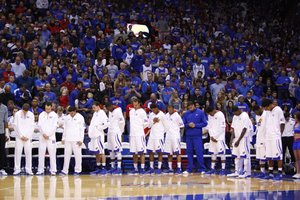 Images from Saturday night's game against Belmont at Allen Fieldhouse.
Podcast episode
KU coach Bill Self talks about what went right during Saturday night's convincing victory over Belmont.
Box score
Three autumns ago, in announcing that Travis Releford would red-shirt his second season on the Kansas University basketball team, coach Bill Self predicted the Kansas City, Mo., native would score 1,000 points during his career.
More than a few eyes rolled at a statement believed by many at the time as an attempt by the coach to make the player feel better about not having what it took to join the rotation as a sophomore.
Three years and two seasons into Releford's career, the 1,000-point prediction had become a punch line. At that point, Releford had just 194 points down, 806 to go.
Looking back on that bold statement, it's fair to say that if Self could project stock performances as well as he can basketball players, he could turn his millions into billions in no time.
Releford, a tough-to-stop finisher on fast breaks, scored 17 points in Saturday night's 89-60 victory against Belmont. If you're scoring at home, that gives Releford 631 career points, leaving him 369 shy of 1,000.
At his current rate of 13.2 points a game, Releford must play 28 more games (37 for the season) to make Self the modern-day Carnac the Magnificent. If Kansas plays three games in the Big 12 tournament, the 37th game of the season would come in the third NCAA Tournament game.
More significant than making the coach's prediction spot-on, of course, was the wisdom of the decision to remove Releford's eligibility his second year on campus. Forgive Releford for not always loving the idea. Basketball players love to play basketball and leave the spectating to others.
"At first, when I decided to red-shirt I wasn't too happy about it because coming into school here, I was one of the guys who was going to play right away and try to make an impact," Releford said. "When I came in, I realized real fast it wasn't going to happen for me."
It's happening now. Releford ranks third on the team in scoring, first in minutes (32.7 per game) and steals (14) and second in field-goal percentage (.566) and assists (31). Since starting the season 0-for-11 shooting three-pointers, he has made nine of 16.
"He's doing great," Self said. "He's a consistent defender. He's having fun. He's becoming more of a consistent scorer. I thought he was really good tonight."
Self always was high on Releford's potential. Had he not been, he never would have tied up his scholarship for an extra year by having him sit out a year between his freshman and sophomore seasons and doing it in a way that left Releford feeling as if it were his own decision.
"We talked about my future here, and I agreed with what he was talking about, sat out the year, continued to get better, built up a lot of confidence throughout that and, so far, I think it's played out best for me," Releford said.
His efficient line in the Belmont box score captured his versatility. He made six of nine field goals, including both three attempts, and had five rebounds, four assists and three steals.
On a night when Elijah Johnson showed how much better and faster his return to health has made Kansas, Releford showed that the more his team is able to get out and run, the greater his value. He had two dunks, including one of the reverse variety.
"It's a lot of fun," he said of dunking. "I'd rather watch Ben (McLemore) do a break-away dunk than me do one, but I'm having a lot of fun."
Kansas moved the ball rapidly in the half-court as well.
"A lot of reps on offense and playing unselfishly," Releford said of the team looking better of late offensively. "That's what's getting us going. We're all having fun out there, and we're all having fun doing it."
Thanks to having the discipline to red-shirt as a sophomore, Releford still is doing it for the school for which he always wanted to play.