Photo Gallery
Kansas basketball v. Belmont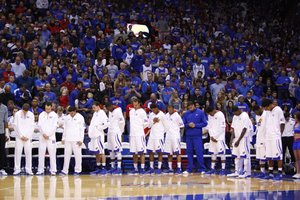 Images from Saturday night's game against Belmont at Allen Fieldhouse.
Podcast episode
KU coach Bill Self talks about what went right during Saturday night's convincing victory over Belmont.
Box score
Eleven Belmont University basketball bombers combined for 38 three-point attempts in Saturday's 89-60 loss to Kansas University in Allen Fieldhouse.
The barrage of threes tied for second-most attempts versus KU in school history. Kentucky hoisted 40 threes in a 150-95 loss to KU on Dec. 9, 1989, in Allen. Emporia State launched 38 threes in a 113-61 loss to KU on Dec. 14, 2002, also in Allen.
"Coach told us they were going to shoot 35-plus threes, so we had to come out ready and stay tuned-in on defense," KU senior forward Travis Releford said.
Trevor Noack hit three of eight threes, while five Bruins each hit one three apiece. Overall, Belmont hit just 34.4 percent of its shots and eight of 10 free throws. Belmont's 21 percent shooting from three was the lowest percentage by a KU foe so far this season. The Bruins missed eight of their first nine.
"They are the second-best three-point shooting team in the country, and they got off 38. So that means they missed some open looks, too," KU coach Bill Self said.
"I'm not going to be too excited about that. What they exposed us on and played to was Jeff's (Withey) man playing behind the arc. That's going to be a struggle for us no matter what. I thought Jeff for the most part did a good job (guarding the 6-foot-7 Noack, who had 19 points and eight boards)," Self noted.
Good point guard play: KU senior Elijah Johnson had nine assists, one turnover, five rebounds and seven points in 30 minutes. He was 3-for-6 from the field, 1-for-4 from three-point range.
"Elijah was the best player in the game tonight," Self said. "He only takes seven shots, but he totally controlled the game. He guarded the other team's most dangerous player, Johnson (Kerron, nine points 3-of-8 shooting), and did a good job on him. He got us easy baskets. Some of the plays he made were really, really (good). That left-handed back-door pass (to Travis Releford, who fed to Jeff Withey for a dunk early in second half) ... those are pretty special plays. He's getting better all the time."
It took Johnson just five seconds to get the ball all the way down the floor to feed it to Ben McLemore, who dunked and was fouled right before the first-half buzzer.
"That was a terrific play to end the half. That was a big-time guard play right there," Self said.
McLemore hit the free throw with players from both teams already headed to the locker room. Just KU's coaches watched McLemore swish the half-ending free throw.
"It was kind of weird," McLemore said. "I felt there was a lot of pressure on me, but I took my time, took a deep breath and just shot the free throw."
This, that: KU has won 60 straight games against nonconference teams in Allen Fieldhouse. ... KU has won 27 straight games in Allen. ... KU is 2-0 against Belmont and 21-0 vs. the current members of the Ohio Valley Conference. ... KU is 150-7 in Allen in the Self era. ... Leading 27-21, KU used a 9-2 run to take a 36-22 lead over a 3:44 stretch. ... KU led for the entire game. The Jayhawks have held the lead for their last 253 minutes and 17 seconds on the court spanning six games. ... KU started the second half by sinking five of its first six three-point tries. ... KU outrebounded Belmont, 41-34, and has outrebounded seven of nine opponents. ... Seven of KU's eight victories have been by 13 points or more this season. ... The Jayhawks had a season-best 25 assists. ... Withey had five blocks, increasing his total to 50. Withey also finished with 14 points, marking his sixth double-digit scoring game of the season and his fourth in the last five games. He now has 24 double-figure games in his career. ... Andrew White III had his picture on KU's ticket and media passes Saturday. He wound up with 15 points.
More like this story on KUsports.com