Photo Gallery
Kansas basketball v. Belmont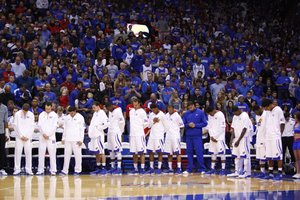 Images from Saturday night's game against Belmont at Allen Fieldhouse.
Podcast episode
KU coach Bill Self talks about what went right during Saturday night's convincing victory over Belmont.
Box score
Belmont men's basketball coach Rick Byrd figured Saturday's task would be a tough one, but he thought his team would handle it better than it did.
"I think everyone in our locker room is embarrassed," Byrd said after the Bruins were throttled, 89-60, by ninth-ranked Kansas University at Allen Fieldhouse. "We are not embarrassed about the Belmont basketball program, but by the performance tonight, and Kansas had a lot to do with that."
Byrd was especially embarrassed by the 10-2 run with which KU opened the game, the 17-7 run to close the half that gave the Jayhawks a 16-point lead at the break and the ridiculous runaway in the second half in which KU actually led by 41 at one point.
"We're just disappointed," he said. "We feel our program is at the stage where, very often, we give people like this all they want and occasionally sneak a win. We want to get to the point where we are winning a few more, but we just could not make this game competitive."
There were plenty of reasons for that. Most of them wore Kansas uniforms.
Known for their impressive three-point shooting — Belmont (7-3) entered the game No. 2 in the nation in that category — the Bruins made just eight of 38 from behind the three-point line in this one, for a season-low 21.1 percent. That, Byrd said, was because of the Jayhawks as well.
"Their defense was so good, it affected our shooting numbers," he said. "Our defense was so poor, it affected theirs in the opposite direction."
Added Belmont senior Trevor Noack, who led the Bruins with 19 points and eight rebounds: "That was the biggest team I have ever played against. Their length bothered a lot of our shots. They were challenging all of our three-point shots. They were challenging everything inside. It was just a battle, and they came out well on top."
KU (8-1) hit 10 of 21 three-pointers and shot 51 percent from the field overall. Three KU players recorded four or more assists.
"You've got to take away their drive," Byrd said. "And if they make shots they are going to beat you. Our game plan was, we had to help out at the post and stop their drive. They made their shots. We were trying to hang in (there) the first half, and they kept making those shots."
Not surprisingly, Byrd seemed to be impressed most by the man many believe is playing himself into the NBA's draft lottery, red-shirt freshman Ben McLemore, who finished with 17 points on 6-of-7 shooting, including 4-of-5 from three-point land.
"If he can rise up and shoot it like that, he is just going to be a bear for anyone to guard," Byrd said. "That was impressive. Our thought was to approach him under control, get a hand up, and if he makes a shot, they were going to beat us. He's the real deal for sure."
More like this story on KUsports.com