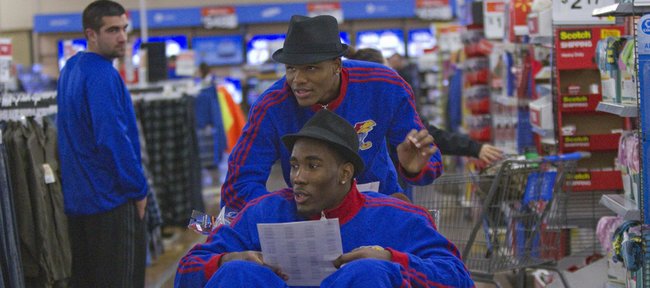 Photo Gallery
KU men's basketball shopping excursion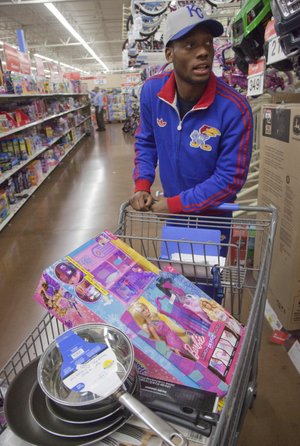 Photos from Kansas' men's basketball team's holiday shopping trip to Wal-Mart.
Kansas University senior forward Kevin Young didn't even need to look up when he saw teammate Ben McLemore sitting inside a shopping cart Thursday night.
He knew KU freshman forward Jamari Traylor would be the one right behind him. Young described the two roommates as "goofballs."
"We're just out here having fun," McLemore said, "doing something special for the kids and these families."
For the 16th straight year, the KU men's basketball team shopped for needy families at Wal-Mart in south Lawrence. The Jayhawks, who were given $100 budgets for each person on their shopping lists, bought items for around 70 people from 17 families with money raised from coach Bill Self's Assists Foundation and a fund set up by Roger and Linda Morningstar.
Red-shirt freshmen McLemore and Traylor shopped for their lists together and provided entertainment while doing it.
At one point, McLemore grabbed a black hat for each of them, and they continued their shopping with the accessory.
"I just rolled with it for kicks," a smiling Traylor said. "Everybody was taking pictures, so I guess we were doing something right."
While having fun, Traylor also took his shopping responsibility seriously. One boy on his list wanted Spiderman toys, so Traylor grabbed a few.
"I'm just happy to be out here to put a smile on somebody's face," Traylor said. "I know some people are less fortunate than me, so to take the time out to provide a little change, a little smile, it'll mean something to them."
Other Jayhawks were just as focused on their lists.
Freshman guard Andrew White III, shopping for two, purchased a pair of comforter sets to go with clothes.
He also made sure to add in a personal touch, grabbing a skullcap — one of the items he wears frequently himself because his head often gets cold.
"It's kind of interesting seeing all these people looking at us like, 'What are we doing in here?' We're human beings, too, just trying to help people out," White said. "I think that's a great image for the program."
Senior guard Elijah Johnson flipped through a rack of Kansas hooded sweatshirts, taking time to pick out a good style for a boy and girl on his list.
"Here's big fella's shirt right here," he said, holding up a blue hoodie. "I'm going to get it right."
Young tried his best to branch out from his original list. One mother wanted a queen-sized blanket, so Young added sheets and a pillow to go with the blanket.
One boy asked for Hot Wheels, so Young picked out a car set called the "Mega Hoop Mayhem."
"Any time we can get the opportunity to give them more," Young said, "it's always a good thing."
Self was happy to see his players continue the holiday tradition.
"I think they take pretty good pride in it, as far as trying to get the most bang for the buck," Self said. "I don't think very many of them have had many opportunities to shop with a budget like this.
More like this story on KUsports.com