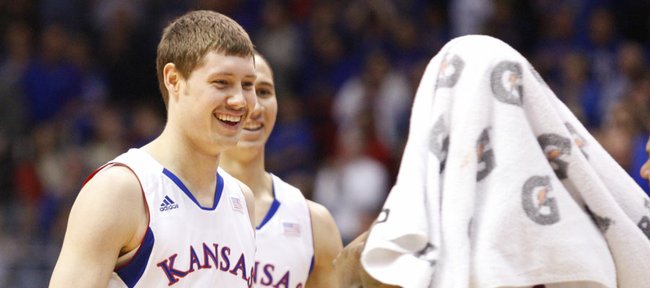 As a member of the Red Team, also known as Kansas University's basketball Scout Team, Tyler Self tries to bring his A game to practice every day.
"I guard Elijah (Johnson) quite a bit and Ben (McLemore) quite a bit. I like to say I guard them. Others may see it differently," Self, a 6-foot-2 freshman walk-on guard out of Lawrence's Free State High, said with a smile.
Self, fellow walk-ons Christian Garrett, Niko Roberts and Evan Manning, as well as red-shirt scholarship player Landen Lucas and others not in the current rotation, try to make pests of themselves while running the upcoming opponents' defense and offense during high-octane drills and scrimmage situations.
It was Self's offense that sent KU's student section into a frenzy during Saturday's KU-Colorado game.
Self, who entered with 1:44 left, put the finishing touches on a 90-54 victory by hitting a driving layup off the glass at :02.
"Looking at it from a history standpoint, it's a big deal to me," Self said of joining the fraternity of individuals who have scored points for KU's tradition-rich program. "But in my eyes, it's not anything really too special because I'm out here trying to get better, to make the team better."
Self, who is 1-for-1 from the field while playing five minutes in two games, said he'd have been disappointed had he not converted the floater.
"I got a good pass from Niko and got a chance to go get a bucket with a couple seconds left and happened to do so," Self said. "It turned up in transition. It was a 1-on-1 play. You've got to take advantage."
He said he has enjoyed the opportunity to play for the Jayhawks, a team coached by his dad, Bill Self.
"I've seen a lot of games here," said Tyler, a fixture in the Allen Fieldhouse stands the first nine years of his dad's KU tenure. "It's different being on the floor, though, than being in the stands.
"I love being a part of it. The hard work we put in every day is totally worth it to see it carry over on the floor."
Tyler happens to be playing for one of the most demanding coaches in the country in Bill Self, who has directed KU to eight straight conference titles, one national title and one NCAA runner-up appearance.
"It's fun, a unique experience to see him (dad) in his element, doing what he loves to do. His passion for the game comes through at practice, how much he loves what he does and wants to succeed doing so," Tyler said.
"It's all about mental toughness. Boot Camp, the practices are tough, but it's really just a mental aspect. You have to play through it."
Tyler said it has been an easy transition playing basketball for his dad.
"I like to think of it, and I think he does, too, that I'm just another guy out there trying to get better," Tyler said.
Bill Self has said he's been rejuvenated as a coach in getting to spend so much time with his son. But he does acknowledge that Tyler is just another player at practice and during games.
"I was as happy for Tyler (in scoring) as I would have been if it was Evan or Christian or Niko," Self said.
"I think that if you look at Niko and Evan and Tyler ... they get it. They've been around it their whole life."
Niko Roberts' dad is KU assistant/former St. John's head coach Norm Roberts; Evan Manning's dad is Tulsa coach/former KU All-American and NBA standout Danny Manning.
"They've been raised not in the gym, but as far as seeing sides of their dads most people don't see," Bill Self said. "I think it's neat for any of those (walk-on) kids: how you can go to a place where you know you will probably not play much at all if any, yet you can still put a handprint on what is going on. All four, they've done a great job, gotten better, primarily Christian and Niko because they've been here a couple years. Nobody in our locker room sees them differently. They all do the same things, sacrifice and all that stuff."
Tyler, by the way, said he hasn't decided if he wants to follow in dad's footsteps and coach.
"The plan right now is (be a) business major," Tyler said. "Hopefully I'll finish strong in finals (this week). Right now I have no clue. I wouldn't say I will be a coach. I could see it going either way. Right now I'm living day to day."
KU vs. SDSU: San Diego State University announced Wednesday that it had agreed to a home-and-home series with KU. The first game will be played in Allen Fieldhouse on either Jan. 4 or 5, 2014. The series will skip a season before the Jayhawks return the game and play inside SDSU's Viejas Arena on a yet-to-be-determined date in 2015-16. Details of the series were reported in the Journal-World, San Diego Union-Tribune and other outlets in November.
Bill Self in Minnesota: KU coach Self was in Apple Valley, Minn., Tuesday to attend a game of Tyus Jones, a 6-1 junior point guard from Apple Valley High. Jones had 36 points and seven assists in an 82-68 win over Minnetonka. Jones is ranked No. 3 nationally in the Class of 2014 by rivals.com.
Next game: KU will meet Belmont University at 6 p.m. Saturday in Allen Fieldhouse. Belmont (6-2) of the Ohio Valley Conference plays host to Middle Tennessee State tonight.
More like this story on KUsports.com