It's been almost a year since new Kansas University football commitment Mike Smithburg last shaved, and during that year a lot of good things have happened.
Although his girlfriend and mother are urging him to get rid of the whiskers, it's hard to argue with what the beard did for the Iowa Western Community College offensive lineman.
Juco national championship. Scholarship offer to Kansas. Honorable mention All-American nod. And, of course, an easy and automatic conversation starter.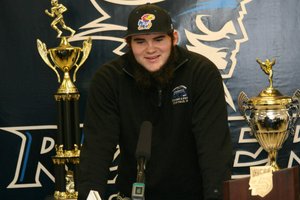 "I think I'm gonna get rid of it," Smithburg said Thursday. "I've got a girlfriend that I plan on keeping around for a while and my mom hates it, so, if I were smart, I'd probably get rid of it."
Intelligence is one of the things that helped lead Smithburg, 6-foot-3, 300 pounds, to Kansas. Not only does he have experience as a guard, but he also has enough smarts and experience to be able to play center, as well.
"(People have) told me that, even as a guard, I was still kind of playing the role of the center," Smithburg said. "The center would make the Mike (linebacker) point and the basic stuff like that but I would identify blitzes a lot and call stuff to make sure that people didn't have questions right before the snap."
Smithburg orally committed to KU coach Charlie Weis late Wednesday night. He chose the Jayhawks over interest from schools ranging from Akron and Florida Atlantic to Memphis, Illinois and South Florida and canceled an upcoming visit to Illinois. The reason?
"The people," Smithburg said. "Coach Weis is obviously awesome, and (offensive line) coach (Tim) Grunhard and (graduate assistant) coach Rod Jones, who are going to be working with the offensive linemen, are awesome. There are plenty of differences, but the juco thing is not that different from D-I in that you're gonna be around your position coaches and strength coaches the most and I like my position coaches and the strength coach (Scott Holsopple) a lot."
The addition of Smithburg brings KU's commitment total in the Class of 2013 to 19, with 13 coming from the juco ranks. Smithburg is the fourth offensive lineman in the class. He plans to make his commitment official by signing Wednesday and will report to campus in mid-January in time to participate in spring football.
"I've seen what being a December grad can do for you," Smithburg said. "And that was my plan all along, to get the offer during the season and come in in January. It's gonna help me a lot."
Weis and company have as many as eight spots still available in the current class and at least one target, Fort Scott CC cornerback Kevin Short, 6-2, 185, announced earlier this week that he would make his decision today.
Early Wednesday morning, news broke of Navarro Junior College offensive tackle Zach Fondal picking the Jayhawks, and, late Tuesday night, highly coveted defensive tackle Marquel Combs announced that he had chosen Kansas, as well.
Here's an updated look at KU's current recruiting class:
• Kellen Ash: 6-3, 194-pound linebacker from Parkway South High in Missouri. A three-star prospect, who committed to KU last April.
• Joey Bloomfield: 6-6, 305-pound offensive tackle from Ballard High in Louisville, Ky., who chose KU over offers from Air Force, Colorado, Houston, Kansas State, San Diego State and Wyoming.
• Andrew Bolton: 6-3, 280-pound defensive end from Hinds C.C. in Raymond, Miss. Clocked at 4.8 seconds in the 40-yard dash, Bolton also had offers from Iowa, LSU and Mississippi State.
• Marquel Combs: 6-5, 305-pound defensive tackle from Pierce Community College in Woodland Hills, Calif. This four-star impact player had 50 offers and chose Kansas over Kansas State late Tuesday night.
• Montell Cozart: 6-2, 180-pound quarterback from Bishop Miege High in Kansas City. Played high school football under current KU offensive line coach Tim Grunhard.
• Jordan Darling: 6-4, 226-pound quarterback from Shawnee Mission East High in Kansas City. Dominated summer camps and picked the Jayhawks over Kansas State.
• Samson Faifili: 5-11, 240-pound linebacker from American River C.C. in Sacramento, Calif., committed to Kansas in mid-November, choosing KU over Hawaii, Iowa State, Nevada and Oregon State.
• Zach Fondal: 6-5, 295-pound offensive tackle from Navarro Junior College in California. Canceled trips to Arkansas and Texas Tech and committed to KU.
• Ngalu Fusimalohi: 6-3, 300-pound offensive guard from City College of San Francisco. Known as a mauler, Fusimalohi's offer list closely resembled Faifili's.
• Marcus Jenkins-Moore: 6-3, 210-pound linebacker from Pierce C.C. in Woodland Hills, Calif., who describes his game as "relentless" and chose KU over offers from a dozen other BCS-conference schools including K-State, Arkansas, Texas A&M; and Texas Tech.
• Ben Johnson: 6-5, 230-pound tight end from Basehor-Linwood High near Kansas City, was one of the first players in the class to commit.
• Isaiah Johnson: 6-1, 210-pound safety from Iowa Western C.C. Helped lead IWCC to a juco national title while leading the team with eight interceptions. Was named an NJCAA honorable mention All-American on Wednesday.
• Tedarian Johnson: 6-3, 285-pound defensive tackle and juco teammate of Bolton. Chose Kansas over offers from Iowa State, Memphis, Mississippi State and Texas Tech.
• Dexter McDonald: 6-2, 203-pound cornerback and former KU player who recommitted to the Jayhawks this fall after spending the year at Butler County C.C.
• Trevor Pardula: 6-5, 210-pound punter and kickoff specialist who picked the Jayhawks over hometown San Jose State.
• Cassius Sendish: 6-2, 185-pound cornerback from Arizona Western C.C. A natural leader and hard hitter who chose KU over Big 12 schools Iowa State and K-State, among others.
• Mike Smithburg: 6-3, 300-pound offensive lineman from Iowa Western C.C. Versatile lineman with experience as both a guard and a center, picked KU over Illinois and is expected to arrive in time for spring football.
• Colin Spencer: 5-10, 179-pound athlete from Woodrow Wilson High in Dallas. Played cornerback, wide receiver and quarterback in high school. May graduate early and enroll at KU in time for spring football.
• Mark Thomas: 6-2, 210-pound wide receiver from Nassau C.C. in New York. Solid, physical wideout chose KU over UConn and Marshall.