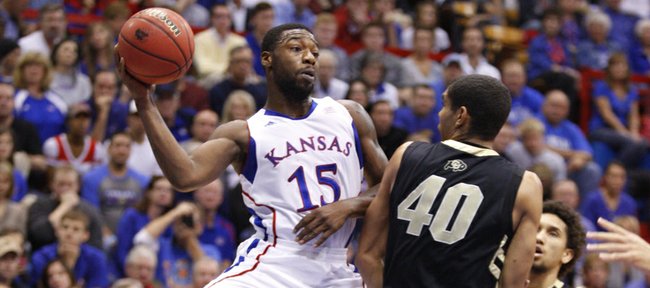 After playing the last few weeks with a banged-up knee, Kansas University senior point guard Elijah Johnson admitted he felt more like himself defensively during Kansas' 90-54 victory over Colorado on Saturday.
"I felt like I was on a slip-and-slide," Johnson said with a smile after the game. "You know when you're a kid, the little slip-and-slide? The little water thing? I felt like that's what I was on, because I was just so ... I don't know. It was like no one could get around me. And when they did, I felt like I halfway bailed them out (not the injury).
"So I'm confident in that. That's a plus."
Johnson bruised his left knee in the KU men's basketball team's Nov. 20 victory over Saint Louis. It was the same knee he had surgery on in April.
The Las Vegas native appeared to have much better bounce against CU.
"I'm feeling real healthy right now," Johnson said. "My knee hasn't been feeling bad, but it just wasn't feeling great. Right now, it's feeling great. Just working out with 'Cheddar' (Bill Cowgill) every day — our trainer — he's just getting me right, pushing me and making me do some things that I didn't think that I could do. And I think it's starting to show on the floor."
Johnson said the sessions with Cowgill haven't been fun.
"He usually tries to make me do something that he knows I don't like to do, or something that my body responds to significantly," Johnson said. "Lately, we've just been working on some explosion stuff, some lateral movement and just getting it going every day."
This past week, Johnson said he's felt more comfortable jumping, and because of that, he's been doing it more.
His hops were on display after one particular KU missed jumper Saturday, as he skied high in the air to attempt a stickback dunk.
The ball soared just out of his reach.
"I was praying that that one came off, because I was going to show people, 'Yeah, we've got three people dunking like that now at the perimeter position,'" Johnson said. "It'll come in time. I'm not really rushing it. I've just got to keep my health up, make sure that my knee's feeling good, my body's feeling good, get proper rest and eat right, and I think you'll see more of that."
Johnson received a nice surprise during the game Saturday, as at halftime, he looked to the crowd thinking he might have seen his sister, Terrin.
The senior left his team's layup line, walking toward the Colorado bench while squinting to try to figure out if he was actually seeing his sister.
Both Terrin and Elijah's mother, Yolanda Brown, had made the trip from Indiana to watch him play without telling him they were coming.
"I looked up at halftime, and I saw my sister Terrin standing up. I thought I was tripping at first," Johnson said. "Then I looked again, and I actually walked down there, and I saw them. It kind of just caught me off-guard."
Johnson wrapped his arm around his sister during most of his postgame interview while his mother stood a few steps away in a red, "15 mom" T-shirt.
The two hadn't seen him play in a game since KU took on Michigan State in Atlanta on Nov. 13.
"Whenever you see your family like that — and you're not used to seeing your family — it always shoots some kind of adrenaline into your body," said Johnson, who had six points on 2-for-2 shooting with two rebounds and two steals after halftime. "It definitely felt good."
Lists: The NCAA on Tuesday named the top 75 all-time March Madness players, 25 all-time March Madness teams and 35 all-time Madness moments as part of its season-long celebration of 75 years of the NCAA Tournament.
Starting in January, fans will vote at NCAA.com/MarchMadness to determine the top 15 all-time players in the NCAA Tournament, the single-best team and the single-best moment in tourney history.
KU's Clyde Lovellette (Most Outstanding Player 1952), Wilt Chamberlain (MOP 1957) and Danny Manning (MOP 1988) are included on the top players list. KU's 1952 team is the only Jayhawk national title team to be on the list of contenders.
KU's comeback victory over Memphis in the 2008 title game made the best-moments list. The NCAA's description of that victory follows: "Down nine with 2:12 left, Kansas cut into Memphis' lead and had a chance to tie the national title game. Kansas junior Mario Chalmers, with two seconds remaining, shot over two Memphis defenders to tie the contest and set the stage for a Kansas win in OT.
Wiggins to visit: Andrew Wiggins, a 6-7 senior forward from Huntington (W.Va.) Prep who visited Florida State last weekend, will visit KU, Kentucky and North Carolina in coming months, zagsblog.net reports. It's possible Syracuse or Ohio State will land the fifth visit of Rivals.com's No. 1-rated player in the Class of 2013. His mom (former Canadian Olympic track standout Marita Payne-Wiggins) and dad (former NBA player Mitchell Wiggins) both attended FSU.
Wiggins told zagsblog at the Marshall County Hoopfest he could envision playing alongside Kentucky signees Aaron and Andrew Harrison, 6-5 twins from Fort Worth, Texas. Aaron is ranked fourth and Andrew fifth in the class.
The country's No. 2-rated player, Julius Randle (6-9 Prestonwood Christian, Plano, Texas) will visit KU for the KU-Texas game on Feb. 16.