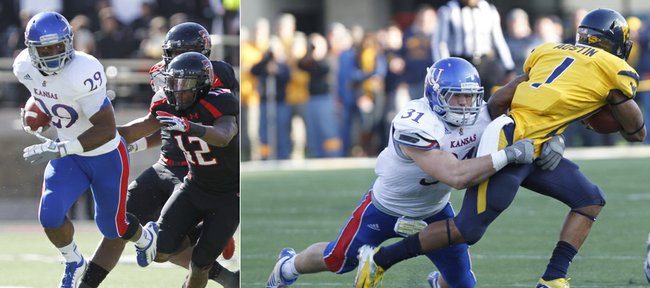 Looking back on a 1-11 season without shaking one's head is not easy to do, but, believe it or not, there were more than a few moments worth celebrating during the 2012 Kansas University football season.
Sure, the Jayhawks' record worsened for the fourth straight season, and, yes, there were still a couple of lopsided results on the scoreboard.
But there also were signs of progress and, perhaps more importantly, several moments that defined what football under first-year head coach Charlie Weis would look like.
Here's a quick look back at the best of 2012:
Offensive MVP: James Sims
For the third straight season, Sims led the Jayhawks in rushing, this time finishing with a career-best 1,013 yards in just nine games. After serving a three-game suspension to start the season, Sims responded with a stretch of six straight 100-yard games, which set a school record. The junior from Irving, Texas, looked bigger, faster and stronger all season and became the best back in the Big 12, even if the postseason awards did not reflect that.
Runners-up: Tanner Hawkinson, Duane Zlatnik and Trevor Marrongelli — It was tempting to put sophomore speed back Tony Pierson here, but I think the offensive line, particularly these three seniors, deserve a ton of credit for KU's success running the ball during a season in which throwing it was not really an option.

Defensive MVP: Ben Heeney
For a guy who played next to no snaps a season ago, the sophomore from Hutchinson came up huge with 112 tackles, good for third in the Big 12, including 12 for loss and one sack. Heeney's relentless style and physical play made him a player who stood out no matter how bad the score got.
Runner-up: Bradley McDougald — The anchor of the KU secondary, McDougald was great against the run (92 tackles), solid against the pass (three interceptions) and a leader throughout.

Offensive Rookie of the Year: Taylor Cox
Had it not been for Sims' breakthrough season, the junior-college transfer who runs just like him — perhaps harder — would've finished with much more than the 464 yards and three touchdowns on 91 carries he had. With Sims and Pierson both missing time this season, Cox's presence made life much easier on the KU coaching staff.
Runner-up: Michael Cummings — The red-shirt freshman from Killeen, Texas, injected life into a stagnant KU offense in the fourth quarter of the Oklahoma State loss then replaced Dayne Crist in the starting lineup for the next several weeks. For a guy who had never played a down of college football, Cummings did about all you could ask while functioning as the trigger man for KU's ground attack.
Defensive Rookie of the Year: Jake Love
Like Heeney, this former Oklahoma state wrestling champion showed no regard for his own body while physically matching up with some of the best players in the Big 12. Despite starting just four games, Love, a red-shirt freshman, finished with 36 tackles and a couple of monster games.
Runner-up: Ben Goodman — By the end of the season, Goodman was playing as well as anyone on KU's defensive line. Look for him to use that finish, plus the confidence that should come with it, to become a player in 2013.
Game of the Year: Texas Tech 41, Kansas 34, 2 OT
The South Dakota State win was nice but expected. This one was a surprise, and the Jayhawks battled toe-to-toe with the 25th-ranked team in the country. Runner-up: Texas 21, Kansas 17 — On the heels of an embarrassing loss at Oklahoma, KU responded by physically whipping Texas and held a lead until 12 seconds remained.
Offensive Play of the Year
James Sims' 30-yard touchdown run against Oklahoma State — He called it in the huddle and capped it off with an uncharacteristic biceps flex in the end zone. This was the run when it became apparent that Sims knew he was a beast.
Runner-up: I'm torn here. It's either Cummings' 44-yard run on fourth-and-three during the game-trying drive in the final minutes at Texas Tech, or Pierson's 55-yard touchdown run against Iowa State, when he chose not to pitch the ball to Crist on the reverse and instead kept it and sprinted to the end zone.
Defensive Play of the Year
Ben Heeney chasing down K-State QB Collin Klein at the goal line — Even though Kansas State won the second half 35-2, there's no discounting how huge this play was at the time it happened. With K-State out of timeouts and driving to go up 28-14 at the half, Heeney tracked down Heisman Trophy finalist Collin Klein short of the goal line and sent the Jayhawks to the locker room with some serious momentum.
Runner-up: Tyler Patmon's pick-six against Northern Illinois — The junior cornerback's 54-yard interception return on the second play of the fourth quarter put KU up 23-13.
Special Teams Play of the Year
Nick Prolago 29-yard field goal against Texas — It doesn't get any bigger than a pressure-packed field goal for the lead with 2:28 to play, and Prolago buried it.

Runner-up: Josh Ford's blocked punt against South Dakota State — Ford kicked off his special-teams player of the year campaign in style by recording a stat that had been hard to come by around here for the past few years.
Most Improved Player: James Sims
He was good as a freshman and sophomore but became great as a junior. What's next?

Runner-up: Tony Pierson — The already-dangerous speed back became a weapon in the passing game and proved he could handle an increased workload, particularly during the season's first three weeks when Sims was out.
Feel-good Moment
News conference when Charlie Weis was introduced — The beginning of the Weis era marked the much-anticipated end of the Turner Gill era. During his introductory news conference in early December, Weis did more to hype up the program than Gill did in two years.
Runner-up: Any time James Sims carried the ball — The Jayhawks may have been beaten up and overmatched throughout much of the season, but you never would have known it by watching Sims run. He ran with pride and toughness on every snap and single-handedly earned KU respect from opponents.
Feel-not-so-good Moment
Getting housed by Iowa State at home — The Jayhawks put all they had into sending the seniors out with a victory. Weis hyped it all week, bought tickets to fill the stands and broke out the black uniforms as a surprise. After an emotionally charged hot start, the Jayhawks fell flat and lost 53-21.
Runner-up: The six-minute stretch in the third quarter against K-State when a 28-16 KSU lead turned into a 49-16 runaway.