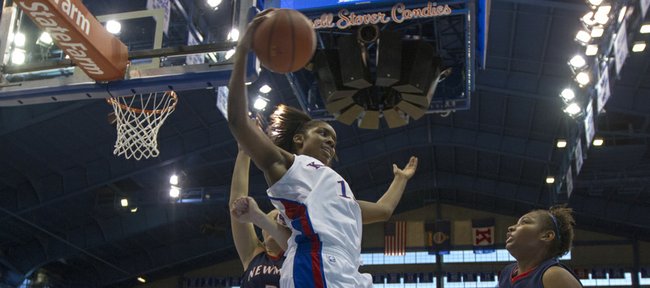 Document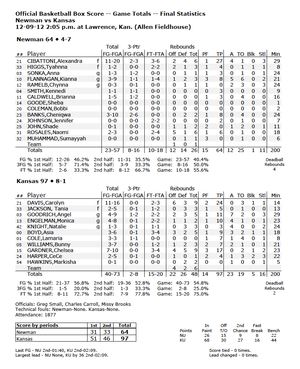 Less than three minutes into Sunday's women's basketball game against Newman, Kansas University senior Carolyn Davis was on pace to pick up 140 points.
After scoring KU's first 10 points, Davis' pace checked up from that point on, but the Jayhawks did not as they rolled to a 97-64 victory in Allen Fieldhouse.
Davis finished with 24 points on 11-of-16 shooting in just 14 minutes to lead the Jayhawks to the bounce-back victory that came just three days after they suffered their first loss of the season.
"Before every game (KU assistant) Terry (Nooner) always tells me, '30 and 20, 30 and 20,'" said Davis of her coach's goals for her points and rebounds. "It gives me something to look for. It's not about points, it's just about dominating the game."
Davis certainly did that early against an overmatched Newman squad that had no answer for Kansas' size and strength inside.
"Somebody told me I was the only person to be able to hold Carolyn under 30 today," KU coach Bonnie Henrickson said. "She was good early, and we just said, 'Until they stop that, we're just gonna keep throwing it inside.'"
The Jayhawks (8-1) did that even when Davis was not in the game. Sophomore Chelsea Gardner was nearly as effective as her mentor in this one, finishing with 17 points on 7-of-10 shooting in 23 minutes of relief. Both Gardner and Davis recorded nine rebounds, and at times it was tough to tell which was in the game, as Gardner's play very much resembled Davis' in the opening minutes.
"She's caught on to how Carolyn gets all those high-percentage catches, all the work Carolyn does early, and it looks like she's bought into, 'If I do that, I might catch it, turn and score, too,'" Henrickson said of Gardner.
Thanks largely to KU's size, Newman never stood a chance in this one.
KU nearly made as many field goals in the first half (21) as Newman attempted (26), and the Jayhawks shot 57 percent en route to a 51-31 lead at the break.
Most of Davis' damage came in that initial surge, and she finished the first half with 14 points on 7-of-8 shooting in just six first-half minutes.
"I just figured I gotta make the most of the minutes I have," Davis said.
Sunday's victory was not perfect, but it gave the Jayhawks a chance to work on a lot of things they felt cost them in last week's loss at Arkansas.
"I think our help and our sink (defense) was really good on the back side, and I think that's something we can take away from today," said Davis, noting that her offensive numbers would not come as easily from here on out.
Added senior guard Monica Engelman, who finished with 10 points in 23 minutes: "We were upset about the game we let slip away, and this game was about getting our groove back and doing things that are gonna build our confidence back up."
One group that received a much-needed dose of confidence was KU's bench, which played extended minutes in the rout. In addition to Gardner, Bunny Williams, Asia Boyd and CeCe Harper each played around 20 minutes, while reserves Lamaria Cole and Markisha Hawkins also played and contributed to the victory.
"It was good to get those kids off the bench in the game," Henrickson said. "They gave us good minutes and good energy, and from an intensity standpoint I didn't think it dropped when we went to the bench."
With finals looming, KU will practice this week but will not play again until Sunday, when they welcome Prairie View A&M; to town for a 2 p.m. tipoff.