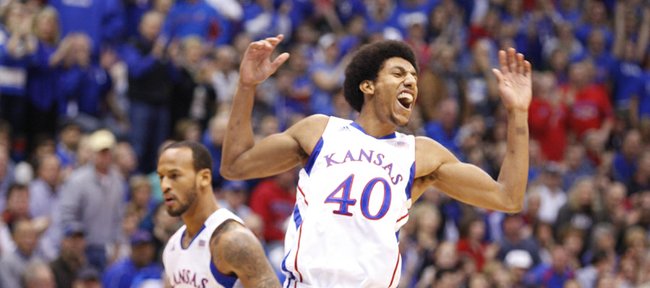 Photo Gallery
KU basketball v. Colorado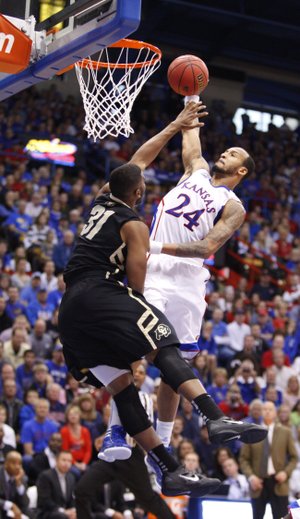 Images from Saturday's game against Colorado at Allen Fieldhouse.
Podcast episode
KU coach Bill Self talks after the Jayhawks' 90-54 victory over Colorado on Dec. 8, 2012.
Podcast episode
Kansas players Travis Releford, Kevin Young and Ben McLemore talk after the Jayhawks' 90-54 victory over Colorado on Dec. 8, 2012.
Box score
About 100 University of Colorado students made a lot of noise while waving a Buffaloes banner Saturday afternoon in the northwest corner/general admission seating area of Allen Fieldhouse.
The fans — on hand to support the new and improved (7-2) Buffs of the Pac-12 Conference — were drowned out by Kansas University students situated in the north end zone, KU's basketball players observing the proceedings during pre-game stretches and drills.
"They (KU fans) started singing the (Rock Chalk) chant early on, during warmups. I looked at Jeff and said, 'Uh, oh, time to go,''" KU senior forward Kevin Young said of his conversation with senior center Jeff Withey.
Taking a cue from their fired-up fans, the full-court pressing (7-1) Jayhawks pulverized Colorado, 90-54, the rout resembling an 89-63 KU victory when the Buffs last came to town — two seasons ago as a member of the Big 12.
"Coach (Bill Self) was talking about it in the locker room. They just weren't ready for the pressure," said Young, point man on KU's man-to-man press who was assigned to harass the in-bounds man. "We are all athletic and we all can play that way, and we love to do it. I enjoy it a lot because I'm long," added the 6-foot-8, 190-pounder. "Most of the time teams don't expect it so they are going to try to throw it in quick. I can get there really fast."
The pressing Jayhawks forced 12 turnovers while committing just two in blazing to a 43-22 halftime lead. Young — he had eight points at half — finished with a KU-career-high 16 points off 8-of-9 shooting. He scored 27 points versus St. Mary's during his sophomore season at Loyola Marymount.
"Kevin was having fun today. That may have been the best game he's played since he's been here," KU coach Bill Self said of Young, who had eight rebounds and two steals on a day Ben McLemore led the way with 24 points, 17 the first half. "He was terrific last year against Ohio State (14 points, four rebounds in KU's 78-67 win last Dec. 10) in a pressure-packed game.
"What did he do that wasn't anything except effort?" Self added. "He just ran. He jumped. He went after the ball. He didn't make any shots that were hard shots. He turned it over once where he tried to make a great play. Other than that he played within himself and just played so hard."
Young ran and ran and ran Saturday ... with a smile on his face much of his 20-minute stint.
"It's just there," he said of his energy, acknowledging his two years of cross country and track at Perris (Calif.) High School also may have helped his stamina. "I ran the mile, 4x4, the 400 and 800," he said, indicating he was clocked at 49 seconds in the 400 and 1:59 in the 800.
Also ... "I sat out two years ago (after leaving Loyola Marymount and not playing for a year before transferring to KU)," Young noted. "I've just been waiting. But you've just got to play hard every time you get out there, because you don't know when the next time you'll get out there is."
Young scored six points in a 9-0 surge that gave KU a 38-18 lead with four minutes left in the first half. The Buffs, who had cut KU's early 17-point lead to 11, never threatened in the final half.
"Kevin means a lot to the team," said senior Travis Releford, who scored 10 points with six assists. "He brings all the energy or most of it. I try to keep up with him as much as I can. We encourage Jeff (Withey, five blocks, eight points), Elijah (Johnson, 11 points, four rebounds, three assists) and everybody else to do the same. I feel if we keep up with his energy as much as he does the whole game, we'd be a tough team to beat."
KU is always a tough team for Colorado to beat. The Jayhawks, who return the trip to Boulder next season, won their 19th straight game overall versus CU and 29th straight versus the Buffs in Allen.
"They (TV analysts) had us on 'upset alert.' That had us on edge and ready for the game," Releford said.
The fans also deserved a mention for preparing the Jayhawks.
"It's so much fun to play in here. It's hard not to have fun in here," Young stated.
The Jayhawks, who will be taking final exams this week, will next meet Belmont at 6 p.m. on Dec. 15 in Allen.