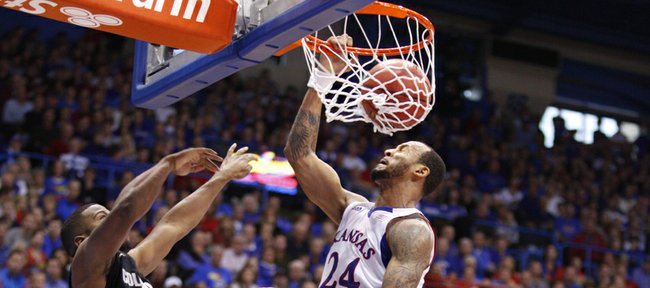 Photo Gallery
KU basketball v. Colorado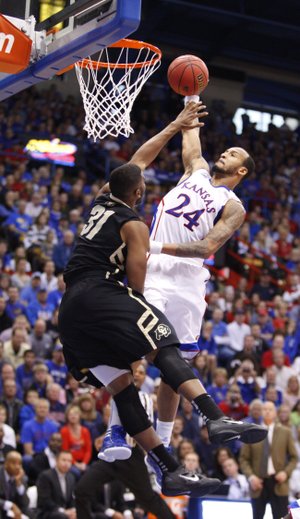 Images from Saturday's game against Colorado at Allen Fieldhouse.
Podcast episode
KU coach Bill Self talks after the Jayhawks' 90-54 victory over Colorado on Dec. 8, 2012.
Podcast episode
Kansas players Travis Releford, Kevin Young and Ben McLemore talk after the Jayhawks' 90-54 victory over Colorado on Dec. 8, 2012.
Box score
Normally, it's Ben McLemore with Kansas University's dunk of the day.
On Saturday, Travis Releford's driving one-handed slam dunk over Colorado's Jeremy Adams is the one that had the fans most energized — the jam coming with 1:29 left in the first half of KU's 90-54 rout of the Buffaloes in Allen Fieldhouse.
"We know Travis can get up. Me and everybody in the gym thought he'd throw it back to Jamari (Traylor, who initiated the play by stealing the ball well before midcourt and passing ahead)," KU senior Kevin Young said. "When he (Releford) took off, it shocked me. We knew he could do it. We just weren't ready for it."
Releford stared down a TV camera lens after the dunk, the crowd exploding in joy with KU up, 41-20.
"I mean, he counted his steps. He looked like he was getting his feet together to block the shot," senior guard Releford said of Adams, who was posterized on the play. "I just went up and made a good play."
Self scores: KU freshman walk-on guard Tyler Self, son of coach Bill Self, scored his first points as a Jayhawk. He hit a floater off a drive to the goal with two seconds remaining.
"I thought it was great. His mother will probably be nicer to me now," Self joked of his wife, Cindy. "Of course he (Tyler) joked afterward when he gets a head of steam he's hard to stop in transition. 'Yeah right, son,'" Self added with a smile. "It was fun. I would have felt good for anybody if they made a basket there."
"I got a good pass from Niko (Roberts) and got a chance to go get a bucket with a couple seconds left and happened to do so," Tyler Self said of his basket. "I love the floater. That's my go-to shot," he added with a smile.
Happy graduation: KU senior Jeff Withey takes part in graduation ceremonies at the Lied Center Sunday. His degree is American Studies with a minor in education.
Off to races: KU blazed to early leads of 10-1, 18-3 and 27-8.
"I think Spencer (Dinwiddie, four points, 21 minutes) may have tweaked his ankle early, so that hurt them. He got two fouls quick," KU coach Self said. "I thought Travis (Releford) did a great job on him. I thought Elijah (Johnson) did a good job on Booker (Askia, 15 points, 5-of-15 shooting), especially the first half, I thought our defense was really good the first half. Really, their best offense was throwing it to the big kid down low, Scott (Josh, 19 points), and him scoring on our bigs. But I think the biggest thing was our energy. That's the first time we've played a game in our building where we actually didn't allow our opponent to get comfortable early in the game. That was a big part of it."
This, that: Self said Elijah Johnson (11 points, four rebounds, three assists) felt better than he has the past few games. He'd been slowed by a bruised knee. ... Baseball greats George Brett and Joe Carter attended. ... CU coach and former KU guard Tad Boyle received loud applause during introductions. He waved to the crowd to acknowledge the cheers. A highlight of Boyle was shown in the video shown before KU player introductions. Also, there was a trivia quiz question involving Boyle on the center videoboard during the first half.
Stats, facts: KU improved to 123-39 over CU. ... KU has won 19 in a row over CU and 29 in a row over CU in Allen. ... KU has won 11 straight games over Pac-12 opponents. ... KU scored 90 points for the first time since a 92-74 win over Baylor last season. ... KU has held a lead for its last 203 minutes, 51 seconds, going back to the 13:51 mark of the second half against Chattanooga (Nov. 15). ... CU committed seven turnovers (to none for KU) during a game-opening 25-8 run. KU converted that into a 13-0 points-off-turnover advantage by the 11:49 mark. ...KU did not commit its first turnover until 7:27, after Colorado already had eight. ... KU has had four players with double-digit points for three straight games. Last time that happened was against Nebraska, Missouri and Iowa State in 2011. ... Young recorded back-to-back double-digit scoring performances for the first time at KU (16 vs. Colorado, 10 vs. Oregon State). His 16 points were a KU career high (actual career high, 27 points with Loyola Marymount). ... Elijah Johnson, who has 110 threes, passed Paul Pierce (108) for 19th all-time in threes made. ... Jeff Withey has 45 blocks this season. Baylor's Cory Jefferson and Texas' Cameron Riley are second in the Big 12 with 21. ... Withey now has 210 career blocks. He needs eight more to tie former Jayhawk Scot Pollard (218) for fifth all-time at Kansas.. ... Releford tied his career high with six assists. ... Releford, who hit five of eight shots, has made 31 of his last 44 (70.5 percent) in five games.
More like this story on KUsports.com