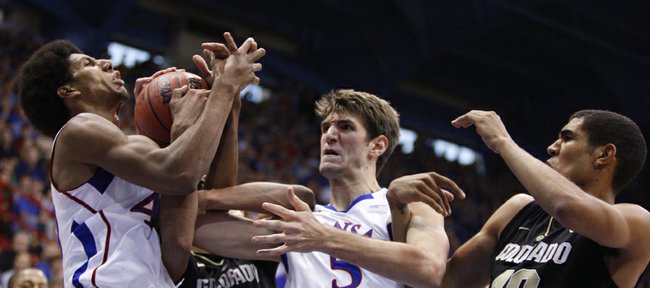 Photo Gallery
KU basketball v. Colorado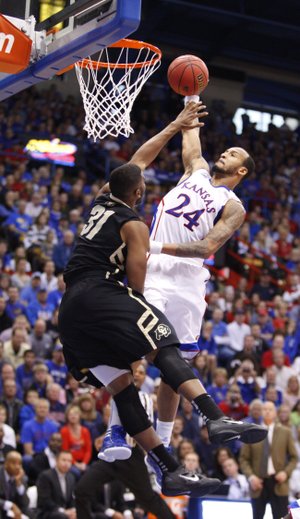 Images from Saturday's game against Colorado at Allen Fieldhouse.
Podcast episode
KU coach Bill Self talks after the Jayhawks' 90-54 victory over Colorado on Dec. 8, 2012.
Podcast episode
Kansas players Travis Releford, Kevin Young and Ben McLemore talk after the Jayhawks' 90-54 victory over Colorado on Dec. 8, 2012.
Box score
Colorado men's basketball coach Tad Boyle didn't waste time sharing his feelings following his team's 90-54 loss to Kansas University on Saturday.
"That was an old-fashioned (butt)-whipping right there. That's what that was," Boyle said in the first words of his postgame news conference. "There's no other way to put it. No excuses. Kansas just came out and manhandled us from start to finish. There wasn't a lot we could do about it."
CU posted season lows in points (54) and also field-goal shooting (37 percent) against an amped-up Jayhawks defense.
"Kansas came out and just took our heart, and we didn't do anything about it," Boyle said. "It's disappointing."
The Buffaloes also struggled defensively, allowing a season-high 90 points. That included 21 combined layups and dunks for KU and 46 points in the paint.
"It's not like they were hitting contested threes; they were dunking on us and absolutely humiliating us," CU sophomore guard Spencer Dinwiddie said. "There really is nothing else to say."
KU started the game on an 18-3 run in the first 5 minutes, 12 seconds.
"I learned about playing in an environment like this," CU freshman forward Josh Scott said. "I don't ever want to feel this again."
Boyle said his team's game plan was to clog the paint, take away KU's transition and make the Jayhawks beat the Buffaloes with threes.
The coach said his team failed in all three areas.
"Let's make no mistake about it: The Colorado Buffaloes are not a good road team right now," Boyle said. "That's my fault. I've got to figure out what we've got to do to become a better road team."
Colorado also posted a season-high 18 turnovers.
"Kansas dictated us," Boyle said. "We have to be able to handle that pressure better than we handle it right now."
Boyle, who played guard at KU from 1981-85, left Saturday's game with a couple of positives, which included the play of Scott (19 points) and the defensive effort of Xavier Talton.
"Obviously, I'm disappointed in our performance," Boyle said, "but I also realize that we played a helluva team today in a heck of an environment."
More like this story on KUsports.com