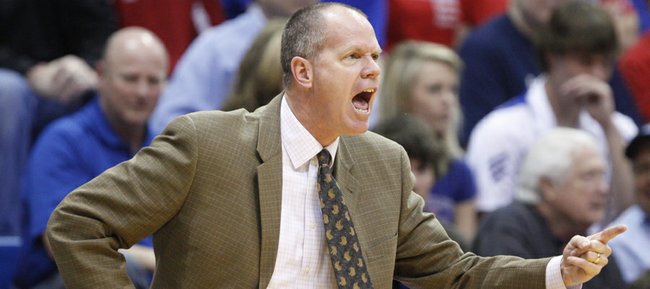 Tad Boyle stood in the southeast corner of Allen Fieldhouse just after 8 p.m., Friday, watching his Colorado Buffaloes stretch before a shootaround in a building the former Kansas University basketball combo guard used to call home.
"What's neat about coming back to a place like this where you spent four years of your life is all the memories," said Boyle, who played at KU from 1981 to '85.
"It does look the same, absolutely. They've still got the bleachers. The colors are the same. Still got the same chairbacks. Still got that clock," he added, pointing to the old Longines clock, located high on the west side of Allen.
"That clock used to be up there," Boyle added, pointing to the south end rafters where KU's retired jerseys are now located. "I remember playing for coach (Larry) Brown. When he would say, 'One more time, guys. One more rep,' that meant another half-hour. You looked right up there at that clock," noted Boyle, who played his final two seasons at KU for Brown, his first two for Ted Owens.
"What is great about this place is the nostalgia. I wanted our players to experience this."
Boyle's third CU team (7-1) will meet (6-1) KU at 1 p.m., today, in a Saturday matinee in the fieldhouse. He and his wife, fellow KU graduate Ann (their children Jack, Pete and Claire had school activities on Friday and couldn't make the trip) enjoyed the short drive from Lawrence's airport to the fieldhouse Friday night. The Buffs touched down at 7:30 p.m., Friday, and will head back to the mountains shortly after today's game.
"Just driving down Naismith Drive or driving down the streets where you used to go to movies, where you used to bank is pretty neat," Boyle said. "I was a little disappointed Bucky's Burgers is not there any more. It's a barbecue joint now."
The 49-year-old Boyle — who has been a head coach at Northern Colorado and assistant at Wichita State and Jacksonville State under former KU guard Mark Turgeon as well as an assistant at Oregon and director of basketball operations at Tennessee — is a proud member of the Brown and Owens coaching trees.
"I spoke to coach Owens two days ago. We scrimmaged coach Brown's (SMU) team earlier in the fall," said Boyle, a native of Greeley, Colo. "Both are great men, great coaches and great influences on my life."
Boyle also is on great terms with current KU coach Bill Self, whose college career at Oklahoma State coincided with Boyle's at KU. Self, who is 10 days older than Tad, went 5-5 against Boyle's KU teams.
"I tell everybody I loved it when we played Kansas. Tad was the only guy slow enough I could guard and he loved it when he played Oklahoma State because I was the only guy slow enough he could guard," Self said. "It was two hard-rocking dudes guarding each other.
"Ask Tad if he would ever recruit me or I would ever recruit Tad and the answer is 'absolutely not' for both of us," Self added.
Boyle laughed out loud when told of Self's comments: "He's probably right on both counts. I would have had a better chance of recruiting Bill than Bill would have recruited me. He was scrappy and tough. I remember every time he drove to the bucket he'd grab your shirt or jersey. He had some toughness about him," Boyle said.
"I think the world of Bill. Every time I have a chance, I tell him as a former (KU) player I'm really proud and happy of the job he's done here. He's taken the program to new heights."
Boyle is off to a sensational start at Colorado. He's led the Buffs to 24 victories in each of his first two seasons. CU won the Pac-12 postseason tourney title and reached the NCAA Tournament a year ago.
The fans have taken notice.
CU has sold out three of four home games this season, including a Coors Events Center record crowd of 11,708 for Wednesday's 70-61 victory over Colorado State. The Buffs have had 12 sellouts in Boyle's three seasons.
"That's one of the first steps (in building a program)," Boyle said of getting the fans involved. "Obviously you have to win some games. Basketball in Boulder is a special thing now."
He had the fans in mind when he pursued scheduling KU in a home-and-home series.
Remember, this is a series that's been one-sided throughout the years. KU has won 18 in a row and 45 of its last 46 over the Buffs, who went 0-3 versus KU two seasons ago in Boyle's first season in Boulder, CU's last season in the Big 12.
KU also has won 28 in a row over CU in Allen, CU's last win coming during Boyle's senior season at KU.
"It's a great opportunity," said Boyle, who has two of the top players in the Pac-12 in Spencer Dinwiddie (17.8 ppg, 4.8 rpg) and Andre Roberson (12.0 ppg, 11.5 rpg). Askia Booker and Josh Scott average 14.1 and 12.0 ppg respectively.
"I mean it (KU) is a national program, obviously I've got ties to it and part of it is I wanted to challenge our fans. When we came to Colorado as a coaching staff ... they always said the only games they sold out were the KU games and half the stadium was KU people. I thought with the progress our program has made, this will be a great test next year to see if our season ticket holders can step up and we can keep the Jayhawk fans out of there. In the meantime it gives us a chance to get a heck of a road game, a great RPI game and opportunity to come to a special place. Our players are looking forward to this."
KU coach Self said today's game figures to present a stern test for the Jayhawks. CU has wins over Wofford (74-59), Dayton (67-57), Baylor (60-58), Murray State (81-74), Air Force (89-74), Texas Southern (85-80, 2OT) and CSU to go with a loss at Wyoming (76-69).
"Tad and his staff have done a great job. His guys play with great freedom offensively. We'll see that when they come in here Saturday," Self said. "He has some kids that were pretty highly recruited, maybe not as highly as you would think. They did a great job of evaluating and projecting and coaching. Certainly those guys have turned out to be really good players."
Of the KU challenge, Boyle said: "They've got some seniors. They've got some veterans. It seems every team we play against they have more experience and more seniors. Against Colorado State midway through the second half they are making a run at us we had four freshmen and a sophomore on the floor. We've got some youth we are going to try to overcome."
Randle to visit: Julius Randle, a 6-9 senior forward from Prestonwood Christian Academy in Plano, Texas, will attend the KU-Texas game on Feb. 16 as part of an official recruiting visit to KU. Randle, who is ranked No. 2 nationally by Rivals.com, also is considering Kentucky, Texas, Florida, Oklahoma and North Carolina State.
KU to play Arkansas?: ESPN's Andy Katz said it is likely KU will play Arkansas next season in Allen Fieldhouse in the first SEC/Big 12 Challenge. Katz said the Jayhawks had some scheduling issues and couldn't work out details to play Florida. The Jayhawks have no interest in playing Missouri in the event. KU has decided to not schedule MU in any sports following the Tigers' decision to leave the Big 12 last year.
More like this story on KUsports.com