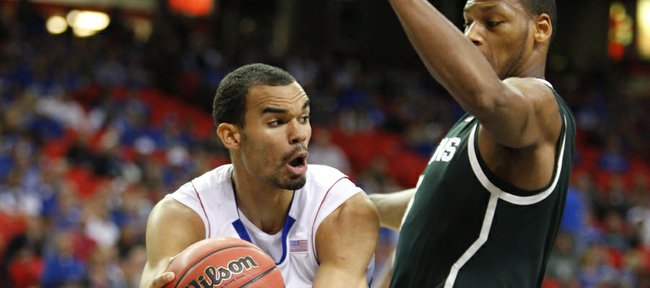 Perry Ellis won't argue with anybody who says the first semester of one's college career just might be the most difficult of all.
"I mean, it's pretty tough. You really have to focus," Ellis, Kansas University's 6-foot-8 freshman basketball forward from Wichita, said as Friday's Stop Day approaches, signaling the end of fall semester of the 2012-13 school year. "There's so much you have to do compared to high school. So many other things are thrown at you whether academics, basketball," added Ellis, Class of 2012 valedictorian at Wichita Heights High School, who said he's been tested, but not overwhelmed at KU.
"I'm just a freshman trying to get better," he said. "I just do what they tell me and try to get better as a player and a person."
The 225-pound McDonald's All-American and four-time high school state champion has averaged 6.4 points and 4.0 rebounds in 16.0 minutes a game over seven games. He's hit 47.1 percent of his shots and 76.5 percent of his free throws heading into Saturday's 1 p.m., home game against Colorado.
"Defense is the main thing. You've got to get out on defense and everything else comes from that," Ellis said of lessons learned on the court thus far.
Ellis — he has started two of seven games — has competed for minutes at the power forward spot with senior Kevin Young (4.7 points, 6.2 rebounds, 18.3 minutes per game, four starts) and red-shirt freshman Jamari Traylor (2.7 points, 2.6 rebounds, 13.3 minutes per game, one start).
"I think it is going to make us all better players," Ellis said of the competition. "We are all competing at practice. I think it'll work out."
KU coach Bill Self said Ellis "has improved so much," since arriving on campus for summer school in June.
"This is a compliment to Perry, so nobody take this the wrong way ... he is a teaser," Self said, asked about Ellis on Monday's weekly "Hawk Talk" radio show. "He shows you how fast he can run. He shows you how high he can jump. He shows you how he can score, so you want that more often. You want more."
Self said that as a conscientious freshman, Ellis is "trying to fit in. He is not one of those kids that can just say, 'Hey forget it. I'm just going to go play.' He's one of those, 'I want to play, but don't you want me to be over here or do you want this foot up or back?' He analyzes everything too much and then he gets slow and not aggressive. He'll come out of it when he quits thinking. Usually you want guys that can think. I want guys that don't think, that just go play.
"After they learn what to do, why do they need to think? It becomes reactionary," Self added. "He is not at that level yet. Everybody is important to our team without question, but he is really important because he is a guy who can score. We've got to get him where he is more aggressive. He has shown flashes of that."
Ellis had 15 points in KU's season-opener against SE Missouri State and 12 against Washington State. He's totaled four points in each of the last three games, against Oregon State, San Jose State and Saint Louis.
"He needs to have some success in the game," Self said. "He needs to see the ball go in the hole. I've seen in practice he catches it and shoots it. In the game, he catches it, hesitates and tries to back a guy down rather than make an aggressive move. It's something he'll get better at. He's more than capable.
"We also have to understand, hey, Julian (Wright) wasn't good enough to start until after Christmas, neither was Mario Chalmers. Those guys turned out to be pretty good players. It's a different deal, different speed, different competitive level. He'll get there. He just needs some time and a lot of reps."
Ellis said his teammates have made the transition to college less difficult.
"Just listening to these guys every day ... the seniors really help me out a lot, motivating me day in and out," Ellis said. "Jeff (Withey), Elijah (Johnson), Travis ... I look and see what they do in practice and kind of follow what they do. And Kevin ... the energy he brings is something I can take from his game and get better, the energy he brings on the court," Ellis added.
More like this story on KUsports.com