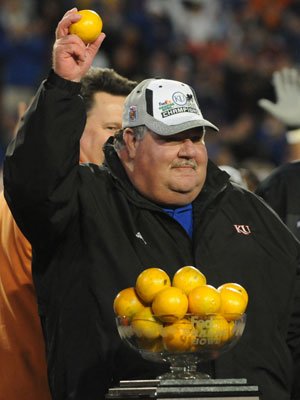 It hit me like a hot-air shot onto a cavity delivered through one of those guns dentists like to use to amuse themselves and get a rise out of their patients: Mark Mangino very well could return to coaching soon as an offensive coordinator at a school that has challenges in building a football program similar to those at Kansas University.
Think about it: Most head football coaches identify more with one side of the ball than the other.
Alabama's Nick Saban played defensive back and worked on defense during his long apprenticeship as an assistant. Notre Dame's Brian Kelly comes from defense as well. Kansas State's Bill Snyder and Oregon's Chip Kelly used their skills as offensive coordinators to land jobs as head coaches.
It's imperative that an assistant coach hired to run his own program for the first time finds a strong coordinator on the opposite side of the ball from his area of expertise. Mangino hired one of the best defensive coordinators in the business in Bill Young, now working at Oklahoma State, when he took the Kansas job in 2002. KU went 12-1 and won the Orange Bowl in Young's final season in town.
Mark Stoops of the famous football-coaching family spent all of his 24 years as a college assistant on defense, most recently at Florida State.
Stoops takes on a new and different challenge as head coach at Kentucky. For his most important hire, he needs an OC with experience at making the transition to heading a program after a long tenure as an assistant. Preferably, his most important hire also will have a history that includes working at a powerhouse basketball school, someone who inherited a program that drew flies when he arrived and rocked with rabid capacity crowds when things started rolling. Stoops needs it to be someone he can trust as if he's a family member, someone who will have his back 24/7.
Mangino fits every qualification and is ready to return to coaching now that his wife's treatment for breast cancer has concluded, and she has encouraged him to get back to work.
On a Twitter account identified as Mangino's (@keepsawinwood), a tweet went out last week saying he had taken his name out of consideration for the Colorado head-coaching vacancy.
Mangino goes back a long way with the Stoops family. They grew up on opposite sides of the Ohio-Pennsylvania border, where black-and-blue football players smash mouths under gray skies.
Mark Stoops worked for Mike Stoops at Arizona, and Mike Stoops now works for Bob Stoops at Oklahoma. They like the idea of family members joining hands and working into the wee hours together. If Mark Mangino ends up at Kentucky, it's not a reach to believe his son, Tommy, former Lawrence High quarterback, might join him as an offensive assistant.