During her senior year at Plano West High, back in 2009 in Dallas, Erin McNorton came to terms with the fact that her volleyball career was finished.
Sure, she assumed she would keep playing in rec leagues or intramurals in college, but that, she thought, would be more for fun and exercise and less for the thrill of competition and the purpose of perfection.
Although the 5-foot-9 setter who has played just one position in her life had accepted what she believed to be her fate, it was not as if McNorton had much choice. She was not really recruited by anyone and did not do much to promote herself.
"I went on one visit to Army," the Kansas University junior said. "And my mom made me. Other than that I was not trying to get recruited. I wasn't doing anything, really."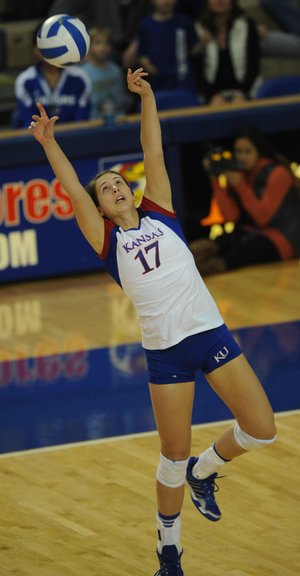 It was around that point when McNorton's story began to embark upon an improbable path, which ended, for now, with KU's loss to Wichita State in the second round of the NCAA Tournament last Saturday night at Allen Fieldhouse.
Already content with the idea of calling it quits, the free spirit with the fun-loving personality began to seek out schools she wanted to attend. She was able to cross off a bunch right away.
"I didn't want to stay in state, number one," she said. "And I wasn't going to play volleyball."
With positive feedback from friends and family coming her way — her uncle Kyle was a KU linebacker from 1978-81 — McNorton made plans to enroll at KU and, not long after, received a phone call from a former KU assistant coach who asked if she had any interest in walking on.
"My dad was like, 'Just try it out. If you don't like it you don't have to keep going,'" McNorton remembered. "So I did."
The story does not end there. Neither did the hard work. As a freshman in 2010, McNorton played in five sets and recorded just nine assists all season. In 2011 she played in 22 matches and finished with 120 assists. To put that number in perspective, McNorton finished with 89 assists in KU's two NCAA Tournament matches alone. Not bad for a player who did not even know she would be the Jayhawks' setter this season until moments before the team's opener back in August.
"I wasn't expecting to play as much as I (did) this year at all," McNorton said. "(KU coach Ray Bechard) didn't tell us who was going to be our setter until the first game at the Arkansas tournament and he was just like, 'Erin, middle front,' and I just went, 'Oh.'"
She also went on to have a fantastic season, earning honorable mention all-Big 12 honors and helping lead the Jayhawks to their best season in school history while finishing with 1,443 assists, good for third all-time on KU's single-season list.
Although their run ended sooner than McNorton and her teammates would have liked, the Jayhawks recorded the highest winning percentage in program history (.788) and also enjoyed their best Big 12 finish (third) in school history. KU rolled to a 26-7 record, which included an all-time best mark of 16-1 at home, earned the No. 11 overall seed in their first NCAA Tournament appearance since 2005 and inspired a total of 8,029 fans to pack Allen Fieldhouse on back-to-back nights to support them. What's more, this team returns nearly everyone next season.
That includes McNorton, who said her rapid rise from warming the bench to running the show had inspired her to work harder than ever.
"I do feel like I'm still improving a lot," said McNorton, who pinpointed becoming more vocal and a better communicator as the areas she hoped to improve this offseason. "I guess I came here without any pressure, just come and play, and that helped a lot."
As for her feelings about sticking with the game she almost gave up, McNorton said she could not envision her world without Kansas volleyball.
"I don't really ever think about it volleyball-wise," she said. "But I think about what if I would've never met my teammates and stuff like that. They're like my best friends now and it's weird thinking that I wouldn't know them if I made a different choice. I'm really happy."
More like this story on KUsports.com