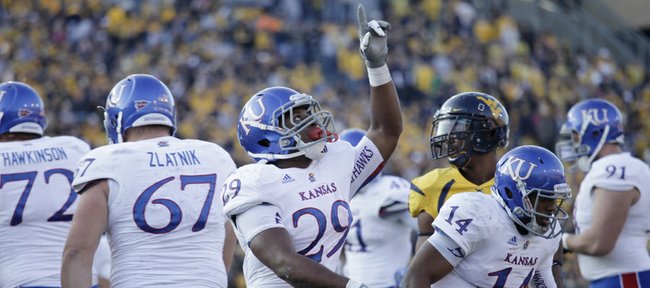 Kansas University tailback James Sims enjoyed a breakthrough year in 2012, becoming the 11th Jayhawk to rush for 1,000 yards in a single season. But a professional career for the junior from Irving, Texas, is not calling just yet.
"I think about it from time to time," said Sims during an interview prior to last Saturday's 59-10 loss at West Virginia in the season finale. "But it's not my main priority right now. I still feel I need to mature as a running back and work on things before I think about going to the next level."
Heading into the season, Sims was perceived by many to be a solid but unspectacular runner on a bad football team. However, after rushing for 1,013 yards in just nine games, the perception changed and now many have begun to think about Sims' professional football future.
KU coach Charlie Weis is one of those guys, and he said on multiple occasions throughout KU's 1-11 season that Sims had what it took to play in the NFL. Weis would know. KU's first-year coach worked as an NFL assistant for 16 seasons and, during that time, coached an impressive crop of running backs from Curtis Martin to Jamaal Charles and all kinds in between.
"He can run inside and he can run outside and he can pick up the blitz," said Weis of Sims. "He can run and he can catch. I don't know what he can't do. Does he run sub-4.5 (second 40-yard dash time)? No. But he's a really, really good player. And if you're a really, really good player here, there's a better than even chance that you're going to have a chance to be a really good player (in the NFL). His football will not end next year when he finishes up his senior year. His football will continue."
Sims, whom Weis compared recently to former Denver Broncos stud Terrell Davis, has led the Jayhawks in rushing in each of the past three seasons. He followed up a strong freshman season (742 yards on 168 carries) with a near repeat (727-182) during his sophomore season. But a better offseason conditioning program and the motivation to make up for the three-game suspension slapped on him to start the season after a DUI arrest last summer turned Sims into a faster, stronger, more dangerous back.
While breaking the 1,000-yard mark on 218 carries, Sims stacked up a school record streak of six straight 100-yard rushing games earlier this year and finished as the Big 12's leading rusher at 112.6 yards per game, even with most of KU's opponents focusing their defensive gameplans solely on stopping him. Even still, Sims has not been talked about much outside of the area. Asked if his occasional thoughts about the NFL had included any conversations serious talks, Sims emphasized his plan to return to Kansas for his senior season.
"No. Not right now," he said. "I haven't heard anything about it."
That time will come, Weis said.
"I can't see one reason why he wouldn't play on Sunday," Weis said earlier this season. "I think he's a nice solid player. I'd want him on my team."
With 2,482 career rushing yards, Sims currently sits in eighth place on KU's all-time rushing list, 1,359 yards behind all-time leader June Henley. Sims' 27 career touchdowns rank third all-time, one behind Tony Sands for second, and 14 behind Henley.
Hit the road, Jack
Last week, already armed with the knowledge that the Jayhawks' season would be over, win or lose, after playing West Virginia in Morgantown, Weis explained that he would waste no time hitting the recruiting trail.
He reemphasized the point in his postgame comments following Saturday's loss by saying he would shift his focus to recruiting "in about five seconds."
Weis said he and several assistant coaches would be out recruiting immediately and could be traveling for a while.
"I'm not coming home after the game," said offensive line coach Tim Grunhard. "I'm driving to Pittsburgh and then I'm flying to Louisville and then to San Francisco and then to Honolulu and then I'm back here on Thursday to recruit Kansas City. I'm really looking forward to getting out there on the road and selling the vision that we have for this team."
More like this story on KUsports.com