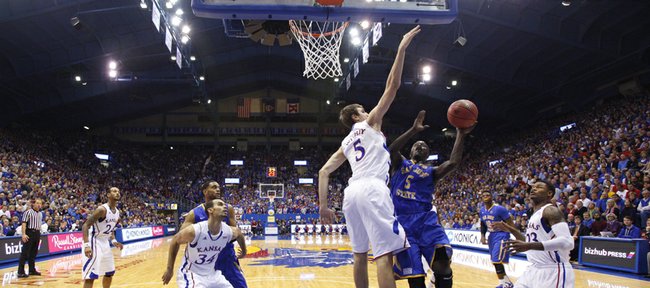 Kansas University senior Jeff Withey, who set an NCAA Tournament record by blocking 31 shots in the 2012 postseason, continues to protect the basket at an astonishing rate.
The 7-footer from San Diego leads the country with 40 blocks in seven games — five more blocks than both Arizona State's Jordan Bachynski (seven games) and St. John's Chris Obekpa (eight games).
Does Withey hope to lead the country in rejections?
"Definitely. I feel I should have done it last year. Anthony Davis did, right?" he said of former Kentucky center Davis, who indeed had a nation's-best 186 blocks last season to Withey's school-record 140 rejections.
"I feel I should be up there for sure," Withey added.
Withey, who doesn't mind being known as a shot blocker — "It's what I do," he said — was asked if he was shooting for David Robinson's single-season blocks record of 207 set in 1985-86 at Navy.
"Two hundred and seven in one year?" Withey said. "I definitely am. I'll try for it. Every day I go out there I want to go block shots and help my team win. It leads to easy points for us. As long as I can keep doing what I have to do to help us win. Hopefully I can get a lot more blocks in my career."
He has 205 career blocks, which ranks sixth on KU's all-time list. He's 54 blocks from passing Greg Ostertag, who had 258 from 1992-95. Cole Aldrich had 253 blocks, Nick Collison 243, Eric Chenowith 242 and Scot Pollard 218.
"It would be awesome, especially at KU. It's a historic program," Withey said of the career blocks mark. "To have my name in the record books would be a huge honor, something I'd cherish forever."
In perhaps his most remarkable stat of all, Withey has committed just six fouls all season. A year ago, he had 14 blocks and 25 fouls through seven games.
"That's unbelievable. Of course, Wilt never fouled out of a game, did he?" KU coach Bill Self said of former KU/NBA great Wilt Chamberlain, who never fouled out of a college or NBA contest.
"If you have five fouls and we played six games (now six in seven games) and you're a big guy, maybe you are not as aggressive as you need to be. But on the flip side, it does show that Jeff's timing is off the charts, and his ability to stay away from body contact when he's blocking balls well above the head is tremendous. We've played poor defense many possessions, and he just absolutely has bailed us out."
Withey leads the country in blocks per foul (6.67). Bachynski, who has committed 14 fouls, is second at 2.50. Obekpa has been whistled for 24 fouls on the season.
Self said that though the game of basketball in college and the NBA "has gotten smaller," there's "still a place" for a true 7-footer like Withey.
"The hardest thing to guard in our game is a skilled 4-man (power forward)," Self said. "That's the position that screws everybody up ... having a 4-man that can stretch it or put it down. There's no question there's a place for a 5, and there's not as many it seems like now, because the majority of ones aren't in school (instead in NBA).
"Jeff ... I don't even know if the next level he's a center. He may be somewhat of a 41⁄2 offensively and a 5 defensively. He has evolved as a pretty good basketball player, there is no question about that."
Withey is second on the team in scoring (14.6 ppg to Ben McLemore's 14.9) and first in rebounding (8.1 rpg per game to Kevin Young's 6.2 and McLemore's 5.7). Withey has hit a team-leading 59.1 percent of his shots, though his free-throw shooting percentage has dipped to 63.2 compared to his sizzling 79.5 mark of a year ago.
"I feel I am on a roll for sure. I definitely want to keep it up," Withey said of his overall offensive play. "I'm getting extra shots up with coach Roberts (Norm, assistant). I'm trying to get more aggressive. Coach Self is trying to instill that in my head. My teammates are finding me open. It's them finding easy buckets for me. As long as I keep that up, it'd be great. As long as we keep winning, that's fine."
KU will meet Colorado at 1 p.m. Saturday in Allen Fieldhouse.
Frankamp hits for 46: KU signee Conner Frankamp scored 46 points in Wichita North's 76-43 season-opening victory over Wichita Northwest on Friday.
The 6-foot combo guard hit 14 of 25 shots, including seven of 12 three-pointers. He was 11-of-11 from the free-throw line and had 10 rebounds with three assists and two steals against one turnover. Frankamp passed Ricky Ross (South) for fourth place on the Wichita City League's career scoring list. According to the Wichita Eagle, he has 1,687 points, 52 behind Heights' Aubrey Sherrod for third.