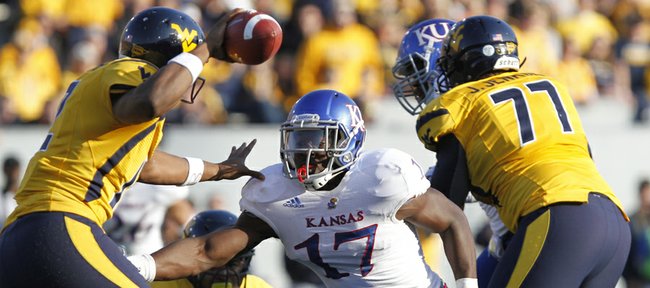 Photo Gallery
KU football v. West Virginia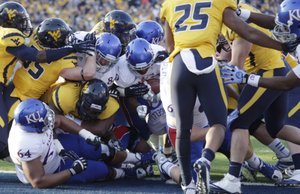 The Kansas football team's football game at West Virginia on Dec. 1, 2012.
Podcast episode
Kansas coach Charlie Weis talks to reporters following the Jayhawks' 59-10 loss to West Virginia on Dec. 1, 2012.
Morgantown, W.Va. — If Saturday's events were an accurate indication, former Heisman Trophy candidate Geno Smith could have won the award by unanimous vote had he faced the Kansas University defense every week.
Smith tied the single-game NCAA record for completion percentage (95.8, Tennessee's Tee Martin vs. South Carolina in 1998) by connecting on 23 of 24 passes. He broke his own school record by completing 21 in a row. By throwing for 407 yards in the 59-10 victory against Kansas, Smith finished the regular season with 4,004 passing yards. Smith's 145 yards passing in the first quarter were a career-high for one quarter.
Smith threw three touchdown passes Saturday, making him responsible for 100 touchdowns in his career, second to Pat White in West Virginia history. West Virginia's five-game losing streak killed Smith's Heisman chances, but he looked the part against Kansas. And receivers Stedman Bailey and Tavon Austin looked like All-Americans.
"The Heisman is a whole other animal," WVU coach Dana Holgorsen said. "Are they capable of it? Yes. Is Geno as good of a quarterback (as there is) out there? Absolutely. Is Tavon as dynamic of a player (as there is) in college football? Yes, he is. Is Stedman (Bailey) as dynamic of a wide receiver as anybody out there? Absolutely. When you're 7-5, you're not going to get that."
A senior, Smith is candidate to become the first selection in April's NFL draft. He didn't do anything to hurt his stock Saturday.
"He didn't throw any incompletions today," Holgorsen said. "To throw for over 400 yards and not throw an incompletion is pretty good. Technically, his one incompletion was an interception, but the ball did not hit the ground all day, which is pretty impressive."
The Pinstripe Bowl, played at Yankee Stadium, is one possible bowl destination for the Mountaineers. Former American League president and KU chancellor Gene Budig not only was a key behind-the-curtain power broker in turning the Pinstripe Bowl from a concept to a reality, he also served as president of West Virginia University (1977-80) before coming to Kansas (1980-94).
More like this story on KUsports.com