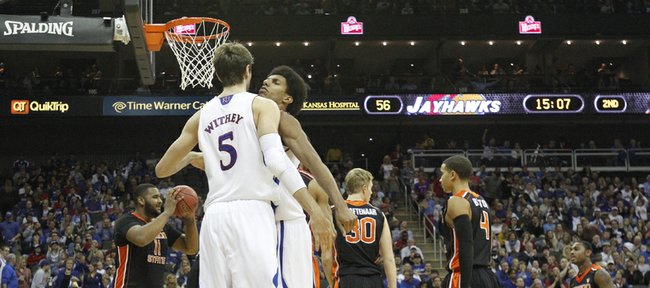 Photo Gallery
Kansas basketball v. Oregon State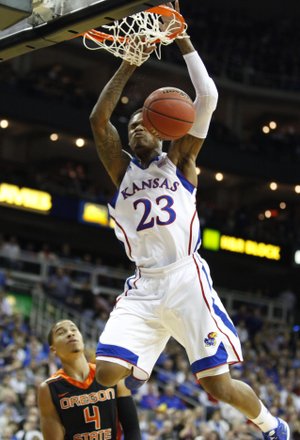 Images from Friday night's game against Oregon State at the Sprint Center in Kansas City, Missouri.
Podcast episode
Kansas coach Bill Self talks to reporters following the Jayhawks' 84-78 victory over Oregon State on Nov. 30, 2012.
Podcast episode
Kansas guards Travis Releford and Ben McLemore talk to reporters following the Jayhawks' 84-78 victory over Oregon State on Nov. 30, 2012.
Box score
Kansas City, Mo. — Oregon State senior Joe Burton, who hails from Soboba, Calif., has seen quite a change in Kansas University men's basketball center and San Diego native Jeff Withey since they played against each other in high school.
"It's really amazing how he grew as a player," Burton said following KU's 84-78 victory over OSU on Friday at Sprint Center. "He was tall back then and not very skilled, but now he's more versatile, more skilled."
Burton was able to chat it up with Withey on the floor a couple of times, including once in the second half when the two chuckled together in the lane following a timeout.
"It's always good to play against a good center," Burton said, "and see what we're made of."
Though Withey finished with just three blocks, he still was able to impact OSU's shooting inside.
The Beavers, who came into the game making 52 percent of their twos, connected on just 17 of 44 shots inside the arc against the Jayhawks (39 percent).
Still, OSU coach Craig Robinson felt good about his team's game plan, part of which involved bringing his center to the perimeter to pull Withey away from the basket.
"We didn't want to just take it in there," Robinson said, "and let him tee off on us."
Defensively, Robinson was frustrated with the number of easy baskets KU was able to get. The box score indicated that the Jayhawks had 17 combined layups and dunks.
"We didn't want them to do what they did: beat us on blow-bys to the basket," Robinson said. "We wanted to them to beat us on outside shots."
KU attempted only nine threes, making three.
The fifth-year OSU coach said he would leave K.C. thinking KU was "pretty darn good."
"You've got some good senior leadership to go with (guard Ben) McLemore," Robinson said. "I think the sky's the limit for this program."
Robinson had a light-hearted moment at the beginning of his news conference. In a small, crowded room, he looked up at the bright camera lights and said, "So this is what it's like at a Kansas press conference."
The coach left happy with how his players performed.
"I've always felt they could play with a team like a Kansas," Robinson said. "Now, they're going to start thinking that, I hope."